If all the plugins have disappeared from the program, then you should do the following:
Terminate all processes associated with the program in Task Manager.
If you have Windows Server Backup edition of the program, restart services Novosoft Backup Network Server 8 and Novosoft Backup Network Workstation 8.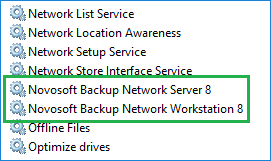 Now restart Handy Backup.
If you have any problems, send us a letter to support@handybackup.net explaining your problem.
See also: FAQ | Plug-in issues:
⇒ What to do if the program does not back up to NAS? (First steps to check)