Handy Backup Professional - Secure Files and System Backup Software
Handy Backup Professional is a speedy, effective and comprehensible utility capable for backing up data from personal computers including home, office and business-level workstations. It is a tool for saving both user files and pro-level data such as databases, websites or entire system images.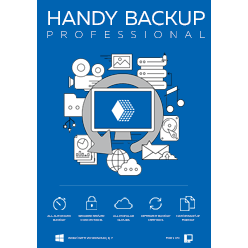 Handy Backup Professional provides some options highly required for experts and advanced users.

System Backup and Recovery
The Professional edition can save an image of any drive as a VHD file. Users can restore this image later (including the possibility of creating a bootable device), or attach this VHD file as a virtual drive and browse its content, or even run it as a complete image of a VirtualBox machine.

Backup to All Popular Clouds
Professional edition is capable to save copies of data to all popular clouds such as Google Drive, Amazon S3, OneDrive for Business, Backblaze and other. You can use backup information without restoration, as Handy Backup saves data in native format, allowing using this data directly from cloud.

Secured Server Connections
In the Professional edition, not only FTP servers are supported but also the protected FTP exchanging protocols, SFTP and FTPS. These features allow connecting with any type of FTP servers, for backing up such an information as website static content and secured FTP data. Learn more about FTP backup.
Handy Backup Professional shares many control and automatizing options with other editions, allowing users fully controlling their backup, restoration and synchronizing tasks.
Automating Backup and Restoration Processes
A rich set of data source features for backup, including files, folders, Outlook data;
Selecting files and folders by masking filenames, allowing saving only crucial data;
Scheduling task execution for a repeated period from months to minutes, or by an event;
Starting automatic backup to external hard drive when it is plugged in to a PC.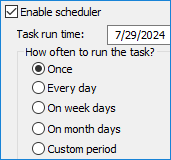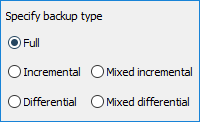 Controlling Backup Operations
Preserving native data formats, allowing using data just from backups without restoring;
Compressing and encrypting data when a user need it for security or other purposes;
Full, incremental and differential backup, as well as mixed (full/differential) backup type;
Keeping many versioned backups for one dataset, removing obsolete data.
A Plentiful Selection of Data-Keeping Storages
Local disks, external USB drives, mapped network disks and NAS units;
FTP, SFTP and FTPS storage servers;
Clouds: Google Drive, Amazon S3, Box, OwnCloud, Backblaze, OneDrive, etc.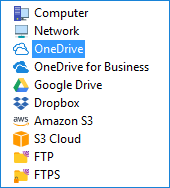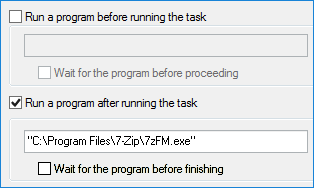 Planning the Activities
Running other programs before or after the particular task (e.g. for cleaning garbage);
Notifying users by emails of any operation results, as well as logging all the job done;
A backup reports window allowing viewing any task performed or attempted in details;
Starting the program as a Windows service, removing distractions from a user during the job.
Handy Backup Pro Database Bundles
You can buy only the things that you really need by purchasing extra plug-ins for the Professional edition or some prepared bundle, such as those listed here:
Standalone OS: Windows 11, 10, 8.1, 8, 7;
Server OS: Windows Server 2019, 2016, 2012, 2011, Small Business Edition 2008, 2008 R2;
Linux compatibility: under OS Linux the program can be used with Wine compatibility layer;
Other requirements: 256 MB of free disk space, 128 MB of RAM, Internet connection.






Capterra′s Rating:



"Great product, very simple and effective backup program"
Up