Handy Backup can back up files to or from NAS only if it is accessible through Windows Explorer. If you have problems with this backup, please do the following:
Steps to Connect a NAS for Backup:
Go to the network settings (Network).
Make sure your NAS is displayed on the Network window.
Open your NAS in the network browser. If it requires a password, then a dialog window will appear.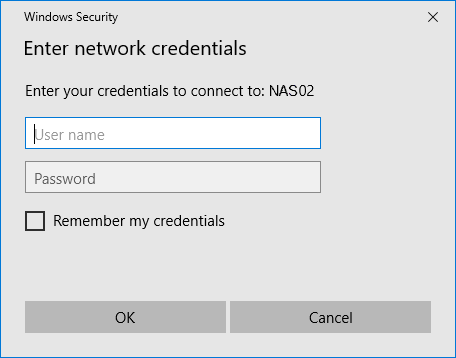 In this dialog window, please enter your login and password to NAS before trying connecting Handy Backup to it.
If you still have problems with the NAS backup, please send us a letter with the problem description and archived content of the Handy Backup 8 folder to support@handybackup.net.
Handy Backup 8 folder can be found at the following path:
C:\ProgramData\Novosoft\Handy Backup 8
Related Pages:
See also: FAQ | Plug-in issues:
⇒ Why is not the Email plug-in working?