Server Backup Network Solution from Handy Backup 8
Handy Backup Server Network is an easy and powerful solution for both Windows Server backup and local network data copying. This server backup software controls an entire network backup from a single panel. It supports Windows Server 2019, 2016 and earlier editions, as well as Linux and other OS.

List of Supported Databases: MySQL, MS SQL, Oracle, Postgre SQL etc.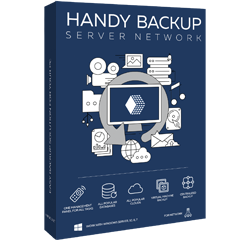 Automating All Operations
The properly installed and tuned system performs network backup and restore actions automatically. We can also help you to set up the system and to organize all tasks related to backing up!

Saving Snapshots of Virtual Machines
Server Network software provides client and server backup solutions to backup Hyper-V images on local and remote machines, as well as VMware or VirtualBox virtual machines, including copying VM hosts and arrays online.

Native and Generic Database Backup
This solution can copy data of MS SQL, PostgreSQL, MySQL, Oracle and any other database, as well as save any database content via the generic ODBC-based feature.

Using Modern Local and Online Data Storages
Turn your Handy Backup software into a data backup server that takes snapshots of any local or remote drive in a "hot" mode from a central management panel.

Other Server Data Backup
As a Windows server backup tool, Handy Backup can back up websites, FTP storages, cloud accounts, MS Exchange server data or email content, providing best results for your data security.

Dealing with OS older than Windows Server 2019 or other
Besides backup of Windows Server 2019, the client allows Windows Server 2012 backup and Windows Server 2016 backup. It also supports backups on Linux and other OS via Java clients.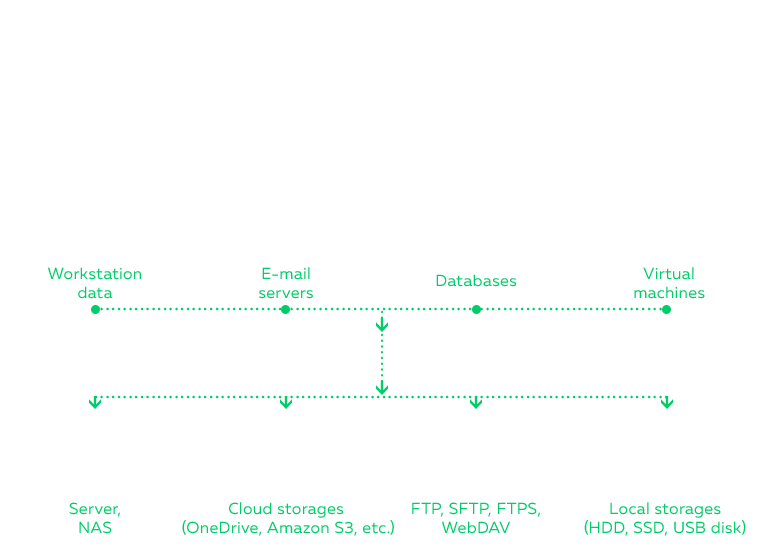 Management Panel:
a component of the program that contains a graphical user interface (GUI), which allows creating and controlling network backup, recovery and synchronization tasks.

Network Agent:
a component for installing to any target computer, either server or workstation, on a network, which will make all actual data processing for backup and recovery.
Workstation Agent: a type of Network Agent that can process only user-level data, such as files, folders, emails, MS Outlook data and registry, as well as FTP or cloud content.
Server Agent: a type of Network Agent that processes both user-level and server-level data, such as virtual machine arrays, databases and MS Exchange content.

Central Console:
a machine in a local network that contains a Management Panel, required for controlling all tasks from a single point. It also contains a copy of a Network Agent for backup.

Remote Machine:
a server or a workstation with an appropriate type of Network Agent installed to, which can send or receive backup data via network.
Example for Server Backup
Here we will describe a sample scheme for organizing centralized backup. Let us have a small network with six user machines, a data server with MySQL and SFTP data (which also runs a company website), and an all-purpose storage server, which is a workplace for a system administrator.
Deploy the Management Panel on a storage server; let it be our central console.
Also, install a Server Agent to a central console, for making backup and recovery on it.
Deploy the Workstation Agents for all user computers.
Finally, install a Server Agent to a company data server to ready for server network backup!

How it works? Only a system administrator creates and governs all tasks from a central console, via running the Management Panel to control tasks. A task can involve any machine via its Network Agent to make some backup, recovery or sync job.
Centralized Configuration and Deployment
Newest versions of Handy Backup allow not only making pre-configured installation files for Network Agents on remote machines but also deploying these Network Agents throughout a local network directly from the main management panel of a system administrator.
This feature is extremely useful for implementing network backup architecture on very big, complex or heterogeneous local networks. It is not only much more comfortable than installing Network Agents manually but also adds to security due to avoiding third-party solutions.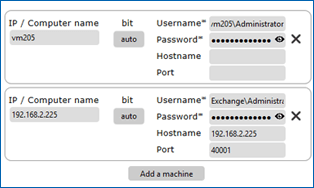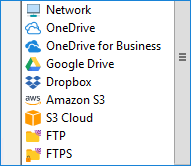 Using Modern Local and Online Data Storage
You can store backups locally at a central machine, as well on some remote server, on external USB device, NAS, FTP/SFTP/FTPS storage, or on some cloud — server backup to Google Drive, Amazon S3 and other S3-driven clouds, OwnCloud, Dropbox, OneDrive and OneDrive for Business, etc.
Calling for External Software
You can run some external program or batch file automatically before or after a particular backup server task, allowing using Handy Backup as a part of integrated data workflow.
For example, you can execute antivirus scanning with an external program before your Windows Server 2016 backup, to ensure that data included in the dataset is free from viral attacks.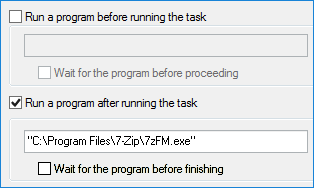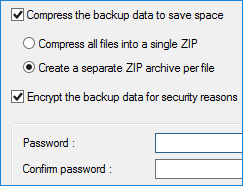 Encrypting and Compressing Information
To optimize storage space, time and security of transferring big data arrays, such as complete Windows Server 2019 backup, you can compress data to a ZIP and encrypt with a modified 256-bit AES.
Silent Mode – No Distractions for Users
Client components of the Windows server backup tool will run as Windows services or hidden Linux processes, making no distraction for remote users. The central console also has a service mode.

All-in-One Server Backup Software
The Server Network edition contains all features of Handy Backup and can perform any server backup software task for an individual user, a department, a small business customer or any other structure

Free Tech Support
We are glad to help our users at any time when they have some questions about product. Please do not hesitate to ask us about anything related to Handy Backup! We will answer quickly for any your request!

Complete Backup and Restoration Control
Such components of the interface as New Task Wizard, task setup window and settings window allow deep centralized control from a Windows server backup tool over all aspects of a particular task.

Quick Restoration and Using Backup Data Directly
Our server backup software stores backups in native formats, providing a possibility to use data directly from backup storages. In addition, users can create restoration tasks by the same way as backup tasks.

Protection against Ransomware
With the Server Network, you can always have a simple solution for any ransomware attack to any machine in your network: just restore an untouched data copy of this machine and continue working!

Optimizing Data Traffic and Other Backup Server Technologies
To suit Windows Server 2019 backup capabilities and using other modern technologies, Handy Backup utilizes the multi-threaded transferring engine and other optimizations for fast and convenient backup.

Unlimited Network Scalability
Handy Backup Server Network is very scalable backup software, making no practical limit to quantity of operational Network Agents, either for servers or workstations in a local network.

Notifying Users about Significant Events
The system of email notification, along with log file and task reports, allows informing users about any events and results of any task processed by server backup software, locally or remotely.

NO Hidden Costs or Fees, Lifetime License
When you purchase any major version of Handy Backup, the license for this version is last for all the product lifetime. Handy Backup constantly and freely updates and upgrades all its basic tools. It also effectively utilizes newest practices and data types for most modern server-level solutions.
The remote PC and server backup solution Handy Backup Server Network is designed for Windows 11, 10, 8, 7, or Windows Server 2019, 2016, 2012, 2008(R2), as well as for using remote Linux computers or other OS through Java. It has no special hardware requirements.






Licensing Information
To order server backup solutions for a network, you need the Management Panel and Network Agents: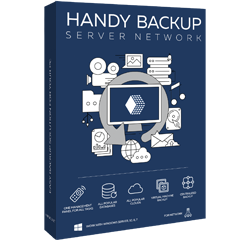 Handy Backup Server Network* 

$299

Workstation Agents 

$39 per unit

Server Agents 

$149 per unit

* Handy Backup Server Network installation also includes one Server Agent to back up the computer where it is installed.

** Note: Tech support and all upgrades under the major version are included in a basic price tag — no additional fees or commissions required!
Review About Handy Backup Server Network
How to Create a Server Network Backup Task in Handy Backup?

This website contains some articles about setup of different network backup task, from saving remote machines local files and folders to copying database content from network servers to other locations or storage media. Learn more about it in the User Manual.
Installation of Management Panel and Network Agents Creation for Server Backup
Video tutorial below thoroughly instructs on how to install Management Panel and then create Network Agents. Handy Backup Server Management panel provides a user-friendly interface that simplifies the process of backing up servers of an entire network consisting of a large computer pool.
Management Panel not only automatizes server backup, it connects and synchronizes all devices under its control, allowing performing complex backups, sending data anywhere throughout the network and to cloud. The user part of job is quite simple and requires minimum efforts.
Installing Network Agents on Windows Computers (PDF)
Who uses our backup software?