November 27, 2012
Dear friends!
To be mentioned in Small Business Backup review is a very good sign in circle of IT specialists. Is it us "Best Small Business App by PCMag" sounds like music? Specifically, when met in the same sentence as the Handy Backup brand.
In the world of Web 2.0 economy, opinions by experts have become one of the deciding factors for choosing stuff in general and backup software stuff specifically. Today, what you say about yourself steps aside, and what niche professionals say about you (especially in their reviews concerning Backup Solutions for Small Business) is what gets the attention.
With the things being that way, it is super exciting to find that the product your put your soul into gets highly rated by reviewers from such a reputed source as PCMag, the technology product review magazine, pcmag.com.
The folks from PCMag bestowed the title 'Best Small Business App' for backup upon our product. So, we guess from now on we can't help being nothing less than the best app (at least form small business).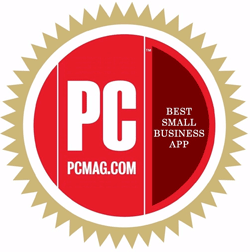 The specific edition finding PCMag experts's recognition is Handy Backup Small Server, one of the product line's key ones. This bad boy is designed for small- to medium sized companies who think that backing up the entire stuff, from user file, folders, and Outlook, and up to corporate databases, and mail servers is a fruitful idea.
As PCMag folks state in their review of this Small Business Solution, the app is what helps you to "seamlessly backup applications that are mission-critical to many SMBs such as Microsoft Exchange, Lotus Notes/Domino, SQL, Oracle and any ODBC database as well as files and folders". Couldn't have been said clearer!
Add backup to any local or networked drive, removable media, or remote FTP or SFTP location to the above said and you will get a quick vision of what the best small business app for backup is.
So, what this news might be for you? Traditioanlly, we bring you the good news along with an order discount: write "One best small business app for my company please" on Handy Backup's Facebook wall and we will make a present of the 50% discount for Small Server for you!