Hard Disk Image Backup Software
Image backup with Handy Backup software is an easy, quick and automated action. You can create a hard drive image backup in just a few clicks, as well as restore or even clone a disk to another hard drive, for example, to a new PC. You can use all functions for reliable copying of a disk image on logical level!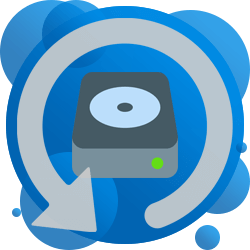 What Is System Image Backup?

Image backup is a process of creating a logical image that transfers a copy of logical-level drive content written into a special file. Handy Backup allows making both Linux and Windows image backup, as well as saving data drive images either from inside a working OS or directly via a USB recovery drive.
Image-Based Backup vs File-Level Backup: Features and Restrictions
For many reasons, taking a copy of a drive image can be the best backup method for any PC or server, as it saves not only data but also system resources, dependencies, links between components of file system etc. However, this method of backup is also bulky and almost unreadable until recovered.
The next table contains a rough comparison of the two backup methods: disk-image and file-level.
| | | |
| --- | --- | --- |
| | Hard disk image backup | File-level backup |
| Typical backup size | Bulky | As a source (plus compression) |
| Estimated execution time | Several minutes | According to source size |
| Precise data selection | No | Yes |
| Data consistency | Full | Depends on user actions |
| Easiness of recovery | Moderate to difficult | Very easy |
| Partial/granular recovery | No (except when mapping VHD) | Yes, due to native formats |
Typical backup size: an estimated size of a backup file (files), compared to common data types stored on a disk or in an online vault;
Estimated execution time: an amount of time for task execution, estimated by practical experience and logical evaluation of data quantity for copying;
Precise data selection: a possibility to select only those data that you really need to back up, instead of saving entire folders of unused files;
Data consistency: storing all data dependencies and links between different data types, allowing using these data just after recovery without re-mounting all infrastructure;
Easiness of recovery: how quickly and easily a user can recover data from backup, as well as how many additional actions a restoration procedure requires;
Partial/granular recovery: a possibility to recover only a part of an entire backup dataset.
Advantages of Handy Backup as Image Backup Software

Complete Automation
Handy Backup fully automates image backup, from making a disk image to using additional tools such as versioned backup or scheduling disk backup tasks by time (for a repeating period from a minute to some months) or by a system event. Feel free with Handy Backup!

Fast System Restoration
Unlike file-based backup, which requires reinstalling an OS and all apps manually, hard drive image backup drastically reduces both time and efforts required for restoration. You can use Handy Backup either as automatic disk image backup software or as a HDD restore utility.

Hard Disk Cloning
You can effectively utilize disk image backup software for hard drive cloning purposes. For example, you can restore one image backup to several computers to set up multiple identical systems. This is a viable solution for administering server arrays and clusters, heterogeneous networks etc.
Testimonials About Image Backup Software by Handy Backup
Recommended Solution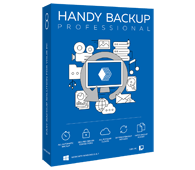 Version 8.5.0, built on September 19, 2023 . 116 MB
Backup Software from Novosoft LLC. 89 USD per license.
To create HDD image backup, or take advantage of hard disk cloning, you need Professional edition, or higher. Free 30-days trial version with all functions available!
How to Make Image Backup with the Disk Image Plug-in?
Note that the Disk Image backup plug-in allows making not only an image of a full drive but also can write a partition image. To use it properly, please follow the next instruction:
Open Handy Backup. Create a new backup task on Step 1.
On Step 1, do not worry now about simple or advanced modes. Just click "Next".
On Step 2, click onto the Disk Image plug-in in the Disk Clone group.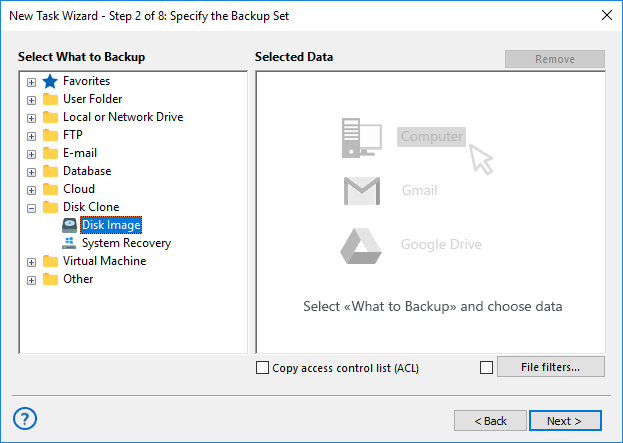 Mark a checkbox next to a name of the disk or partition image that you want to back up.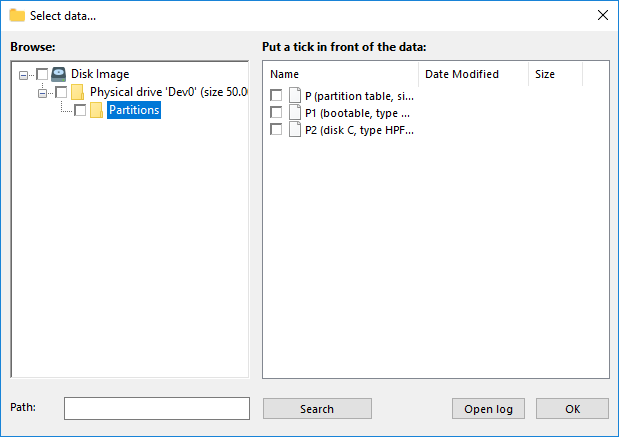 Attention! The full drive image file (located in the Physical drive folder) is used to access all HDD data, i.e. it also includes all objects from the Partitions folder. Therefore, please select no partitions!
After finishing data selection, click OK. Selected drives and partitions for image backup will appear in the Backup Set pane of the New Task Wizard.
Continue creating a task as described in the User Manual. You can set up versioning, scheduling. Data encryption or call for external software before or after your backup task.
With functions of saving drive logical images, Handy Backup can operate as local PC and server backup software in Windows and Linux. Try it by downloading a latest version for a 30-day free trial!
Key Advantages of Disk Image Backup with Handy Backup

Version Compatibility
The Disk Image plug-in creates a binary image file for a logical or physical drive or for a partition. You can restore image backup at any time using either the Handy Backup restoration task (for non-system drives) or the Disaster Recovery utility to restore the HDD image backup from scratch.
Here, the term "non-system drive" applies exclusively for all drives except your main system drive (e.g. a disk or a partition containing an OS that governs running of Handy Backup). This means that you can restore an inactive system drive image backup to an original disk without hesitation!

The System Recovery Plug-in
Alternative hard drive image backup software is the System Recovery plug-in. This tool can save only an entire hard drive image backup, but it does it in a comprehensible, readable VHD format, allowing you not only restoring a HDD image backup but also browsing it or using it for a virtual machine!
The System Recovery plug-in does not protect your hard drive image backup from modifications as a virtual drive (this is a deliberate solution allowing using these VHD files as sources for experimenting and cloning)! Therefore, you can lose a consistency of the HDD image backup by writing something on it!

Restoring an Image Backup
To restore an image of a disk or partition to its original place, or to clone disk image backup to another HDD, you can use an automated restoration task created and scheduled by Handy Backup by just the same way as for backup tasks.
Caveat! Since disk-based approach to backups provides the most effective data protection against operating system crashes, hardware failures, and other disasters, we are highly recommending to do it on a regular base for both home and business environments.
Video Tutorial: How to Use Handy Backup for Making Disk Image Backup?
In the next video instruction, you will learn how to back up a hard drive image with the Handy Backup solution for one computer. We will make an image backup by using Handy Backup itself, placing an image onto a local drive another than a system drive, which we will scratch during restoration.
Try Handy Backup as your trusted disk image backup software by downloading the latest version and
using it freely for a 30-days trial period!
Who uses our backup software?