You can use the FTP server either as a source of backup data or as a destination where you will keep your backups. In both cases, you need to link FTP backup software Handy Backup with a particular FTP server, creating a new connection.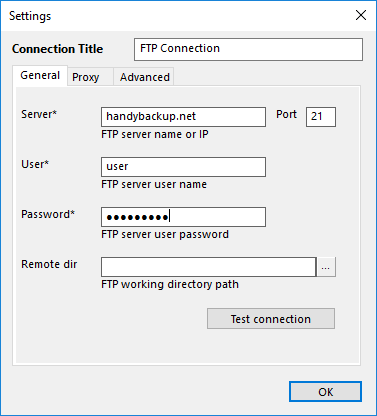 On the connection dialog, set up a name of that new connection, a server name, and provide a pair of login and password for accessing to FTP. You can also select a remote folder on an FTP server to access it as backup source or destination. After entering all parameters, click OK.
Choosing an FTP Backup Hosting as Data Destination
To use FTP backup storage, select FTP as the destination. You can perform it on Step 3, when you are creating a new backup task, or later, by editing task properties, on the "Storage" tab.
Selecting an FTP Server as Data Source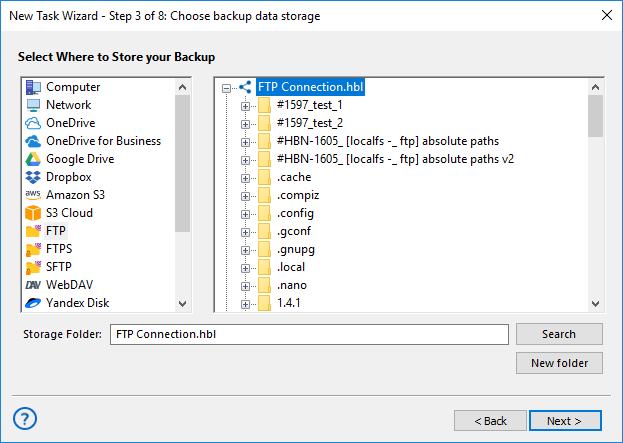 If you want to perform FTP backup (e.g. copying website content through FTP connection), choose FTP as the source of data. Again, you can apply it on Step 2 when you are creating a new task, or by editing an existing task using the tab "Backup set".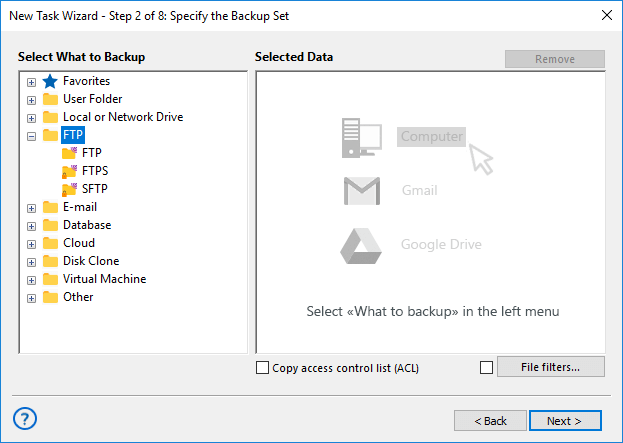 For comprehensive guidance on configuring and utilizing FTP backup software, refer to the corresponding chapter in the User Manual.
When you choose an FTP backup storage media, Handy Backup allows you using any modern storage type, from a local drive or an USB external disk to a local NAS or shared folder to a private or commercial cloud based on S3 or WebDAV data protocols to popular cloud storage, and, of course, to another FTP.

Can I FTP to Google Drive, Amazon S3 or Other Cloud?
Yes, Handy Backup provides plug-ins for most popular cloud services, including Google Drive, Dropbox, Box, Amazon S3, OneDrive and OneDrive for Business, as well as for some other clouds.
Due to constant updating of cloud security protocols, some services are sometimes unavailable for Handy Backup or require additional setup to use these services properly. It is not a fault of Handy Backup, and program updates fix these small problems as soon as possible!
Utilizing online FTP backup has become an essential business practice in today's digital landscape. In connection with growing interest in this FTP backup service and software, we present you to the family of our backup utilities, Handy Backup.
With our powerful and easy to use remote backup software, you can offer your customers a completely new sense of security and protection for their business. To learn more about partnership opportunities, please visit the online backup software for service providers section.