FTP Backup Software
FTP backup software provides the most secure and reliable way to back up data. Storing files on a remote backup server ensures protection against hardware failures, natural disasters and other causes of data loss.
To back up to FTP you need a remote backup software, such as Handy Backup.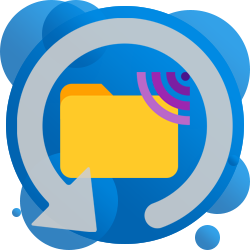 What Is FTP?

FTP (file transferring protocol) and its advanced versions, SFTP and FTPS, are some of the oldest online storage types. The FTP protocol allows transferring files and folders to and from some remote storage, available by predefined name or by an IP address.
Due to popularity of this technology, you can easily find and download some free FTP backup tool. Compared to Handy Backup, these tools often lacks a versatility, convenience, automation or security, maybe, all of these features. Still, these tools are free.
Handy Backup and Features of Best FTP Backup Software

Advanced FTP Backup Transferring Engine
Handy Backup comes with a full-featured FTP client, which is capable to transfer data in any direction: either to store your PC backups remotely or to back up data from FTP server, or just copy files from one FTP location to another.

Compatibility of FTP Backup Software
Full Unicode support lets you back up files named in Japanese, Russian, German and other languages. Advanced algorithms allow backing to FTP or synchronizing data from any type of FTP or even SOCKS5, SOCKS4 proxy servers.

FTPS (FTP over SSL) and SFTP (SSH File Transfer Protocol)
While the Standard edition lets you auto back up to FTP only, higher editions (Professional and above) support secured protocols SFTP and FTPS. All these features are available in trial version free of charge.
FTP Backup Service for Home and Business: the Recommended Solution
With a rich set of features and strong focus on user experience, Handy Backup is widely recognized as the most powerful backup utility in its class. If you are a just home user, or you are seeking for FTP backup software for your business; Handy Backup always will be your best choice!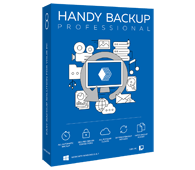 Version 8.4.6, built on April 25, 2023 . 116 MB
Backup Software from Novosoft LLC. 89 USD per license.
If you want to back up to FTP, SFTP or FTPS servers, please purchase the Professional edition, which has all FTP-related plug-ins just out of the box. Free 30-days trial version!
Testimonials About FTP Backup Software by Handy Backup
How to Backup FTP Files
You can use the FTP server either as a source of backup data or as a destination where you will keep your backups. In both cases, you need to link FTP backup software Handy Backup with a particular FTP server, creating a new connection.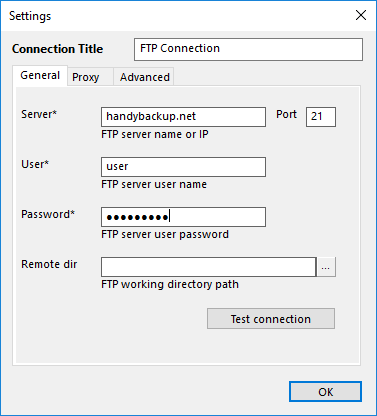 On the connection dialog, set up a name of that new connection, a server name, and provide a pair of login and password for accessing to FTP. You can also select a remote folder on an FTP server to access it as backup source or destination. After entering all parameters, click OK.
Choosing an FTP Backup Hosting as Data Destination
To use FTP backup storage, select FTP as the destination. You can perform it on Step 3, when you are creating a new backup task, or later, by editing task properties, on the "Storage" tab.
Selecting an FTP Server as Data Source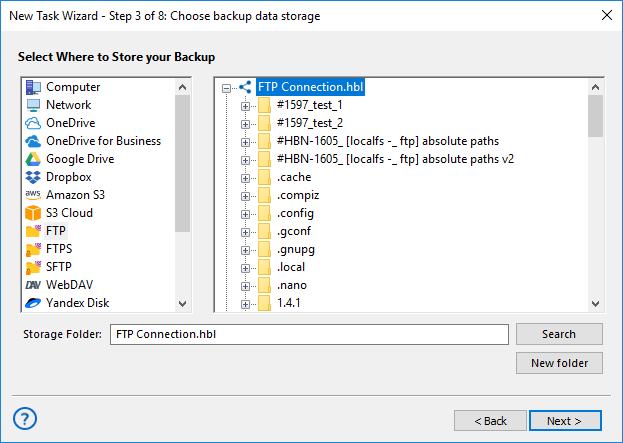 If you want to perform FTP backup (e.g. copying website content through FTP connection), choose FTP as the source of data. Again, you can apply it on Step 2 when you are creating a new task, or by editing an existing task using the tab "Backup set".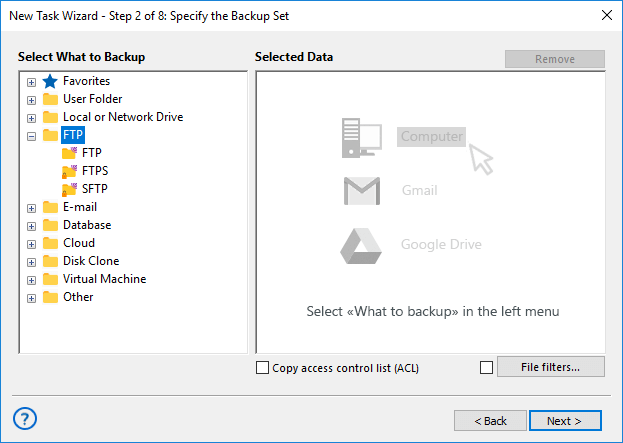 To learn more about configuring and using FTP backup, see the related chapter of User Manual.
FTP Backup Hosting
When you choose an FTP backup storage media, Handy Backup allows you using any modern storage type, from a local drive or an USB external disk to a local NAS or shared folder to a private or commercial cloud based on S3 or WebDAV data protocols to popular cloud storage, and, of course, to another FTP.

Can I FTP to Google Drive, Amazon S3 or Other Cloud?
Yes, Handy Backup provides plug-ins for most popular cloud services, including Google Drive, Dropbox, Box, Amazon S3, OneDrive and OneDrive for Business, as well as for some other clouds.
Due to constant updating of cloud security protocols, some services are sometimes unavailable for Handy Backup or require additional setup to use these services properly. It is not a fault of Handy Backup, and program updates fix these small problems as soon as possible!
Handy Backup for Remote Backup Hosting Service Providers
Online backup becomes an essential business practice today. In connection with growing interest in this service and software, we present you the family of our backup utilities, Handy Backup.
With our powerful and easy to use remote backup software, you can offer your customers a completely new sense of security and protection for their business. To learn more about partnership opportunities, please visit the online backup software for service providers section.
Video: Using Handy Backup as FTP Backup Software
In this video, we will show how simple is to make an FTP backup with the dedicated Handy Backup "FTP" plug-in. You will see how to make an FTP backup task, how to recover data easily by using this FTP backup software, and how a saved copy looks like in an FTP server.
Note: For SFTP or FTPS backup, the procedure contains only slight changes in a connection setup dialog. Otherwise, these are as simple procedures as FTP backup shown here.
Try backup to FTP with Handy Backup! Download a free 30-day trial version with all functions and plug-ins just now!
See also:
Who uses our backup software?