December 12, 2012
Dear friends!
We are delighted to announce the release of an update to Handy Backup! The new 7.3.1 version comes with numerous GUI improvements, important bug fixes and several new features.
Version 8.5.0 , built on September 19, 2023. 116 MB

Our software is now available in five languages: Czech, English, French, Russian and Spanish.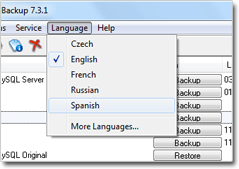 We welcome our users to translate non-translated components (GUI, help files, main website pages, etc.) into their native languages, and send them to us. These efforts will be rewarded with free licenses, upgrades, Online Backup storage, and other valuable prizes! Please contact us at support@handybackup.net for more information.
The new version facilitates backing up to popular storage and file sharing services. You no longer need to remember exact parameters of your Cloud storage - only your login and password (sorry we can't fill it for you):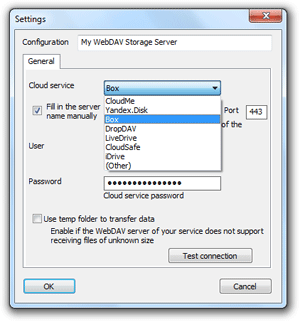 We strive to create the most full-featured backup utility of all - so if you can suggest other services we can integrate with, or if you represent a company and see a partnership opportunities, we would love to hear from you!
Following our users' requests, we have improved a versioning engine that lets you automatically delete outdated backups: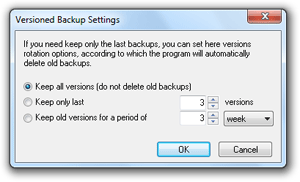 There also are a number of smaller fixes and improvements related to not working test e-mails, some memory leaks, reorganized Help menu, GUI enhancements, and other.
In addition to the "obvious" changes, we have almost finished moving to a cross-platform codebase - which means that in the nearest future there will be a Linux version of Handy Backup workstation!
Download the new version right now!