Remote Backup Service HBDrive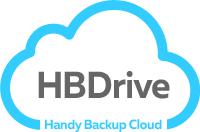 Remote backup services allow offsite backup with a 24x7 access to data copies stored on a cloud. To achieve such efficiency, Handy Backup provides its own backup storage service called HBDrive, which has a capability to store any backups in a secured vault, protected from both physical and malware threats.
Features of HBDrive Remote Backup Service
HBDrive offers the wide range of features and functions for efficient remote backup including the following:
Online backup service account on the highly secured server located at San Diego, CA;
Flexible remote data backup services including seeding, encrypting and restoring data;
Sharing files between users, browsing backups in native formats, restoring even a single file;
Absolutely free phone and email support for any issues related to remote back up services;
5 GB of absolutely free storage space for one year as an invitation to HBDrive.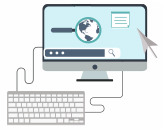 Remote Backup Service Plug-in
To access HBDrive, Handy Backup utilizes the dedicated plug-in called "Online Backup". On the Step 2 this plug-in is a part of the "Cloud" data group on the left panel. On the Step 3 (storage selection), you can access the plug-in directly.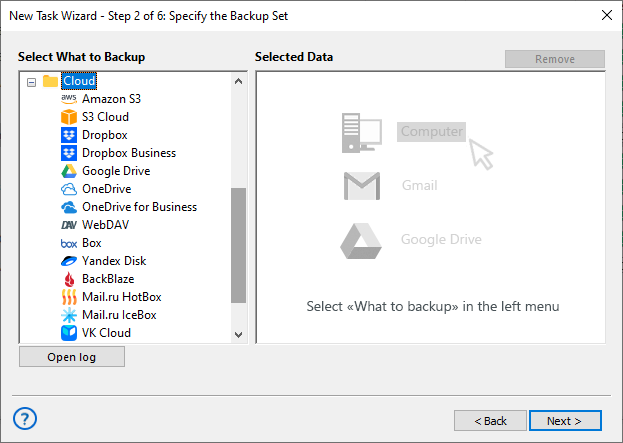 Note: The "Online Backup" plug-in is a configurable feature, requiring setting up a connection to a HBDrive account before using this account for data storing. You can read an appropriate chapter in the User Manual to learn more about the plug-in.
Recommended Solution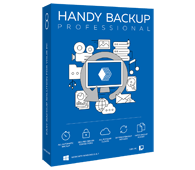 Version 8.4.0, built on June 30, 2022 . 113 MB
Backup Software from Novosoft LLC. 89 USD per license.
The Professional edition is a choice of experts throughout the world, allowing using an online backup service for any user and workstation-level data type ever existing! Free 30-days trial!
Automatic Remote Data Backup Service
Handy Backup operates in a link with its remote back up services. Any edition of Handy Backup offers an access to HBDrive as a standard feature. With a remote backup service, all crucial features of Handy Backup are available, such as:
Storage selection. Besides own remote backup service, Handy Backup allows choosing between many storage types, either remote backup services or local/network data vaults.

Flexible scheduling. You can automate all operations using remote backup, running tasks at an exact time, with an exactly pre-set period or by an event.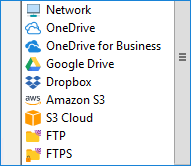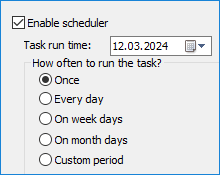 Backup filtering. You can choose only the needed data to be backed up with the help of file masks (e.g. you can choose only the .doc of .rtf files to be backed up or, vice versa, exclude certain extensions from a backup set).
Backup compression and encryption to help you reduce the required storage space and heighten the protection level when using remote data backup services.
More general and remote backup service features...
Close integration with remote backup services in Handy Backup gives an access not only to HBDrive but also for many other storage solutions provided by third-party vendors. Still, HBDrive is a trusted, secured remote backup service that provides almost incomparable level of reliability for backups!
Try HBDrive and Handy Backup as your trusted remote backup service for any crucial data!
Download a free 30-day version of Handy Backup, and register on a HBDrive.com to get a free 5 GB secured storage space!

Who uses our backup software?