Offsite Backup: Software Solution for Remote Backup to Offsite Server
Offsite backup software transfer copies of important data to some remote backup storage, such as a network drive, a NAS or an FTP server, or to a cloud service like OneDrive or Dropbox. Handy Backup is a perfect offsite backup solution that provides many plug-ins for using different online data storage.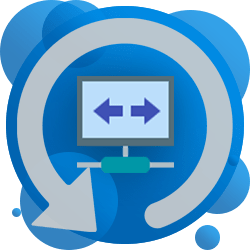 Principal Capabilities of Offsite Backup Software

Physical Data Distribution
Offsite backup data solutions separate copies of the same dataset from each other copy physically. This means you can always restore a copy of your data when some physical damage or technical problem (from electricity shortcut to full-scale fire or natural disaster) strikes an original dataset location.

Remote Access to Any Offsite Data Backup
By granting your backup software offsite storages, you also grant yourself (or any other trusted person) an access to data copies limited only by network capabilities and your will (as you are controlling the information security and access rights). Restore your remote backup from any place on the world!

No Need for Maintenance with Offsite Server Backup Software
Using some external storage and appropriate offsite backup server software removes a need for maintaining storages, which can be a very useful feature for enterprises. All maintenance activities are parts of business running by a storage owner, not a user who keep backups offsite.
Disadvantages of Remote Backup
Besides positive capabilities listed above and more, offsite backup has some disadvantages. Here are the most obvious and frequent problems of saving data online:
Backup and recovery will depend on bandwidth and quality of network services;
A cost per storage size unit (e.g., per GB) will be significantly higher than for local backup;
There is always a risk of intercepting your backup through network traffic control;
Some offsite backup storage services can be unscrupulous and stealing your data.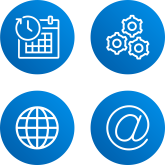 Good offsite backup software (such as Handy Backup) can minimize or remove some of these risks; please read in the next sections how Handy Backup does it.
Handy Backup Offsite Software Storage Options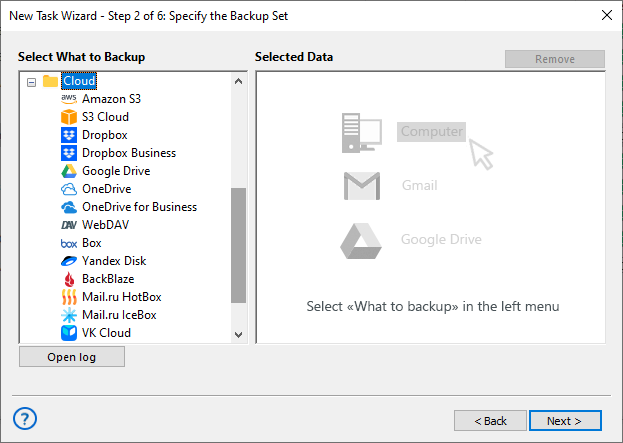 Handy Backup supports a plenty of remote backup solutions. Please see the screenshot above to look briefly over the list of storage plug-ins, or the table below to estimate its storage capabilities.
Local network
Internet
Drives and data servers
Mapped drives
Network shared folders
NAS units
Offsite data backup servers
FTP storage
FTP
SFTP
FTPS (including SSL)
FTP
SFTP
FTPS (including SSL)
Cloud solutions
Private clouds supporting WebDAV
Private clouds
Microsoft OneDrive
Google Drive
Amazon S3
Dropbox
Any cloud supporting WebDAV
Remote Backup Software Plug-ins
For offsite backup, you can use almost any storage plug-in (including the Computer plug-in in the Server Network solution). The previous table shows which type of storage can serve as remote backup solution. Just use some Handy Backup plug-in for connecting to offsite backup storage, and create a backup task!
Customers About Offsite Backup Software by Handy Backup
Recommended Offsite Backup Solution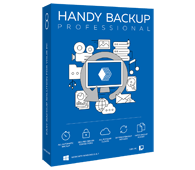 Version 8.5.0, built on September 19, 2023 . 116 MB
Backup Software from Novosoft LLC. 89 USD per license.
The Professional edition allows offsite backup data by using an FTP, SFTP and FTPS connection or direct access to some popular clouds including S3-based storage, OneDrive, Dropbox and Google Drive.
Other Advantages of Handy Backup as Off Site Backup Software
As full-scale offsite data backup software solution, Handy Backup has some crucial advantages realizing the capabilities described above – and allowing much more for users who need an offsite backup software solution to fulfill their needs!
Keeping data offsite in native formats, allowing using these data from storages directly;
Scheduling tasks to run at an exact time as well as for intervals lasting from minutes to months;
Selection of partial backup methods (full, incremental, differential and mixed backups);
Keeping offsite backup data as different versions of the same dataset;
Automatically repeating tasks missed by some cause such as network problems, if you need it;
Running other (external) software before or after a backup task.
A tech support that can help setting up and maintaining any offsite backup tasks.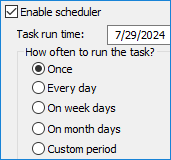 These advantages, along with many standard options including compressing and encrypting data as well as running all offsite data backup software operations in a "stealthy" mode (as a Windows service), make Handy Backup a very capable solution for organizing offsite backup data.
Use Cases for Offsite Backup
Why is offsite backup important for you? There are many types of tasks for implementing offsite backup solutions. Here is the short list of most popular tasks of such types.
Shared data. Offsite backup allows accessing these data by any person from any place.
Vital information. Using the off-site backup technique, you will protect it from local perils.
Distributing datasets. Sometimes, "backup" means only sending data online to other users.
Big databases. This is a common sense to store backups for mirrored databases offsite.
Difference between Onsite and Offsite Data Backup

As shown above, the key feature for offsite data backup is a possibility to store data physically away from the mainframe or computer location. Thus, the data backup will have protection from physical and hardware-related perils that local backup cannot provide.
As mentioned above, local backup has some advantages, including relative storage cheapness, quick data transfer rates and high availability of storage. We recommend combining onsite and offsite data backup in some scheme such as 3-2-1 backup, Grandfather-Father-Son or other.
Try Handy Backup as all-purpose offsite backup software! Download now the latest version with a full set of plug-ins and functions for a 30-day free trial period!p>
Who uses our backup software?