To backup files to DVD, make sure your computer is equipped with a DVD-R drive. Our software supports all types of CD/DVD/Blu-ray discs and the respective burning devices.
Tip. When backing up large files to several DVDs, be sure to number them, since you will have to insert them in order during the restoration. (This also applies to recording backup to CD disks and any other removable media.)
It is easy. To use Handy Backup as DVD data backup software, please follow these simple steps:
Create a new backup task, please.
Select CD/DVD/Blu-ray from the Local or Network Drive group as backup source on Step 2.
Click "Next" and select a new backup location (for example, backup DVD to hard drive) as backup destination on Step 3.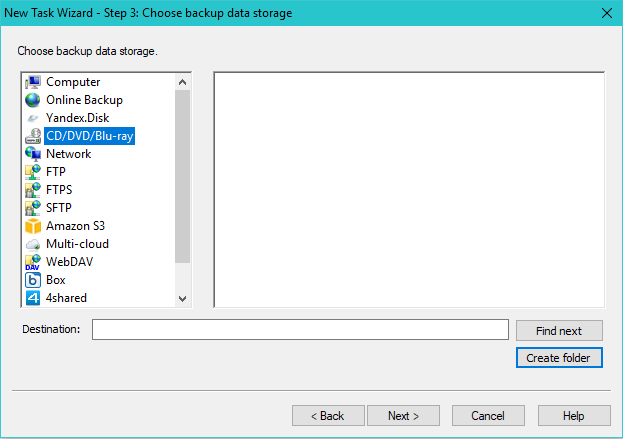 Now you can choose between the four types of backup: full, incremental, differential and mixed full/differential techniques. Best backup to DVD allows you to skip files already backed up:
Full backup merely copies selected data to DVD disc.
Incremental backup copies changes since previous full or incremental backup.
Differential backup copies only changes since the most recent full backup.
Mixed backup makes a copy of your data, and then perform several differential backups. After reaching a preset quantity of repeating backups or a predefined time interval, it will make a new full backup, repeating all cycle again.
Other steps are optional: you can enable compression, encryption, scheduling, etc.
That is all you need to do to backup DVD!
Caveat! When you decide to backup commercial DVD, please consider all matters of legality of this action. If it is prohibited by law (which is true in most cases), we recommend to take no backup actions unless you have or get some permissions to do it (such as a right to backup DVD for your own use)!
Here are the most common questions and answers about backup on DVD.
Question (Q): How I can backup DVD to HDD?
Answer (A): You can backup DVD to ISO images and then save these images to a hard drive or other media.
Q: Can I backup encrypted DVD with Handy Backup?
A: No, it is illegal. The exception is when Handy Backup was make this particular encrypted DVD by itself.
Q: How I can backup DVD video?
A: These are also matters of legality. Technically, you can backup DVD to MP4 or make an ISO file image.
Q: Why I must ever consider to backup DVD collection to another place?
A: DVD are obsolete now. Most PC of 20's have no ever a slot for a DVD drive. Please consider another media to store your crucial data nowadays.
Q: Which media can replace backup on DVD in Handy Backup?
A: Current version of Handy Backup supports local and network drives, shared folders, USB external drives, FTP, SFTP and FTPS protocols, access to private and commercial clouds via S3 and WebDAV interfaces, as well as popular online storage such as OneDrive, Google Drive, Dropbox and Amazon S3.

Because of overall progress in data storage technologies, we strongly recommend to change your backup on DVD practices to use modern, reliable and very controllable storage types, such as clouds, external drives and fast SSD, to replace backup plan DVD with newer, much more convenient methods.
Version 8.5.0 , built on September 19, 2023. 116 MB
30-day full-featured trial period
Welcome and try our backup to DVD Handy Backup 7 software! A free version for a 30-day trial!