Automatic Backup Software for External Hard Drive
External hard drive backup software allows protecting data against different losses and incidents.
Backup to external hard drive reduces the risk of system failures, uses cheap data storage for backup, as well as allows physically moving data between computers, avoiding potential risks of network attacks.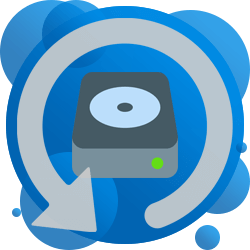 Best External Hard Drive for PC Backup
Nowadays, all types of backup to external hard drive are equally reliable, regardless of vendor as well as of HDD or SSD used for data keeping. Whether you use devices from Western Digital, Toshiba or other vendor, Handy Backup is there for you as reliable external backup software. The program utilizes standard Windows drivers, providing backup to USB with no problem.

Auto Backup on USB Drive by Plugging
Backup tasks can be set up to start automatically when you are plugging the specified device to a USB slot on your PC, regardless of particular slot used.

Keeping Backups at Native Data Formats
You can use the backup information without restoration, as the program saves data on external storages in native formats, allowing using these data directly from backups.

Backup Compression and Encryption
Options for compressing backup data to save some storage space, and for encryption to provide the highest level of data security (military-grade protection).

Set your backups to an external drive to happen regularly, according to time or system event schedule. You can also set up a "silent" work mode by starting the task as Windows service.
External Hard Drive Backup Software Reviews
Recommended Solution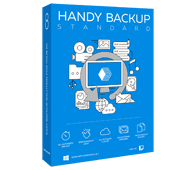 Version 8.4.6, built on April 25, 2023. 116 MB
Backup Software from Novosoft LLC. 39 USD per license.
Even the simplest edition of Handy Backup serves as best backup software for external hard drive! For more advanced backup tasks such as HDD image backup, you need the Professional edition.
Starting Automatic Backup Task by Plugging the USB Drive
Handy Backup is an example of best external hard drive for PC backup. It has a very useful option of automated starting a backup task when a user plugs the appropriate USB backup drive into a PC.

At any time you plug your external hard disk to some USB port, the task assigned to this device will start as the planned scheduling action. The program can memorize the USB backup device you are using for a task, recognizing it regardless of exact drive letter or USB port.
How to Back up Files to an External Hard Drive
Regarding the matter of file backup to external hard drives, Handy Backup is all about the comfort of choice. If you are backing up typical data, like documents, images, or videos, there are backup presets to accomplish the task in a few clicks.
Open Handy Backup and create a new task, using "Create" or Ctrl+N keys. Select a backup task.
Turn on the "Use Advanced mode" option.
Select data you plan to backup with this task;
On Step 3, choose the external hard drive as backup destination;
Proceed to set up your backup task as usual. These steps are not specific to USB backup tasks;
On Step 6, mark a checkbox allowing starting the task when USB backup device is plugged in;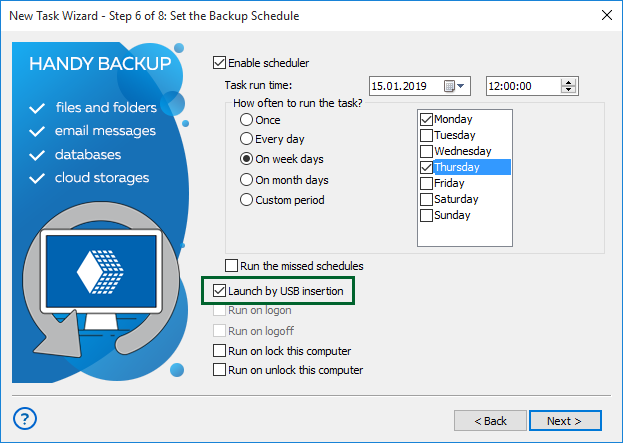 Finish the task creation by naming your task.
External Hard Drive Backup Software for Entire Disks
In addition to just copying any data to an external drive, you can make system backup or clone drive images to a USB disk. If you need to make whole-system Windows backup to external hard drive, you can do it without problems, either by saving an image file or by cloning a disk to an external USB unit.

You can make Windows backup to external drive with all system functions, including allowing an external disk to be bootable, but to use it as a boot device, you must also configure your BIOS settings to allow loading from USB (either for Legacy or for UEFI).
Note: Windows backup to external drive, as well as making a copy of a well-used data drive, can require a lot of storage space from a USB disk. For example, the best external hard drive for Windows 10 backup must have at least 250 GB of free space.
External Hard Drive Backup Storage: What to Do and What to Avoid
These are much pros and cons for external hard drive backup. Here we show some of its advantages and problems as a comparison table.
Features
Advantages
Problems
Storage cost
Relatively low
No
Theft counter-measures
Allows physical protection
Susceptible to loss and theft
Reliability
Good to excellent
Mechanically unstable (HDD)
Degrading while rewrite (SSD)
Backup and recovery speed
Very high (with USB 3.0)
No
Automatic Backup to External Hard Drive: Video Example
This video will teach you how to make auto backup to external hard drive, how to choose versioned backup and make time stamps for sorting versions, to compress backup files to a single ZIP file for space economy on backup storage, and many other tricks including launching a task by USB insertion.
Try the possibilities of backing up to external hard drives with Handy Backup,
automatic backup software for external hard drive!
Who uses our backup software?