Windows 7 Backup and Restore Software
Windows 7 Backup solutions for Handy Backup software comes with a great range of advanced security features to back up system data and disk images, locked files and etc.
Handy Backup is the powerful, quick and easy program, which fully supports Windows 7 as well as other modern versions of Windows!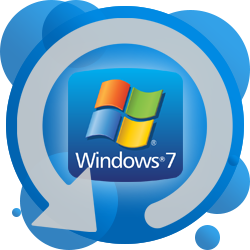 Full Compatibility with Windows 7
Our software proudly carries the "Compatible with Windows 7" logo which verifies that it satisfies all security and reliability requirements when working with Windows 7 and Windows 7-certified hardware.

Variety of Supported Data for Backup
There are one-click presets for saving and restoring Windows 7 data backup, including System Backup, user folders backup, Outlook and Exchange backup, Disk Image, and much more.

Client-Server Backup and Recovery via Network
If you have multiple Windows workstations or servers that you want to back up, you can make Windows 7 backup and restore with the Server Backup Solution. It allows backing up all HDDs, SQL databases and other data in an enterprise network.
Windows 7 Backup Options
Windows 7 has an own backup and restore service capable to keep some user files and system data. Sadly, this service has restricted functionality, and newer Windows versions abandon it due to a small amount of usability.
Compared with built-in Windows 7 backup utility, Handy Backup contains advanced options greatly expanding the flexibility and stability.

These options, such as extended methods of storing Windows 7 backup to network drive or automating safekeeping of business data, e.g. Exchange and Outlook messages, make Handy Backup a preference over built-in backing up and recovery tool.
Technologies behind the Windows 7 Backup and Restore Tool

The performance of Handy Backup as Windows 7 backup software confirms that it correctly exploits all specific options of the operating system and ensures that each component of the program works perfectly under any system configuration (in all modes and on all architectures).
Recommended Solution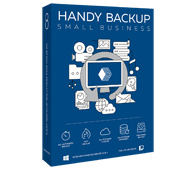 Version 8.4.6, built on April 25, 2023. 116 MB
Backup Software from Novosoft LLC. 249 USD per license.
Ultimate backup software for Windows 7, the hottest Small Business edition for a single server or a powerful workstation. Free 30-days trial version!
Key Features for Windows 7 Backup and Recovery in Handy Backup
From any backup software, Windows 7 requires some criteria allowing making fast and convenient backups. The short list of principal options of Handy Backup include following things:
Advanced backup settings. The program performing full, incremental, differential or mixed backup, select file backup types by mask, organizing system recovery using an image previously backed up, saving entire disk data and so on.
Windows 7 registry backup. The software allows you to backup registry Windows 7 file with an entire image of your system or separately.
Flexible scheduling. For any backup or restoration task, you can schedule a cycling period from minutes to months. It is also possible to run automatically some external programs before and/or after the particular task.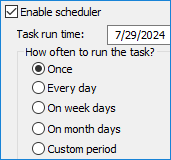 Administering backup tasks. Advanced users can make use of command line interface, e-mail notification, fast backup and other options.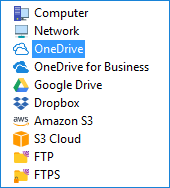 Built-in tools. Handy Backup allows such options as hot backup of files opened and locked by other apps, strong internal encryption and ZIP compression of backups.
Selection of supported storages. The utility can backup data Windows 7 to any local and external USB hard drives, FTP, SFTP, FTPS servers, network-attached storage devices (NAS), shared network folders or clouds (both private and commercial). Learn much more about different backup storage types supported by Handy Backup software.
How to Backup Windows 7 Files or System Image with Handy Backup?
To create Windows 7 backup files with Handy Backup, make a new backup task and select appropriate data on Step 2.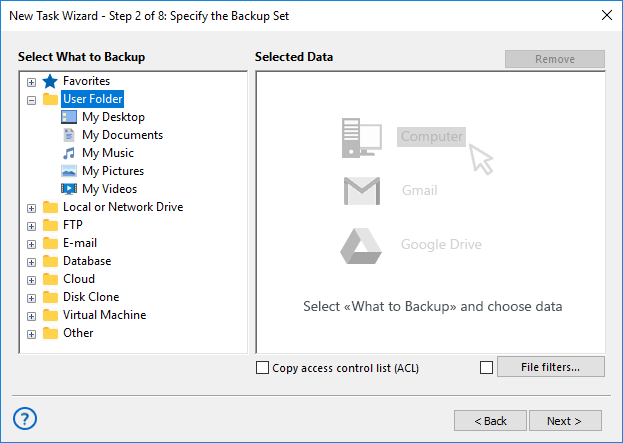 For backing up different parts of Windows 7, there are some plug-ins such as "Computer" for files and folders, "Libraries" and "User Folders" for user-specific data, "Registry", as well as "System Recovery" for drives and partitions.
To make a Windows 7 image, select the "Disk Clone" section on Step 2. Here are the two plug-ins: "Disk Image" for creating binaries for Windows 7 backup and restore, and "System Recovery", which will create a full Windows 7 backup in a readable VHD drive image format.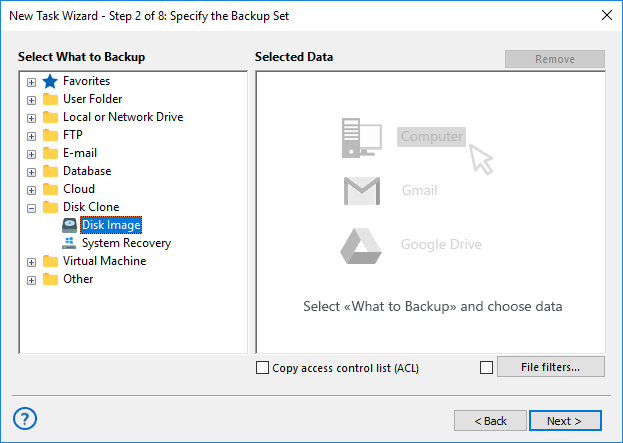 Note: You can select a logical partition for Windows 7 backup only with the "Disk Image" plug-in.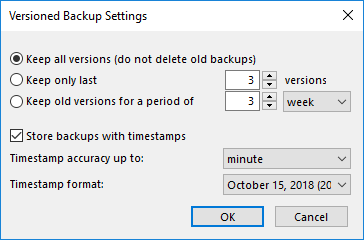 If you select an advanced mode on Step 1, then you will have access for some other options, including starting backup by system events such as plugging a USB device into a machine, making tasks for Windows 7 backup delete old backups automatically, or notifying a user about task status on email.
Restore from Windows 7 Backup

If you save only some files or other data as a copy of Windows 7, you can either create a task for automatic Windows 7 backup restore, or just move these files manually from backup storage to any required place by using any file manager, as Handy Backup stores unencrypted files in native formats.
For recovering an entire image, the best way is to use the dedicated Disaster Recovery utility (freely added to most editions of Handy Backup). It serves as a perfect Windows 7 backup and restore tool, allowing saving and recovering a whole drive or partition even to bare metal!
To Rule Them All
The Handy Backup solution functions not only as Windows 7 backup software, but also as a backup utility designed for any modern version of Windows.
The list of supported versions includes Windows 10, Windows 8.1, Windows 8, 7 and Vista for standalone computers, as well as server editions of Windows Server 2008, 2008R2, 2012, 2016 and 2019.
It has also native supporting for Linux-based machines in Handy Backup, and even the Java-powered client for OS types other than Windows or Ubuntu/Debian Linux.






Try Handy Backup, the most powerful and flexible Windows 7 backup software solution!
Who uses our backup software?