File Backup Software for Windows and Linux
Backup file of any type to protect it, to change it securely, or just to clone it or to move your precious file into another place! Handy Backup is an easy-to-use file backup software solution that allows you saving and restoring your files wherever you want, preserving native file formats unless other specified!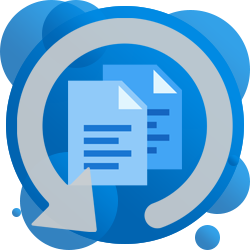 Advantages of Automatic File Backup Software

Simple Interface, Convenient Control
You can backup file by creating an automated task, which will include all options that your need for automatic job, such as scheduling a task to a time or by an event, compressing or encrypting your files, or making partial backup for renewed data only. You will control all tasks via the comprehensible GUI.

Enhancing File Backup Solution Security
With this file backup software, you can enhance the reliability of data protection either by implementing secure transfer (such as for SFTP and FTPS protocols, or by S3 clouds, see below), or just use an advanced internal encryption feature, along with possibilities of ZIP compression of a backup file.

Cross-platform Solution
Handy Backup will work as Windows 11 file backup software, as well as supports earlier versions of Windows including Windows 10, 8.1, 8, 7 . It is also fully compatible with Windows Server 2019 and earlier editions, and can protect Linux data as well by working as native file backup software.
Efficient and Reliable Storage for File Backup
With Handy Backup, you can select appropriate file backup storage solution among many options, including such common and featured data vaults as:
Local drives, mapped network drives and external USB units (disks, cards or flash pens).
Network shared folders on other machines, file servers or NAS/SAN devices.
File backup online to FTP, SFTP or FTPS connected to a local network or to Internet.
Private and commercial file backup cloud based on secure WebDAV and S3 interface.
File backup to OneDrive, OneDrive for Business, Dropbox Google Drive, Box and other.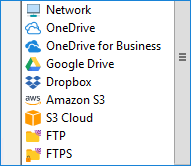 Note: If storage allows using a secured API for data transfer, Handy Backup always utilizes this API instead of less secure methods like copying a synchronized local folder.
Recommended Solution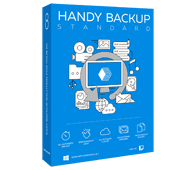 Version 8.4.6, built on April 25, 2023. 116 MB
Backup Software from Novosoft LLC. 39 USD per license.
The Standard edition provides all necessary tools and functions, making it one of most affordable and efficient file backup solutions on the market. Free 30-days trial version!
How to Use Handy Backup as File Backup Software for Windows?
This short instruction will teach you how to backup file in computer with an automatic task.
In Handy Backup, create a new task by clicking a button on the main panel or by pressing Ctrl+N.
Select a backup task on Step 1. Proceed to Step 2 by clicking "Next".
On this step, expand the "Local or Network Drives" group on the left panel.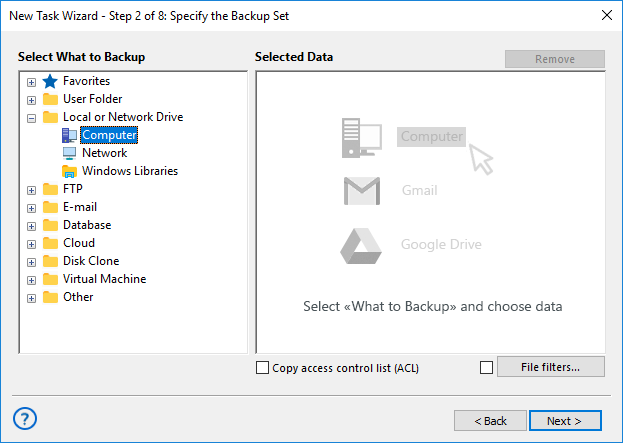 Click on the "Computer" plug-in. The data selection dialog will open.
Use the file system tree to find and mark any data for file backup.
Click OK to return to Step 2, and then proceed to Step 3.
Continue creating your task as explained in the User Manual.
Note: You must know the location of your files specified for file backup. When you do not know where to find these files, you can use the option described below – file filters by mask and/or attributes.
Using File Filters
To learn how to backup file by mask of the name, please use the file filters as described here.
To access for "File filters" function, please allow advanced mode on Step 1.
On Step 2, click on the "File filters…" button. A new dialog will appear.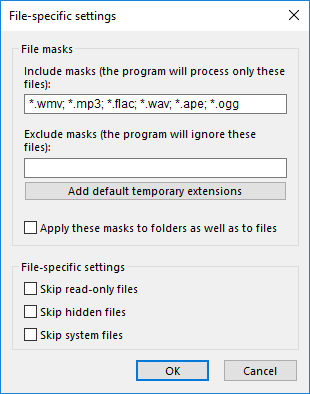 Select files by masks of file names, to include or exclude these names from file backup.
When finished, click OK and return to Step 2. Select the "Computer" plug-in.
Mark an entire drive containing your files (or particular folders to speed up searching).
Click OK. The file backup utility will automatically find files matching your question.
Restoring Files from Backup
All file backup solutions must have a capability of automatic restore from backups. To realize this capability on Handy Backup, please create a restoration task as described below.
Open New Task Wizard, and create a new restoration task as described above.
On Step 2, browse for the index file backup.hbi in your archive folder. Click "Next".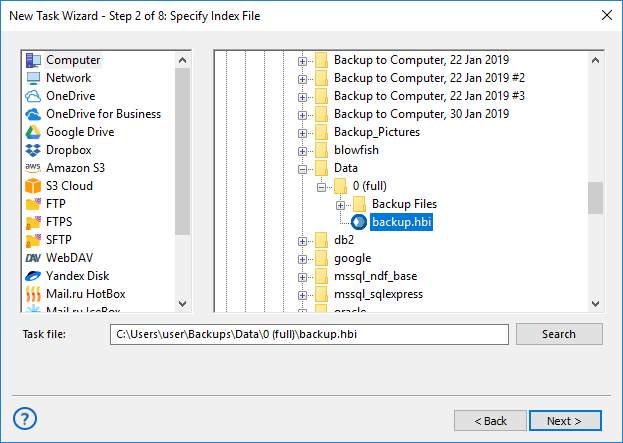 By default, Handy Backup will return the files it restores to the original place.

Caveat! We are strongly recommending inspecting carefully any location before restoring a file backup into it. Otherwise, you can accidentally destroy some newer data than the backup content you will restore into a destination folder!

If you want to restore your files to a different folder than its origin, please follow these steps:
In the "Select Restore Locations" dialog, select a file to move, and then click the "Change Location" button. It will open the "Change restore location" dialog.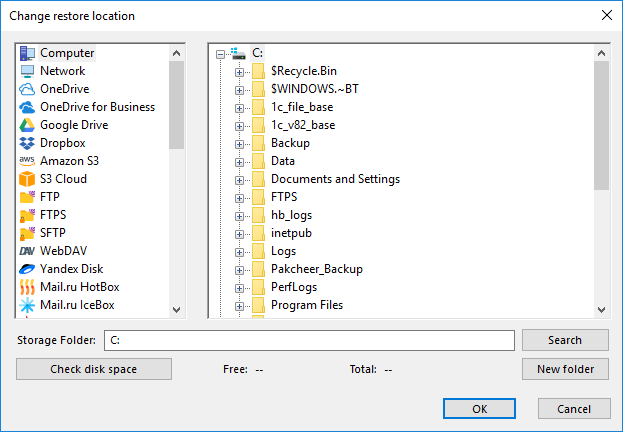 Select a new location (including a possibility for completely different destination type, such as an FTP server).
Continue creating a recovery task as described in the User Manual. No one of these steps have any specific requirements for file restoration.
File Backup to USB: Video Tutorial
In the next video, you will see how to backup file to USB device, as well as how to use versioned file backup, triggering a task by system event and other special features of Handy Backup.
Note: In this video, a user creates a file backup task from the My Desktop folder to a USB device. This task will start every time when a user will plug a USB device into a PC slot.
Handy Backup is an example of best file backup software that you can acquire! Do not hesitate to try it by downloading a free 30-day trial edition with all functions and plug-ins just now!
Who uses our backup software?