Incremental Backup Tool for Windows and Linux
Incremental backup software solutions, such as Handy Backup, are perfectly fit for such tasks as constant updating the reserved copies of work files, folders, projects or cloud accounts. Handy Backup provides the automatic incremental backup for Windows and Linux OS.
What Is Incremental Backup?
Incremental backup is a method of backup where a full copy of some data will update with smaller copies of any changes in this basic dataset (these updates are the increments). Incremental backup software must have a capability to make these copies on a regular basis and recover it when needed.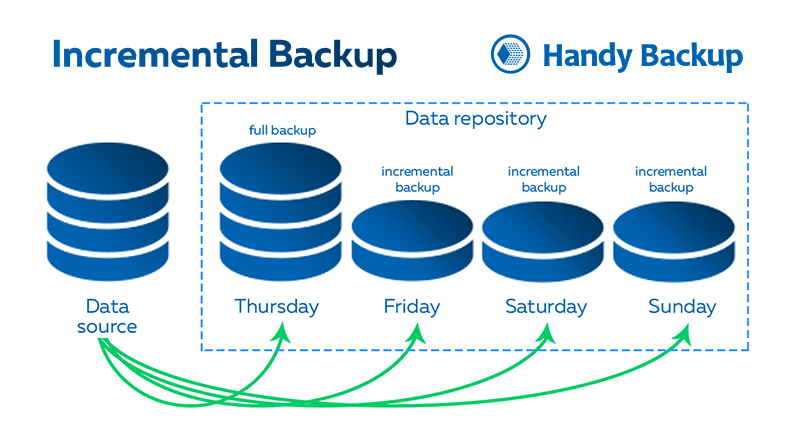 For example, if about 2,000 files has been kept on a particular folder and after the last backup only three of them were changed, incremental backup will create a copy of only these three files. This backup is an increment to full backup keeping all files as a basic copy.
Mixed Incremental Backup
This option starts a fixed cycle of one full backup and some subsequent incremental backups. All cycle will start again from full backup when the chain of incremental backups will reach its predefined end (by time or by quantity).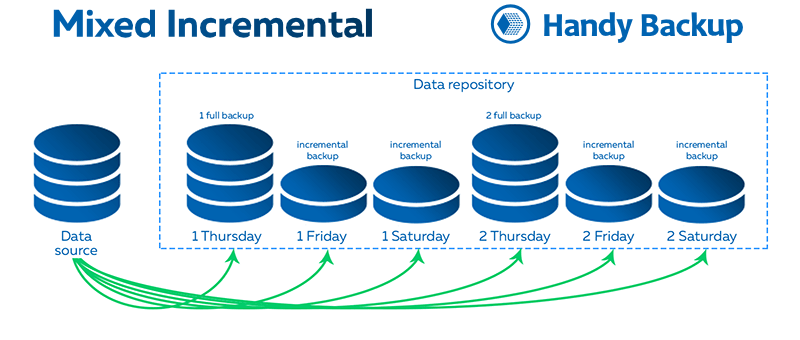 The crucial advantage of mixed incremental backup is an ability to break too long incremental chains and replace it with a newer full backup. This can slow a backup process by a bit, but adds greatly to speed and reliability of recovery process after long-term incremental backup.
How to Take Incremental Backup in Handy Backup?
This is a quite simple action. Just select either the incremental or the mixed incremental backup type on the Step 4 of a new backup task creation.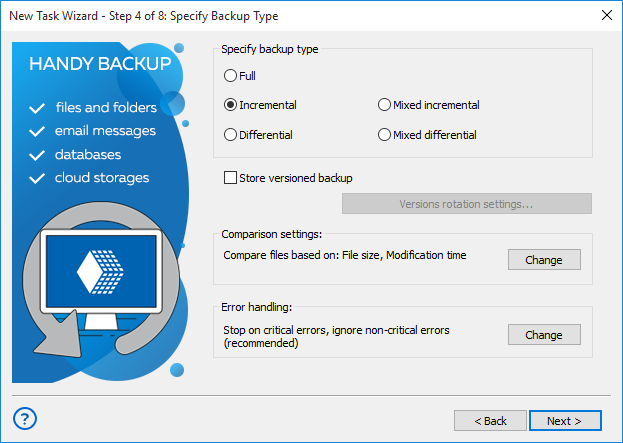 For mixed incremental backup, you can also set up a length of a backup chain before repeating a whole cycle (by time or by quantity of increments). Note than the option of mixed incremental backup is available only for advanced task wizard mode!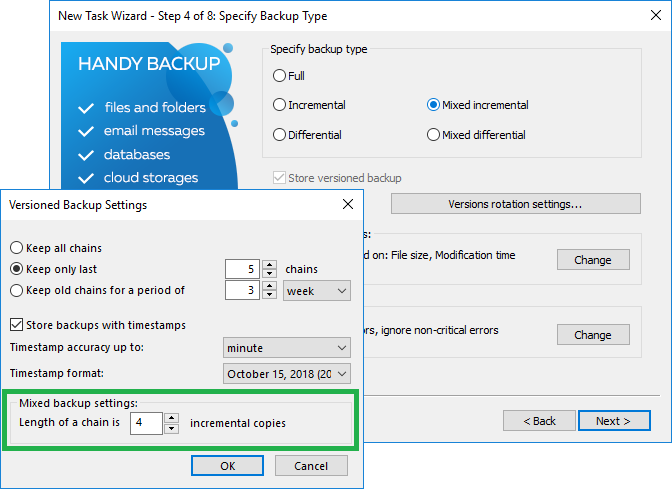 Recommended Solution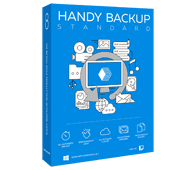 Version 8.4.5, built on March 14, 2023. 116 MB
Backup Software from Novosoft LLC. 39 USD per license.
Easy-to-use utility with full support for differential and incremental backups. Full-featured free 30-days trial!
Where to Use Incremental Backup Software?
Typical use cases for incremental backup include:
Incremental file backup for Windows and Linux files, to store versions of changing files.
Incremental photo or video backup for simplifying restoring to a particular version.
Incremental data backup for clouds, such as Google Drive incremental backup.
An advice: Incremental database backup can slow down restoration! Surely, you can create a task for incremental database backup, but it will be much slower to recover than the differential backup for the same dataset! Thus, we are recommending reserving this option for incremental file backup!
Using Mixed Incremental Backup
Typical use cases for mixed incremental are for those datasets that can provide potentially too long incremental chains to recover or keep these chains efficiently.
Shared projects and folders with constantly changing content.
User folders and Windows libraries during regular scheduled backup activity.
The Multi-Platform Solution
Handy Backup is a perfect Windows incremental backup program for all modern versions of this OS including Windows 10, 8.1/8, 7 and Vista, as well as for server and online incremental backup of Windows Server 2016, 2012 (with 2012R2) and 2008 (with R2, too).






Linux Incremental Backup Tool
In addition to Windows versions, Handy Backup fully supports Linux distributives based on Ubuntu 16.04 and 14.04, running under Linux in native mode. It also provides a Java Workstation network client that allows running network-oriented editions on remote Windows, Linux or FreeBSD machines.
Try Handy Backup as your efficient and convenient incremental backup tool! If you want to learn more, do not hesitate to download now a fresh and free 30-day trial edition with all options at hand!
Who uses our backup software?