Disaster Recovery Solution from Handy Backup
Disaster recovery software allows restoring the system or data after crash, migration or simple cloning. To allow that, Handy Backup provides a USB-based tool, simply called Disaster Recovery. Among other disaster recovery services, this tool has a big flexibility and many options to make it more convenient.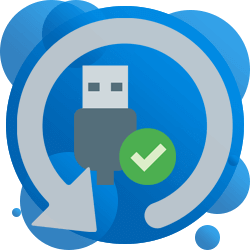 Planning a Strategy for Disaster Recovery
Disaster recovery services allow making some strategy for regular data backup. Therefore, you will always have actual information to restore after crash or to migrate when a need for it will emerge. The Disaster Recovery tool works well with Handy Backup, which can make automatic copies for recovery:
Disk Image, the plug-in for creating a binary copy of a drive or a partition.
System Recovery, a plug-in that creates a copy of an entire drive in usable VHD format.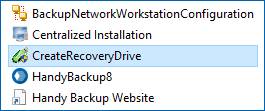 Advantages of Handy Backup and Disaster Recovery Solution
Full Automation for Backups!

As a disaster recovery solution, Handy Backup can take backup data by scheduled tasks with any defined period. It also allows recycling versions, e.g., deleting an old backup for a newer one once per month.
Safety First!

You can encrypt your disaster recovery data with a built-in algorithm to prevent unauthorized access. In addition, this is a set of protected storage services (such as disaster recovery on cloud) to use.
Keep Backups with Convenience!

You can utilize any cloud from OwnCloud private storage to such giants as AWS for disaster recovery images. In addition, you can use local or external drives, direct and protected FTP, or shared drives.
Disaster Recovery as a Service — No Distractions!

This is no need to distract a user from daily actions during taking backup with Handy Backup as a disaster recovery tool. You can run it with pre-configured backup tasks as a silent Windows service.
Capabilities of the Disaster Recovery Tool

Restoring PC with a Recovery Drive
If your computer or server cannot start an operating system, you can use a USB recovery drive (created with Disaster Recovery software) to boot it up and run some first-aid applications: partition manager and a recovery tool by itself.

Complete HDD Data Recovery
You can create a whole hard drive image (either directly from the Windows version, or via the USB recovery drive) or an image of a single partition, boot-type or data disk, and then restore the snapshot to the same, or a different device, resulting in a complete data restoration.

Graphical Interface for Task Management
The Disaster Recovery software tool allows governing all operations with backup and recovery through a simple, Windows-style graphical user interface. In the next video, you can see how simple is to make backup and recovery tasks when you are using the Disaster Recovery software.
Testimonials About Disaster Recovery Software by Handy Backup
Recommended Solution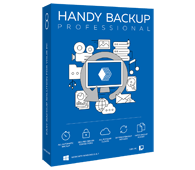 Version 8.5.0, built on September 19, 2023 . 116 MB
Backup Software from Novosoft LLC. 89 USD per license.
The Professional solution is an easy-to-use disaster recovery tool to suit the needs of experts and IT pros. You can save data from your disk and make recovery, or backup and restore an entire drive!
Video Titorial: Recovery Image Disk with Handy Backup Disater Recovery
This video tutorial will help you set up a backup of a Windows disk image using the Disk plug-in for disaster recovery!
Note: The newest version of a utility has some changes when compared with a video above. The most important change is that the KDE partition manager is available inside the main menu now, not showing itself on a desktop. This is made for protecting from incidental running of this utility by unskilled users.
Disaster Recovery for Separate Data
Along with total image backup, you can save only crucial or vital information as separate backups, from user files to databases to websites and other dynamic structures. When you are using Handy Backup as disaster recovery management software, you can backup and restore these data separately.
Native Format of Backup Data
Handy Backup preserves uncompressed and unencrypted files in native formats when it copies these files to backup storage. Therefore, you can recover from disaster as few as a single file or folder, just by loading some system (e.g. from a live USB) and copy the file that you need by a standard file manager.
If you are searching for reliable and convenient disaster recovery solution, try Handy Backup!
A free 30-day trial version with all functions and plug-ins!
Who uses our backup software?