Windows 10 Backup Solution
Windows 10 backup and restore functions are at high demand nowadays, as Windows 10 is not only the newest OS in a Windows family but also the hottest. Therefore, many users have a need for mighty and simple Windows 10 backup software, such as Handy Backup.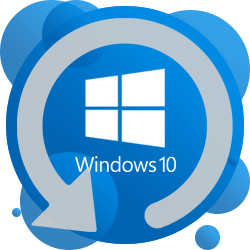 The Native Windows 10 Backup Software

The built-in Windows 10 backup tool is reliable but too simple for advanced backup strategies. Therefore, advantages of third-party backup solutions such as Handy Backup can simplify saving and recovering Windows 10 backup image data for many users.
Why I Need Specialized Software for Windows 10 Backup?
Windows 10 contains many functions and settings, so it seems much more reasonable to trust the specialized utility for backing up the OS, instead of saving copies of important data manually or through different scripts. Handy Backup is a paragon of these utilities, fully compatible with Windows 10.
Note: With Handy Backup, you can try Windows 10 without spoiling any of your current Windows data. Just use the Disk Image or System Recovery plug-in, or run the Disaster Recovery utility to get a Windows 10 backup image and an image of your current system drive or partition, to avoid data loss.
Using Handy Backup as Windows 10 Backup Software
Handy Backup can provide some significant advantages for Windows 10 backup and restore. Some of these advantages and features are listed below.
Designed to Fly in Clouds: Orientation to Online Services

As Windows 10 is declared to be oriented to online storages and services much more than for "traditional" local resources, Handy Backup provides Windows 10 backup to almost any online storage existed for now. They include Amazon S3, Google Drive, Dropbox and, presumably, OneDrive!
Designed for Everything: Any Data Type Can Be Tuned to Automated Backup

Handy Backup is capable to save copies of any single data type existed automatically, including selected files and folders, Windows libraries, registry, website, CMS or cloud content, SQL-based and other database engines, as well as to copy exact images of disks or partitions.
Packed with Security: A Toolkit for Keeping Your Data At Hand

By default, all data copies made by Handy Backup are stored in the data native formats, allowing using these data immediately or mirroring datasets without extra efforts. User can also encrypt and compress the information backed up, move it via SFTP/FTPS secured protocols, restore it to other place.
Chosen by Experts: The Perfect Tool to Organize Backup and Restore

This is no backup strategy that cannot be realized by Handy Backup. It allows user to schedule any single task for repeated periods from months to minutes. Also to run it as Windows service requiring no interference, to start other programs before and after the task, and to notify user of any action.
Recommended Solution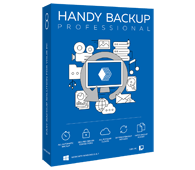 Version 8.4.6, built on April 25, 2023 . 116 MB
Backup Software from Novosoft LLC. 89 USD per license.
Try backup software Handy Backup Professional, fully compatible with Windows 10 and other Windows operating systems. Free 30-days trial version!
Advanced Options of Windows 10 Backup Software
Being a perfect Windows 10 backup solution, Handy Backup has some key advantages other than listed above, making it an ideal tool for every backup task existed. These options include such features as:

Different Editions for Different Tasks
A choice of editions capable to back up data from a typical home PC to a complex network cluster with different OSes and mixed domain/non-domain structure.

Partial Backup for Saving Storage Space
Handy Backup can create full, incremental, differential or mixed (full-incremental or full-differential) backup, allowing saving storage space and reducing job time for creating Windows 10 image backup.

Big Selection of Local and Online Storage
A lot of media storage types supported other than online clouds and FTP, SFTP, FTPS servers, including HDDs, SSDs, USB drives, NAS units and remote network disks.

"Hot" Data Backup Wherever Possible
By using Volume Shadow Service, Handy Backup always tries to perform "hot" backup without stopping operations with data. You can also force "cold" backup if you need it.

Task Automation for Every Aspect
Handy Backup provides an advanced scheduling engine, allowing running your task at an exact time and with perfect intervals, triggering backup by system events and automatically repeating missed tasks.

Tech Support and Free Updates
The price tag includes such services as tech support and all regular updates beneath a major version, including providing new plug-ins and tools for advanced backup and recovery.
The Cross-Platform Solution
Extremely wide compatibility with other OS Windows editions, including Windows 8.1, 8, 7 and Vista, as well as server solution like Windows Server 2016, 2012, 2012R2 and 2008 (R2). In addition, it supports some distributives of Linux based on Ubuntu 16.04.






You may try Handy Backup freely for 30 days, to explore all the might of this perfect,
unified and convenient Windows 10 backup software!
See also:
Who uses our backup software?