Outlook Email Backup Software (2019, 2016, 2013, 2010 and 2007)
Outlook Backup Software is crucial for a system administrator or a user who wants to protect E-mails and other data. As an internal Outlook backup function is obsolete nowadays, users must run third-party software for saving Outlook data, such as Handy Backup.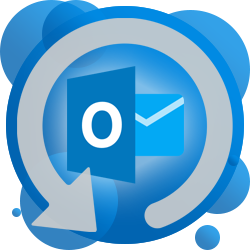 Handy Backup provides a powerful Outlook backup feature, which is able to automatically backup Outlook emails and other data (including any single PST file copy, Outlook contacts and event lists). Restore Outlook backup is as simple and automated procedure as taking a backup Outlook copy.
Key Features of Outlook Backup
As the perfect Outlook backup program, Handy Backup gives its users the following list of principal features:
Full Outlook Compatibility

Handy Backup can backup Outlook 2019, 2016, 2013, 2010 and earlier versions, along with MS Exchange backup and saving email backup directly from clients or servers. It can automatically backup emails in Outlook 2016 and other versions via the dedicated "Outlook" plug-in.
Quick and Hot Outlook Backup

Using the Volume Shadow Copying service (VSS), Handy Backup can backup Outlook data without stopping the Outlook program itself. In addition, Handy Backup is very undemanding to resources, so it does not drop overall speed of job when running.
Fast Outlook Restoration

The restoration procedure for Outlook data is as simple as the backup process, using the same interface and methods described. Just create a restoration task, select the copy needed to restore and run the task to replace your Outlook data, or backup Outlook to PST files containing emails in native format.
Outlook Backup Emails Security

With Handy Backup, you can utilize many security functions, including using protected storage protocols (such as S3 or SFTP) for data transfer, forcing Outlook backup all emails to removable USB media, saving Outlook backup profile with built-in encryption, or auto-running external security programs.
Migrating from Outlook to Other Services and Clients

You can use the "MS Outlook" plug-in not only to backup Outlook but also to restore or migrate its data, such as for backup emails in Outlook 2013 and then restore it to some other machine with Outlook 2016 pre-installed, or even move its content (in EML message formats) to some email services.
Any edition of Handy Backup can automatically backup Outlook data. No additional installations or investments are required to use this feature at full scale.
Review about Outlook Backup Feature of Handy Backup
Recommended Solution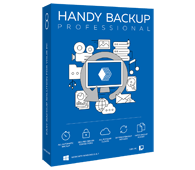 Version 8.4.6, built on April 25, 2023 . 116 MB
Backup Software from Novosoft LLC. 89 USD per license.
Get the Professional edition, the mighty Outlook backup software solution capable of managing all your mail data protection in just a few clicks.
Other Principal Features of Handy Backup
Along with Outlook backup, Handy Backup can automate saving copies of any other data types, providing a strong and convenient backup tool for all the needs of data security.
Backing up in native format. You can back up files and then use copies any time you need it, as Handy Backup saves files (e.g., in PST file format) and other logical data keeping original format, requiring no restoration for using this data.
Scheduling backup tasks. Your data, e.g., Outlook account, can be backed up automatically on a regular basis defining a period from minutes to months, ensuring you can always restore the actual version of your data.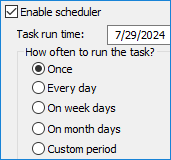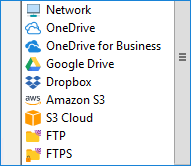 Wide choice of storage media. Store Outlook backup emails on local and remote hard disks, USB external and flash drives, commercial clouds, NASes or FTP servers. Advanced editions of Handy Backup will give you even more variants of backup storages.
Additional backup capabilities. Handy Backup saves any data you need to save, not only emails. Add all your data that you need to save in a single joint task and schedule backup. You can also encrypt or pack data when performing such tasks as Outlook 2016 automatic backup.

You can run Handy Backup under any edition of Windows, including Windows 10, 8, 7, Vista and server editions of Windows such as Windows Server 2019, 2016, 2012, 2008 (R2), Windows Server Essentials.
How to Backup Outlook E-mails and Other Information
As usual with Handy Backup, the process of Outlook backup is quite simple. Doing it step-by-step, you can backup MS Outlook data without any special effort.
Run program and create a new task by selecting "New task..." from menu or just by pressing Ctrl+N.
Choose a backup task type. You can save Outlook backup folders either in simple or advanced mode, as you want.
On Step 2, click on Outlook from the list of backup data options in the E-mail section of the left panel.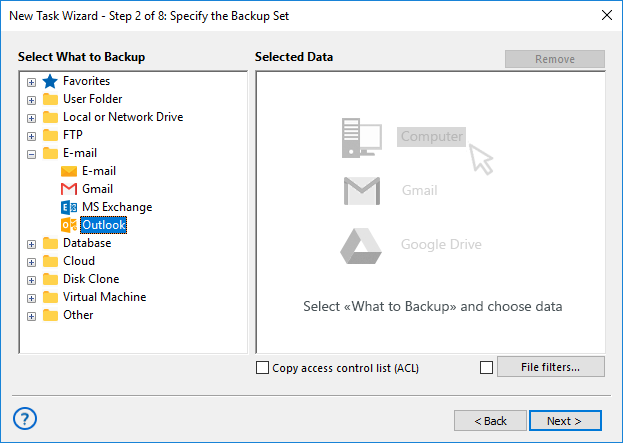 The new window called "Select data..." will appear. Mark the checkbox near the "Outlook" option. You will see the list of Outlook, Outlook Express and Windows Mail folders.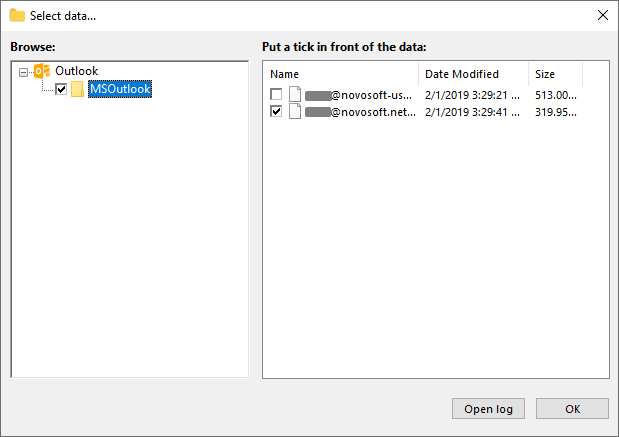 Click "OK" to return to the task configuration process.
Select other settings, such as backup destination, compression and scheduling. These steps are not specific for Outlook backup.
Outlook.com Backup via IMAP

Saving emails from webmail service called Outlook.com is a completely different task from local MS Outlook email backup. It is a common web service backup, which you can do by using the "E-mail" plug-in (located in the same "E-mail" group as the "Outlook" plug-in).
How to Make Outlook IMAP Backup
It is simple. Make a new task as for a local client, but select the E-mail plug-in on Step 2. Create a new connection and provide appropriate data for opening your Outlook.com email account:
Server: outlook.office365.com
User and Password: your login and password for Outlook.com e-mail
Do not touch other parameters. Give a name for this connection. After successful testing it, you can use this connection for Outlook backup emails, as well as for email recovery to this account.
Video Example: Backup Outlook E-mails
In this video, you will see how to move Yahoo!Mail backup to Outlook.com. It is a fully automated operation, requiring only minimal tuning. By using the same way, you can backup Outlook.com to other storage or service, or recover Outlook.com data in EML formats.
Perfect Software for Outlook Data Backup
As this article explained, a user can utilize Handy Backup as Outlook backup software with a highest level of efficiency. Tuning and scheduling tasks to backup Outlook, users can assure the total security and consistency of all emails under their Outlook accounts.
Try the power of MS Outlook backup with Handy Backup, downloading it just now from the official product download page for a 30-day free trial period!
Handy Backup is the perfect Outlook email backup software solution, designed for everyone!
Capterra′s Rating:



"Great product, very simple and effective backup program"
Who uses our backup software?