You can find out the registration number of Handy Backup in different ways.
You have Handy Backup 7 or earlier versions and you want to update it to version 8 but do not remember your registration number. You can find it via the following methods:
Launch Handy Backup. On the toolbar click the key button or enter the Help menu and click the "Enter your serial number..." option.

Open a new dialogue window, where you will see your registration number.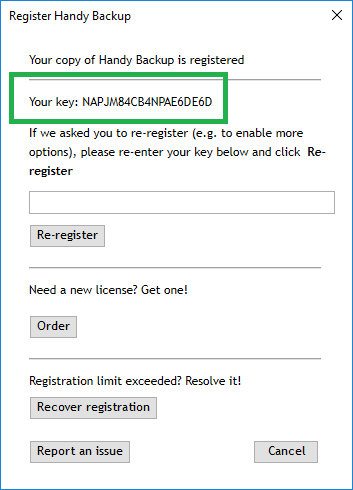 On the form web-page choose the forgot the registration number option.
Enter the email address you registered Handy Backup with.
An email will be sent with all the registration numbers you have purchased.
Purchase letter
When purchasing the program you will receive a letter with your order confirmation and the registration number. In that letter you can also check which version of Handy Backup you have purchased.
If you have any further questions please email us at support@handybackup.net.
See also: FAQ | Registration, Re-registration, Registration Number Loss:
⇒ What to do if I have bought the program on handybackup.com?
⇒ What to do if there are problems with the number for free version of the program?