Cloud Backup Solutions and Tools
Cloud backup solutions allow utilizing some offsite cloud for backup.
The Handy Backup solution contains different plug-ins and features for easy, convenient backup to such clouds as Google Drive, Dropbox, OneDrive, Box, S3 and WebDAV-driven cloud services, either public or private.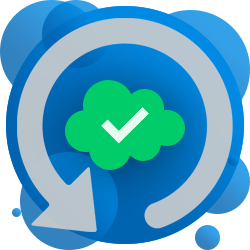 Features of Best Cloud Backup Solutions

Offsite Data Storage
No peril that can strike your main computer, laptop or even a local network infrastructure can also attack your data copies stored on cloud backup solutions! Clouds protect your backups from any local troubles including theft, hardware mishaps, arsons or even extraterrestrial invasion onto your office!

Free Access to Backup Data
You can restore your backups from any point of the world, presuming this point has an Internet connection. To set things even more convenient, Handy Backup allows manual operations with unprotected backups, and even automatic restore of backups manually moved to other places!

Reliable Data Keeping
Forget to be nervous about quantity and quality of your hardware, as well as about efficiency of firewalls, antiviruses, garbage cleaners and other software for storing data! All these functions are now at the hands of the skilled staff maintaining your cloud accounts. Think about results, not about tools!

A Vast Selection of Data Sources
With Handy Backup, you can make cloud backup of NAS and FTP content, databases, virtual machines, files, folders and special data types. You can even make cloud backup hard drive images, to protect your system from ransomware or to use an image stored in cloud backup with Disaster Recovery utility later.
Customers about Handy Backup
Recommended Solution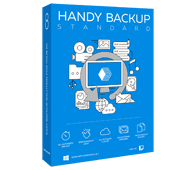 Version 8.4.6, built on April 25, 2023. 116 MB
Backup Software from Novosoft LLC. 39 USD per license.
Use all features described in cloud backup reviews with the Standard edition to store copies of your data from your home PC to popular storage services, including cloud backup to OneDrive, Google Drive, Dropbox or even private clouds supporting WebDAV!
Principal Advantages of Handy Backup
Scheduling Tasks
You can schedule start of any task using a offsite backup utility to some exact time, with a preset interval of repeating from a minute to a couple of months, as well as link a task with some system event, such as user logon/logoff or plugging a task-related USB data device into a computer.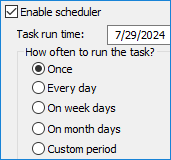 Automation
Each cloud backup tool, as well as any data or storage plug-in available, fully automates operations of backup and recovery with a selected cloud storage, including searching data, establishing connections, tuning up data flow and securing the information.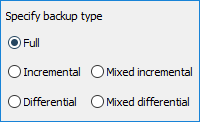 Advanced Backup Options
Handy Backup allows such things as taking partition backups, (incremental, differential and mixed), saving many versions of datasets, making time stamps on backup folder names, encrypting and compressing the information, and running software before and after a task.
Using Handy Backup as Cloud Backup Software
To utilize cloud backup solutions, Handy Backup provides some storage plug-ins, dedicated for establishing connections and exchanging data with cloud software tools listed above. We are adding new cloud backup services constantly, so we recommend updating your Handy Backup regularly!
Popular Cloud Backup Solutions
How to Use Cloud Backup for Saving Your Data?
This is the simplest instruction about how to use cloud backup solutions with Handy Backup. Here, we show how to utilize OneDrive, but you can choose any cloud based backup services instead, just by selecting and configuring an appropriate plug-in.
Create a new Handy Backup task.
Select a backup task on Step 1, in either simple or advanced mode. You can use any plug-in in both modes.
Choose data for a backup dataset on Step 2. Click "Next" to proceed.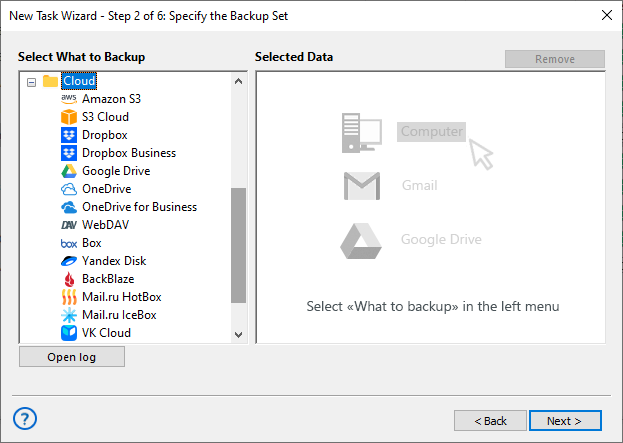 Go to Step 3. Here, select either one of dedicated cloud plug-ins (Dropbox, Google Drive, OneDrive etc.) or generic cloud interfaces (WebDAV or S3 Cloud).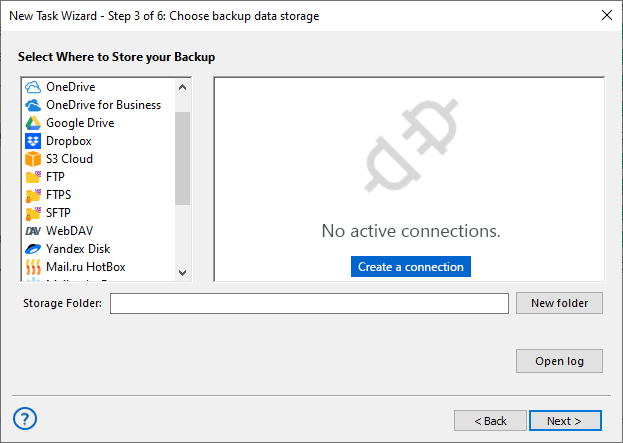 Note: If you do not have a connection to selected cloud, then click "Create a connection…" and enter your login data for a cloud account. This operation will open a browser window with Web interface for a selected cloud, so enter your connection data and then allow using Handy Backup for cloud storage.
Continue creating a task as described in the User Manual. Here, you can make such things as cloud backup with encryption, making partial and versioned backup, and call for other software. Note that most of these additional features are available in advanced mode only.
In addition, you will have an option for turning on a scheduler that allows you utilizing cloud backup services on a regular basis, with intervals from months to minutes, or even trigger these tasks by system events in advanced mode.
Finally, give a name for your cloud backup task and enjoy the results!
Moving Cloud Backup Content to Anther Storage

You can also save data from a cloud. For this, select a plug-in on Step 2, in the "Cloud" group. Choose an existing connection or create a new as described before, and then select data from your account to make, for example, an automatic cloud backup for NAS enterprise storage.
Cloud Backup for Small Business

These are some additional options for cloud backup business tasks. Among these options are utilizing business-level storage solutions (cloud backup OneDrive for Business, Box, Amazon S3, Alibaba or other bucket-based protected storage clouds), making cloud backup for Office 365 documents via WebDAV and so on.
Note: Cloud backup for Office 365 is often strongly linked to OneDrive, and, in some cases, other dedicated clouds. Please read some cloud backup reviews and software instructions before making a decision how to store your cloud backup enterprise data with this product line from Microsoft!
Testimonials About Cloud Backup for Small Business
Recommended Solution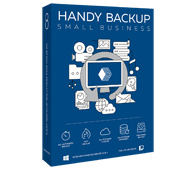 Version 8.4.6, built on April 25, 2023. 116 MB
Backup Software from Novosoft LLC. 249 USD per license.
The full-featured, server-level solution for a single machine, the Small Business edition provides all available cloud backup enterprise tools directly out of the box! Free 30-days trial version!
Try Handy Backup as your trusted solution for cloud backup services, by downloading and installing a newest version of the program (with all plug-ins and functions available) for a 30-day trial period.
Who uses our backup software?