Handy Backup has a comprehensible task-based interface which allows email archiving either as a separate task, or as a part of a bigger data retention scheme. In Handy Backup, tasks may include data of different types (files, folders, databases, etc.) into a backup dataset.
How to Save Emails to Computer or Online Storage via IMAP
To back up incoming messages from a mail server through IMAP, please follow the next instruction.
Create a new task and select a backup task type. Turn advanced mode on if you want.
On Step 2, select the E-mail plug-in from the E-mail group.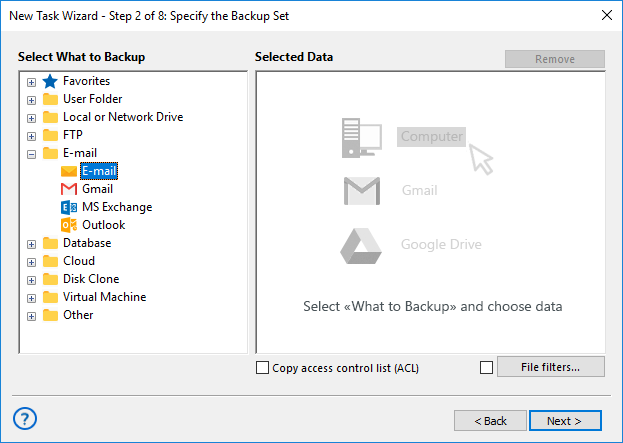 Connect to an e-mail server by clicking "Create a connection".
Fill the appropriate fields in the browser window to enter into your email account.
Note: Do not forget allowing Handy Backup using your account as an IMAP email backup client.
Then create a new task as described in the User Manual. You can schedule a task and give it multiple other properties: full or incremental backup, compression, encryption, and other.
Best Way to Backup Email Content from Local Clients
To use Handy Backup as an e-mail backup solution for local clients (e.g. to backup Outlook Express, The Bat! or Thunderbird), copy the corresponding files and folders via the Computer plug-in.
Create a new task and select a backup task type. Turn advanced mode on if you want.
On Step 2, select the Computer plug-in from the Local or Network Drive group.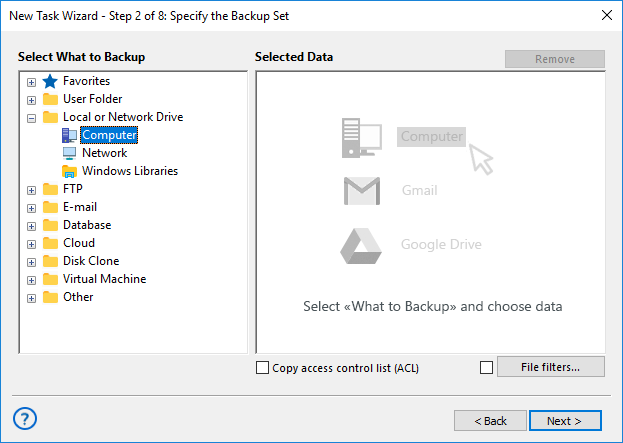 Find a folder containing emails downloaded by a local client. Select it (or select separate emails from it).
Click OK and continue creating a task.
Tip! For different email clients, these are different locations for local email content downloaded via the POP3 protocol.
Besides the obvious benefits of dedicated email backup solution, like scheduling, data encryption, automating backups, recovery and cloning and so on, these are the specific advantages of Handy Backup, providing the best way to backup email content.
If you back up mail messages directly from the Internet mail provider, you will be able to open them with any mail client because all local email solutions support the format *.eml.
Backup setup is extremely flexible — you can specify your mail service, port, login and password, as well as authentication and connection methods, to fit any existing mail service.
You can easily make full account restoration in such cases as total loss of account logon data, physical or software account removal, or a ransomware attack.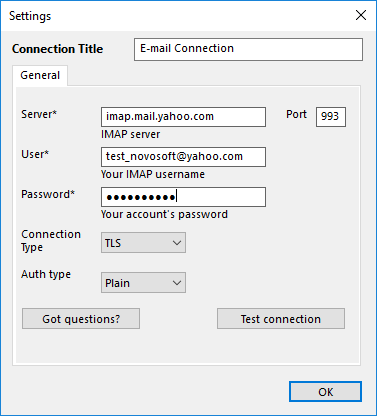 Note: To connect with a particular server, you can select its settings from a previously established connection via some local email client (in the "Properties" section of a config tab), or just ask Google or some other searching engine about these settings.
Handy Backup will check the settings of your mail backup service and tell you if they are correct or not.
You have no need to download the web page of your mail service. Instead, you can back up messages to a local computer and read them in the offline mode.
For detailed help about an IMAP-based email backup solution, please refer to User Manual. See the full list of backup features of our software.