Network Backup Software Solution for Business
Network backup software for business and complex networks allow copying the important information through local or Internet connections. Handy Backup is a perfect example of a remote backup solution, providing plug-ins for both user files and specialized data, such as databases or website content.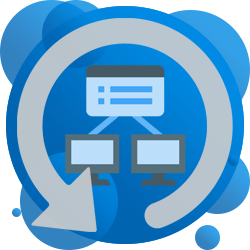 Advantages of Automatic Network Backup Software
Regular and Scheduled Job
With an automated backup program, you can forget about taking regular backups manually! Handy Backup allows you saving your data at an exactly specified time, with an interval from months to one minute, or by some event such as user logon, or even when you are placing USB storage into a PC.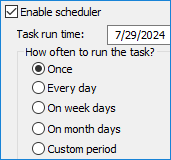 Automated Access to Any Data
The well-developed plug-in system of Handy Backup allows you taking snapshot from any data you can imagine in automatic mode. A database? No problem. A virtual machine or an array of these machines? Yes, got it! A group of files selected by a name mask? OK. Take your network data backup automatically!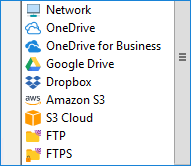 Different Data Destinations
Best network backup solutions can store taken backups onto as many vault types as possible. For example, Handy Backup can store data to local and USB drives, to NAS units, common and protected FTP storages, remote drives and folders, as well as cloud services such as Dropbox or OneDrive.
Centralized Planning and Running
Users guide all tasks in online-oriented editions of Handy Backup from one single machine, which contains a GUI-based Management Panel controlling all remote backup agents on other machines. Thus, you have no need to use separate backup task management on each of your remote computers.
Other Principal Features of Handy Backup

Full and Partial Backup
Take full backups of your datasets online, or select between incremental, differential and mixed (full/differential or full/incremental) backup methods, to save worktime, traffic and space for backups!

Keeping Several Backup Versions with Time Stamps
For network backup from many sources, it is a reasonable idea to keep some versions of the same backup dataset simultaneously, providing a version number and a time stamp for each copy.

Encryption and Compression
You can compress your remote backups as ZIP, encrypt saved datasets with BlowFish, or even keep your backup data unchanged, which allows you to browse and use your data directly from backup folders!

Running Other Programs Along with a Task
If you need it, start any external software or a batch file before and/or after running a network backup task. This can be very useful for different data and connection managers, garbage cleaners etc.
Network Backup Software Scheme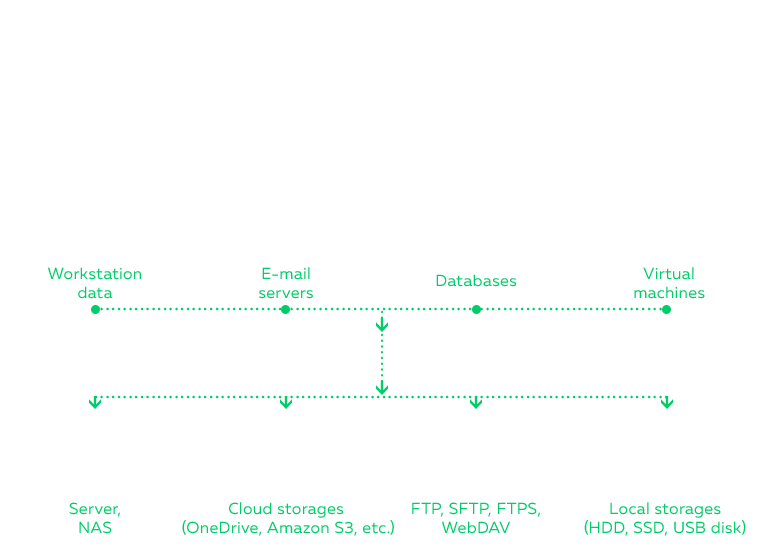 Recommended Solution
For business-level users, Handy Backup provides multi-computer centralized solution Server Network edition.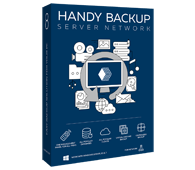 Version 8.4.6, built on April 25, 2023. 116 MB
Backup Software from Novosoft LLC. 299 USD per license.
The mighty edition capable to drive remote backup from many locally connected servers and workstations, this solution can save backups from different types of databases, VMs, data servers, private and clouds, websites etc. – all controlled from just one master console!
The Network Plug-in
This plug-in allows accessing to "shared" network resources, such as drives and folders, in a local infrastructure. You can access a shared resource in a network of any type and architecture, including domain and non-domain networks, as well as heterogeneous infrastructures.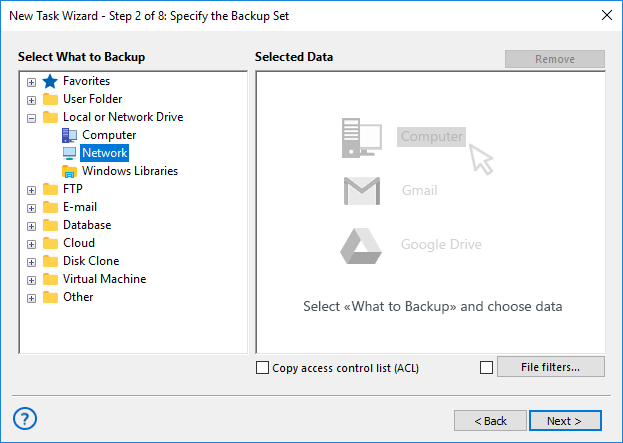 Note: If you plan to use a network data source, ou will find the Network plug-in in the Local or Network Drive section of Step 2. On Step 3, the Network plug-in is in the list of available destination plug-ins on the left panel.
Backup Network Drive Software
This solution, dedicated for workstations connected to some local service, provides the standard "Network" plug-in and the Disaster Recovery tool to work as backup network drive software, as well as some other remote backup functions such as FTP and cloud backup.

How to Backup Network Drive
To make a network backup drive copy, you must have the Server Network edition of Handy Backup. Select a remote machine on Step 2 of a new backup task wizard, and then select a local drive on this machine to backup with one of image plug-ins (i.e., Disk Image or System Recovery). This will make a drive image.
By using this method, you can backup network drive Windows 7, 10, Vista, any server edition or even a non-Windows drive (either system or data), from Mac OS X to Linux to dedicated storage disk. You can restore a network backup hard drive image later by using the Server Network edition.

Centralized Configuration and Deployment
With the Server Network edition, you can configure and deploy any required quantity of Network Agents just from the management console, which contains tools for pre-configuration and remote installation of each Agent on your network structure.
Key Features of Remote Data Backup Software
Compared to single-machine editions, the Server Network backup solution has a feature of selecting a "main" computer where these solutions implement a selected plug-in for backup, restoration or synchronization. You will see a drop-down list of machines at the upper-left corner.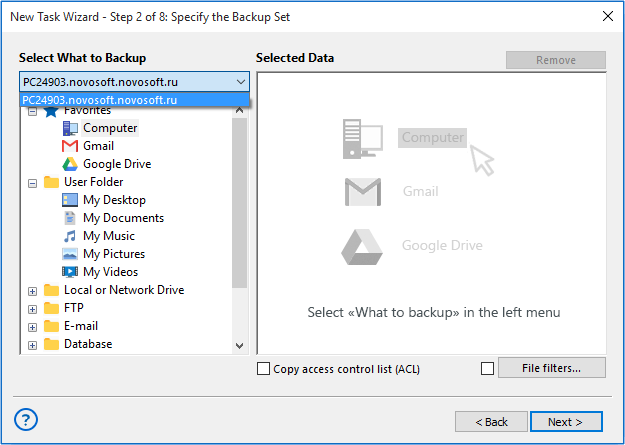 When You Need to Use Network Backup Software?

Using Physical Online Storage
This reason is about protecting your trusted, confidential or highly sensitive data from physical perils, such as fire or theft. With network backup, you will always have an actual copy of your crucial information stored by network somewhere apart with an original dataset which can be ruined by catastrophe.

Keeping Remote Network Mirrors for Data
Network backup software can just form some environment, shared by network, for using data in collaboration. Some of these tasks successfully utilize private and commercial clouds, but for more private information, automatic network backup to a trusted, shared server is much more preferable method of sharing.
Types of Machines for Network Backup
Network editions of Handy Backup support the two types of remote computers: workstations and servers.
Workstations contain user-level data such as files, folders, libraries and disk images, as well as local databases or, sometimes, FTP servers. A Workstation Network Agent, connecting a workstation to a main management panel, is a feature for both backup solutions.
Servers can contain both user-level data described above and specific server data such as SQL databases, VMs and VM arrays, private clouds etc. A Server Network Agent is a feature supported only by the server edition, and it cost a bit more than Workstation Agents.
Video Tutorial: How to Install Management Panel and Deploy Network Backup Agents
Network backup can be a tedious and daunting task if done manually by hand, even though backup software. Luckily, Handy Backup's Management Panel provides network backup solution that removes the "boring" part from the process.
Attention: The Management Panel unites, synchronizes and regularly performs network backups on every machine that has Network Agent installed. More, you can deploy Agents remotely through the Panel in just a few minutes, and after installation, you can control Agent network backups by the Panel alone, no matter how many Agents you have.
The product line of Handy Backup provides effective remote backup solutions for all purposes and needs of users.
Try it by downloading and installing a 30-day free trial version of Handy Backup with a full set of data, control and online-oriented features!
Who uses our backup software?