February 15, 2011
We are delighted to announce an update to Handy Backup 6.9 with several new options and features!
The new version brings a range of improvements and design enhancements aimed at making computer backups easier and more comfortable.
Version 8.5.0 , built on September 19, 2023. 116 MB

The most obvious change to the user interface is the Task View window: now instead of a task type you will see a button that launches the respective action.

The File View window is now hidden, by default. According to our survey-based studies, it was used by a relatively small group of advanced users, so we decided to remove it and not confuse the new users. If you want to try it, simply open the View menu, then point to File View Window, and then click Hide/Show File View.
All areas of the main window are now fully customizable: virtually every element of the graphical interface can now be shown or hidden. This is also done via the View menu.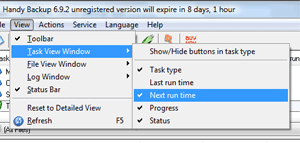 Users of the Image Backup will now see a special hyperlink in their task logs, offering them to create a backup/recovery drive with Handy Backup Disaster Recovery:

Several performance optimizations have been made to the Oracle Backup plug-in. Earlier, restoration of an Oracle database to a new server could work incorrectly if the new server's environment was different from the original one. Now this issue has been resolved.
As always, there are many minor user interface improvements, including automatic refreshing of the task list, more details on possible errors, changes to localization settings, and much more.
Version 8.5.0 , built on September 19, 2023. 116 MB

Download reliable and easy backup software for any Windows PC or server!
You can try Handy Backup for 30 days for free!