Full Computer Backup Software System
Full computer backup software must allow taking an entire copy of all computer data, either on a file level or, preferably, in a logical level (i.e. as a couple of packed drive or partition images). The Handy Backup solution allows doing such things quickly and automatically.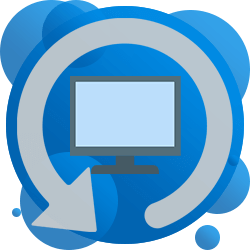 How Do I Backup My Entire Computer Dataset?

Computer Backup Definition
Computer backup software allow saving all information from a computer as a set of disk-level copies. When you need to restore a computer backup, you can get one of these saved files and recover it to a scratch or used disk, partition or even to a virtual drive.

Features of Dedicated Computer Backup Services
A good computer backup system, such as Handy Backup, automates all steps of drive copying, as well as provides a tool or a set of tools to restore data drives. Let us show how Handy Backup makes computer backup hard drive copies and how it can recover these images!

Security Measures
For secure and safe computer backup, UPS is a necessity (it is not so true for laptops containing their own batteries). Provide a computer backup power supply for enough time to make a data copy. Also, you may want to encrypt your sensitive data copies by some internal or external tools.
Advantages of Handy Backup as Computer Backup Software
Automated Plug-Ins
Handy Backup has a set of two disk cloning plug-ins for computer backup, called Disk Image and System Recovery. The first of these plug-ins saves a computer backup hard drive copy as a binary, and the second creates a readable, mountable disk file image in a popular VHD format.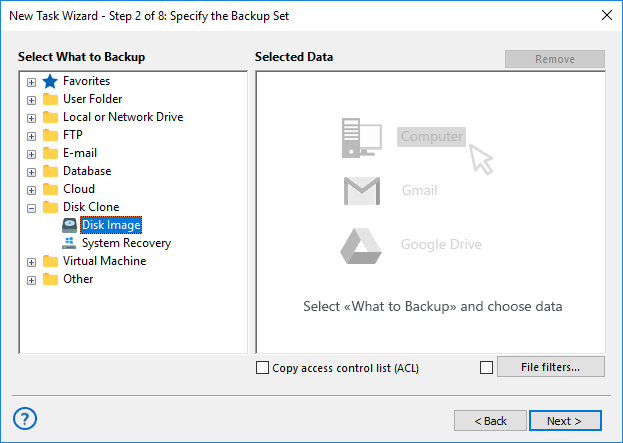 A USB Computer Backup Drive Utility
Along with plug-ins mentioned above, this is a complete, efficient computer backup utility provided by Handy Backup and called Disaster Recovery. It allows creating a bootable USB drive tool with a Windows-style graphical interface to make standalone backup and recovery to or from any hard disk.

Full Computer Backup Automation for Each Step
The plug-ins for creating a disk copy allow using almost all task automation tools of Handy Backup, including copy encryption, storing several versions of a single disk copy, scheduling computer backup by time or by system events, calling external software utilities and compressing backups to ZIP files.
Computer Backup Storage Solutions for Handy Backup
Handy Backup allows storing data copies to almost all modern storage types. If you want to store computer backup online to some cloud or FTP server, or seek how backup computer to external hard drive, or just want to create a local copy, then Handy Backup has a ready-to-use solution for you!
Options for Computer Backup to Cloud
With Handy Backup, you can backup computer with Google Drive, OneDrive or Dropbox, as well as use Amazon S3 or Box storage, or pick some from several more esoteric clouds (e.g., 4shared), or, finally, connect freely with any commercial or private cloud supporting either S3 or WebDAV protocol.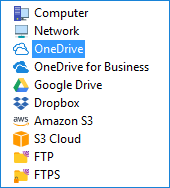 Customers about Handy Backup
Recommended Solution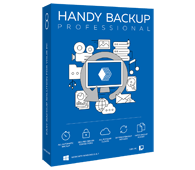 Version 8.5.0, built on September 19, 2023 . 116 MB
Backup Software from Novosoft LLC. 89 USD per license.
The Professional edition provides all computer backup services and most storage plug-ins out of the box! This is a perfect choice for advanced users and IT experts.
How to Backup Computer Files with Handy Backup
Here is the short instruction about creating a simple task that will copy a disk or a partition to make full computer backup.
Open Handy Backup and create a new task with the "Create" button or Ctrl+N keys.
Select a backup task on Step 1, and go to Step 2. Stay in a simple mode.
Open the Disk Clone group on the left panel, and select Disk Image .
Mark a drive or a partition you will plan to back up. Click OK.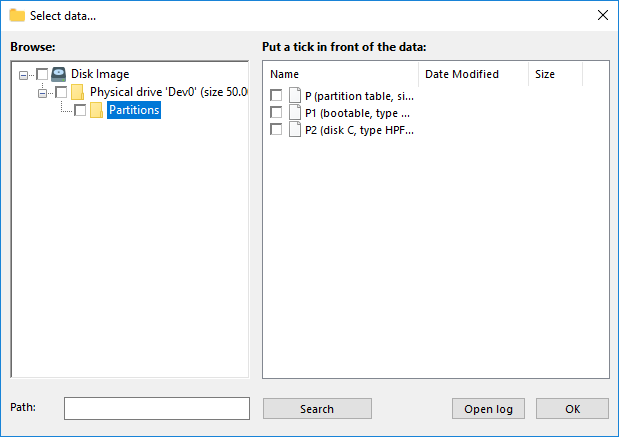 On Step 3, choose storage with enough free space to store a computer backup drive copy.
Compress and encrypt a drive on Step 4. Skip it unless you need an extra protection!
On Step 5, enable scheduler and set up task repeating interval.
Finally, give a name for your task. Click "Finish". That is all.
Note: To copy all data from a computer drive, you must execute Handy Backup as an administrator!
How Backup Computer to External Hard Drive
Built-in computer backup services in Handy Backup allow running a data-imaging task automatically by plugging a USB device into a computer slot. To set up such task, please follow the next steps.
Plug an appropriate USB drive to a computer before starting.
Create a backup task as described above, but select advanced mode on Step 1.
On Step 3, select a USB drive as backup storage. The task will remember this particular device.
Skip Step 4, or use it to tune up keeping several backup versions.
On Step 6, enable scheduler and mark the option "Launch by USB insertion".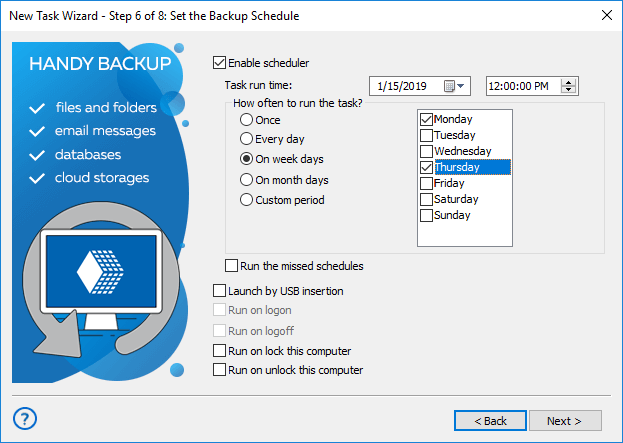 Skip Step 7 unless you need it (please see User Manual for detailed description of each step).
Finish a task wizard.
An advice: Before checking how to backup computer to flash drive, be sure that an external USB device has enough free storage space to receive a backup copy.
Handy Backup allows making computer backup online, to a local disk or to any external storage. It is quick, easy and secure, so try it now as computer backup software by downloading a 30-day free trial!
Who uses our backup software?