March 17, 2011
We are happy to release Handy Backup 6.9.3 that further continues our commitment to making the program easier to use:

To create sample tasks, simply check the respective option during the installation.
The program now handles more correctly situations when you change locations of User Folders (Music, Videos, Pictures, etc.)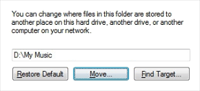 For example, if you change the Music folder path to D:\My Music, the respective backup tasks will start copying files from a new location.
Localizations of non-English versions of Handy Backup have been updated (Czech and Russian languages).
Several users reported that restoration tasks showed Warning messages when restoring incremental and differential backups, even though everything had been restored correctly. This issue shouldn't appear any longer.
The Buy Now button on the program's toolbar now analyzes your usage of the program (particularly, plug-ins used in your tasks) and suggests the most suitable product to purchase - so you don't need to study and compare different editions of Handy Backup: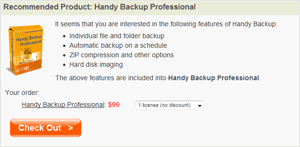 As always, there are many minor improvements to user interface, notifications, and general performance of the utility.