Advantages of Handy Backup Software

Native Backup Format
Speed up working with backups! View, modify or restore even one file of your backups quickly and easily with file managers like Explorer, without a need of full restoration!

Easy and Intuitive Interface
Backup your files, folders, databases, websites, clouds or app data through the simple, elegant interface for creating and controlling all tasks in simple and advanced mode!

Different Backup Methods
Take full, incremental, differential or mixed backups, synchronize data between sources and create multiple versions of a single dataset. Backup data as you want to do it!

Big Choice of Storage Media
Backup to local and external USB drives, to shared folders and NAS units, to FTP, SFTP, FTPS servers, to S3 and WebDAV-driven clouds, or Google Drive, OneDrive etc.

Affordable Price
For a reasonable sum of money, your desired edition of Handy Backup provides a lifetime license for a major version (no fees required), free minor updates and included tech support.

Backup Any Data That You Need
Different editions of Handy Backup allow copying not only files and folders but also popular databases (example, MySQL, Oracle), VMs, disk images and much more.
Backup Software for Home and Small Office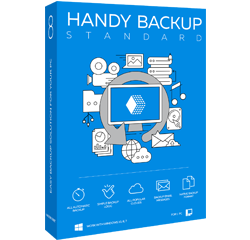 A quick and easy-to-use backup solution for files and folders, emails (including Gmail and MS Outlook), shared network resources, popular clouds such as Google Drive, OneDrive, Dropbox etc.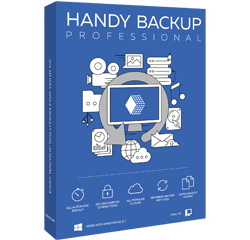 A pro-level PC backup solution supports SFTP and FTPS servers, websites, disk image, S3-driven clouds, OneDrive for Business and many other data types. It also contains a disk recovery utility.
Professional Software for Backup to Clouds & Other Storages

OneDrive

Google Drive

Amazon S3

Dropbox

FTP/SFTP/FTPS

NAS
+ External and Local HDD, WebDAV, USB, Network
Business Backup Software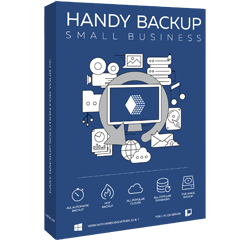 Supports server OS and data types, providing automatic backup of databases (including MySQL, MS SQL, Oracle, PostgreSQL, Lotus Notes and IBM DB2), Hyper-V and VMware virtual machines out of the box.
The ultimate server backup software providing centralized backup of pro-level workstations and servers through dedicated Network Agents in a network of any architecture, including non-Windows computers.

WHAT OUR CLIENTS SAY
I've been using Handy Backup for years, and I like this software because it allows me to backup to native file format, and if I want to secure certain files and folder backups, I can compress and encrypt them easily. In my experience, this program is also very stable compared to the others I tested.



Carl Williams, Developer, NetSec
I have tested several network backup solutions. Some are a lot more sophisticated and expensive but cannot handle the three things that I need: workstation backup, LAN asset backup and website backup (FTP) for multiple environment types and tasks. Good work.



Bruce G. Mills, Designer/Developer, StudioTech
Over the years, I have utilized Handy Backup for moving data from a remote air quality monitoring station. This program allows backup to external hard drive, as well as to different FTP servers on an hourly basis. This data provides the real-time information about air quality to our community, state and nation to protect public health and inform decision-makers about air conditions.



I am a computer support business and I use Handy Backup on three different sites. I make disk image backup and file backup to store via FTP to a NAS or offsite server. It protects me from ransomware which may have hit our clients. I use Handy Backup for over 10 years. I will purchase the Professional edition for clients and be purchasing the server version for network tasks.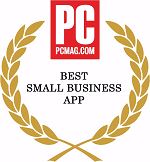 Best Small Business App by PCMag
Appreciated by one of top-rated world IT magazines, Handy Backup proudly bears an award from PCMag! Software designed to seamlessly backup applications that can be crucial to many SMBs.