Transferring your copy of the program from one computer to another. It is a simple task.
First, remove the registration number from your current machine. You can do it by one of three ways. Choose the fastest and most convenient way for you to delete your registration:
From the program. Click the Register button on the program′s toolbar.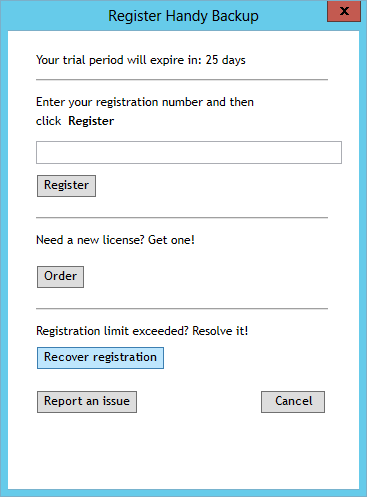 Select the "Moving registration to another computer" option and follow the instruction provided on the opened page.
Manual. Go to the registration management section of our website, and select an option for moving your license ("Registering on another computer"). Then follow the instruction provided for you on the requested page.
Calling for tech support. Please send the e-mail including your name, date of purchasing and your current registering number to the technical support team, using the address support@handybackup.net for the letter.
Note: In a latter case, you must wait for E-mail confirmation of resetting your registering number to proceed.
Then set up a new copy of Handy Backup on your current machine. Register it as usual, using the same number you were using on a previous computer. The new copy will work under exactly the same license as previous instance of Handy Backup.
See also: FAQ | Registration, Re-registration, Registration Number Loss:
⇒ How to find the registration number of Handy Backup?
⇒ What to do if I have bought the program on handybackup.com?
⇒ What to do if there are problems with the number for free version of the program?