Good news: Handy Backup can automatically run a task of data copying when you plug some USB device related to this task to your computer! If your GoPro device are recognizable as a USB storage, you will completely automate your GoPro backup!
The Basic Task for Backup GoPro Files
Let us demonstrate a sequence for copying your GoPro files to a local "Video" library on your computer. Please follow the sequence of actions listed here to create a task.
Connect your GoPro device to your PC using a USB interface before you start.
Open Handy Backup and create a new backup task.
On a Step 2, open a "Computer" data source and find your GoPro device as an external drive.
Select a folder with your movies by marking a checkbox against it.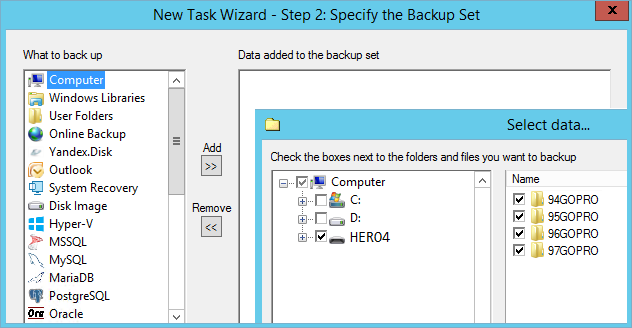 Return to the task creation by pressing "OK". Proceed to a Step 3.
Again, select a "Computer" as backup destination. Select your user folder "Videos".
Proceed to create a backup task by choosing different options on Steps 4 and 5. Go to a Step 6.
Select an option to run the task each time you will connect your USB device to a PC.
Then finish a task creation by giving it a name.
Now all things done. For now, the task will run every time you will connect your GoPro device to your computer, regardless of a USB port you will use for it. Surely, you can also set up other folder instead of "Videos" to store your GoPro backups.
Copying a GoPro Video Collection from Your PC to a Cloud or an External Drive
The basic principles of task creation are the same as for backing up files from your GoPro. Choose a "Computer" option on a Step 2 as a data source and mark a folder where you store your GoPro files. Then select a "Computer" and choose an external drive on a Step 3, or copy files to a cloud.
Note: For each exact cloud service, you can use one or more methods of backing up to it. Please read different articles on our website about how to set up and fine-tune cloud storage backups. For some cloud services, such as Amazon S3, Handy Backup provides a dedicated connection tool.
For external USB drives, you can schedule the task exactly as for copying from GoPro, to run when you will plug a particular USB device to a PC. For cloud backups, you can also choose scheduling by time, setting up a period when Handy Backup must run a video backup task.
Version 8.5.0 , built on September 19, 2023. 116 MB
30-day full-featured trial period