Dropbox Backup Solution - Automated Backup to Dropbox
Backup Dropbox with Handy Backup, which allows you accessing to all efficient, easy-to-use strategies for utilizing this popular cloud service, such as Wordpress backup to Dropbox or cloning all information from your cloud account to some local or remote folder and vice versa!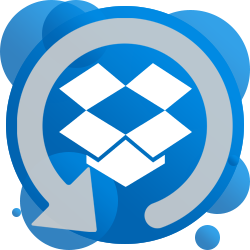 Dropbox Automatic Backup
Using the dedicated Dropbox plug-in from Handy Backup, you can copy your files such as photo, documents, computer drive images, website content or just generic files, to a Dropbox account as a backup vault, or from this account to another place such as backup to Google Drive.

Backup to Dropbox
Turn Dropbox account to a widely available, secured backup vault. Unless other conditions specified, Handy Backup preserves native data formats in backups, allowing browsing and using any single file from a Dropbox backup dataset as a common file of this type.

Restoring from Dropbox
With a Handy Backup restoration task, you can return Dropbox backups to their original places, or set a new location to restore these data. Using the native data format, you can also copy or move files and folders from backup to any location you need.

Dropbox Sync
Besides saving and restoring content, Handy Backup allows creating synchronization tasks for Dropbox backup service, including relatively complex tasks such as making Dropbox sync Google Drive. These tasks often operate with an API of related storage, utilizing no Dropbox sync folder or utility.

Backup Dropbox Account
You can also back up a Dropbox account by itself. As Dropbox backup software, Handy Backup can automatically online backup Dropbox to external HDD, to NAS or FTP server, to another cloud such as OneDrive, OwnCloud or to a local drive folder on your computer.
Which Data I Can Store on Dropbox to Backup?
The answer is simple: anything that you want! Dropbox is a highly secured, reliable cloud solution, so using Dropbox for backup is a quite reasonable idea. However, some data have a bit more convenience as Dropbox backup files. Examples of these data types are:
Making Dropbox backup photos and videos, to share copies with other users;
Creating Dropbox website backup for quick transferring or recovering sites;
Using Dropbox to backup your computer libraries for synchronization or migration to other PC.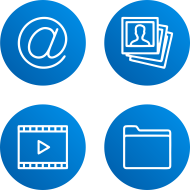 The basic feature of Handy Backup to copy unencrypted files in original formats adds a bit for overall convenience for data types mentioned above, as you have no need to recover your information from backup to use it on a new place; just copy it where you want and continue using it!
Note: We are not mention a possibility for Dropbox backup entire computer only due to relatively high price of storage on this cloud, compared with typical computer image backup of several hundreds of gigabytes and more. Still, if you have such free space, you can make an efficient Dropbox backup PC!
Advantages and Features of Dropbox Backup with Handy Backup Solution
For easy and quick job, Handy Backup allows many features and provides some significant advantages for Dropbox automatic backup under any modern version of Windows, such as:
Partial Backup Actions

Handy Backup allows utilizing Different backup methods: full, incremental, differential and mixed (full/incremental or full/differential). Incremental backup using Dropbox allows you making gradual or granular backup and recovery, where differential backup just saves much time and storage space.
Backup Versions and Time Stamping

With Handy Backup, you can keep some versions of a single dataset simultaneously. It also allows using time stamps on backups to automate data sorting or just to simplify searching of a necessary backup version. Some additional functions, such as error handling and email notifying, are also useful.
Versatile Control over Backup Tasks

By using Handy Backup, you can schedule tasks by time for an exact repeating period, or by some system event. It also allows you running other programs and utilities before or after executing a backup task. Finally, Handy Backup contains built-in compression and encryption algorithms to secure your data.
Review About Dropbox Backup Solution by Handy Backup
Recommended Solution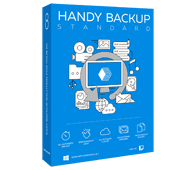 Version 8.4.6, built on April 25, 2023. 116 MB
Backup Software from Novosoft LLC. 39 USD per license.
The Standard edition allows you using Dropbox both as storage for your backups and as a data source to keep your Dropbox backup files in outside folder, local or online.
How to Backup Dropbox with Handy Backup?
Here you can see how quickly and easily can you make a Dropbox backup. To create a new backup task utilizing Dropbox as backup storage in Handy Backup, please follow the next guide:
Open Handy Backup and create a new backup task by clicking "Create" on the main panel.
On Step 2, select your dataset for backup. Then go to Step 3 and select the Dropbox plug-in .
Click upon the "Create a connection" string. The program will open a Dropbox account interface to set up your access.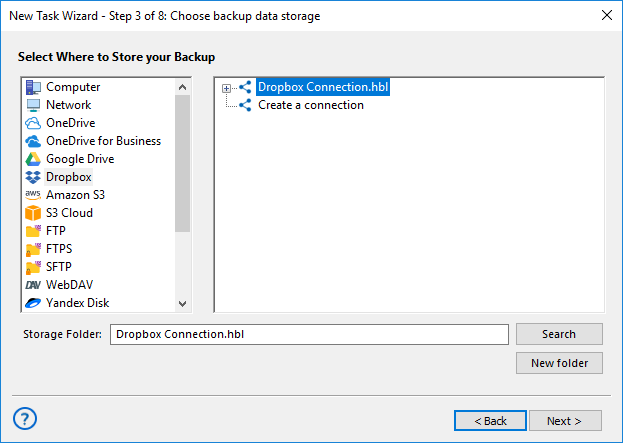 Enter your Dropbox account data in the appearing dialog window.
Allow Handy Backup using Dropbox. Return to the task creation wizard.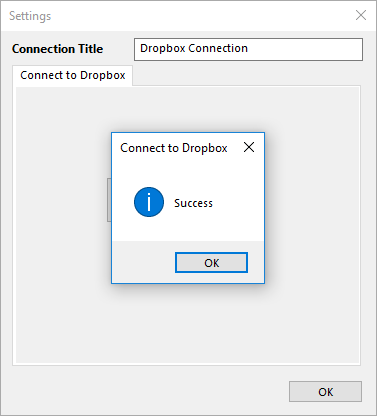 Continue creating a new backup task as described in the User Manual.
Finally, give your task a name and finish the task creation wizard.
That is all; your Dropbox-using backup task is ready and the program will start it by scheduled time or event. You can also start it manually at any time when you want.
How to Backup Dropbox Locally or Online
If you want to backup Dropbox to external hard drive, to other cloud or to NAS, please select the "Dropbox" plug-in on Step 2 of a backup task as data source. (You can find it in the "Cloud" group.) Create and establish a connection as described above, and select data for Dropbox backup and restore.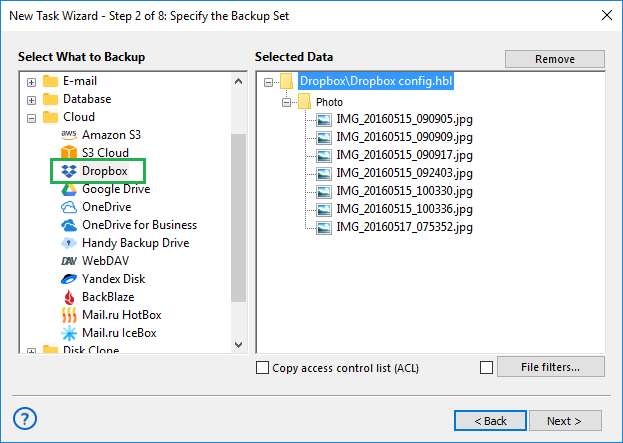 Dropbox Backup Restore
Recovering from Dropbox backup online is also very simple. Create a new task, select recovery task type on Step 1, and go to Step 2, where you must open your Dropbox cloud backup connection. Here, find a folder containing your particular backup, and select a file called backup.hbi , then click "Next".
Note: If you want to make a destination for Dropbox backup files outside folder, or just copy all content to another place, please select advanced task mode on Step 1. As a result, you can use the "Change Location" button on Step 3. Click it and select a new destination for Dropbox backup restore.
Other Dropbox Backup and Restore Tasks
You can use the instruction provided above to create Dropbox-based tasks of any sort, such as for restoring data from Dropbox or for using a Dropbox account as a backup data source. In these cases, select a new or existing Dropbox configuration on a Step 2 instead of a Step 3.
Video Tutorial: Automatic Backup to Dropbox
From this video, you can learn how to make a task for easy and efficient backup files to Dropbox, or backup Dropbox account itself automatically with Handy Backup. See how to create a backup task, how to connect Dropbox, and how to restore your backup files when and where you want!
Use Handy Backup to turn your Dropbox account into an effective, quick and reliable backup storage, accessible from any point of the world. Free 30-days full-featured trial!
Who uses our backup software?