To set up a task automatically backing up all video files on your computer to some place, please follow the provided instruction.
Open Handy Backup and create a new task via the menu or just by pressing Ctrl+N.
Select a backup task type on Step 1. Turn on an advanced mode.
Proceed to Step 2 and select the "Computer" plug-in here.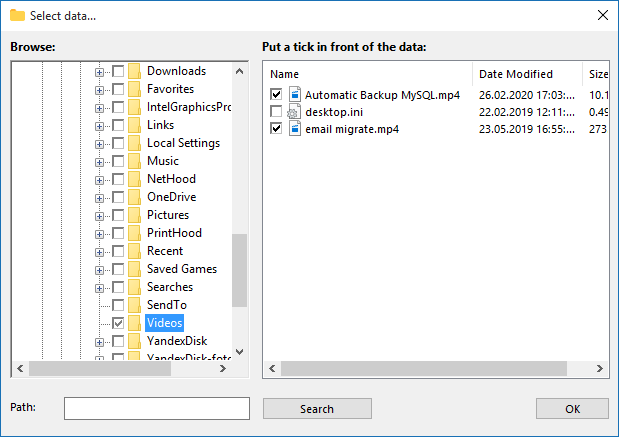 Now click a "File filters" button; you will see a new dialog.
Enter the masks of video file names, e.g. "*.AVI; *.MP4; *.WMV", separated by semicolon.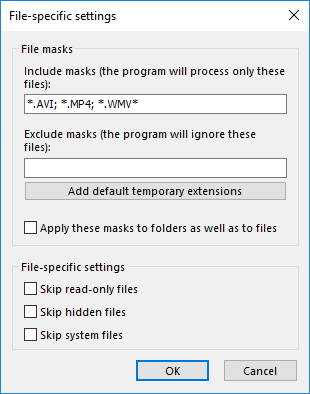 Click OK. Proceed to the Step 3 and select a storage big enough to place all your videos.
Note: Video files are bulky; always select the storage with a maximal capacity, such as a NAS unit or a USB external drive, to save your video collection.
On Steps 4 and 5, you can tune up your backup process, such as selecting a backup type.
Schedule your task on a Step 6, e.g. to set the backups to be executed daily.
Set the task managing parameters on the Step 7, and then give your task a name.
After completing this sequence, your task will save copies of all your videos (selected by provided extensions) with a period specified to the task.
Saving a Video Library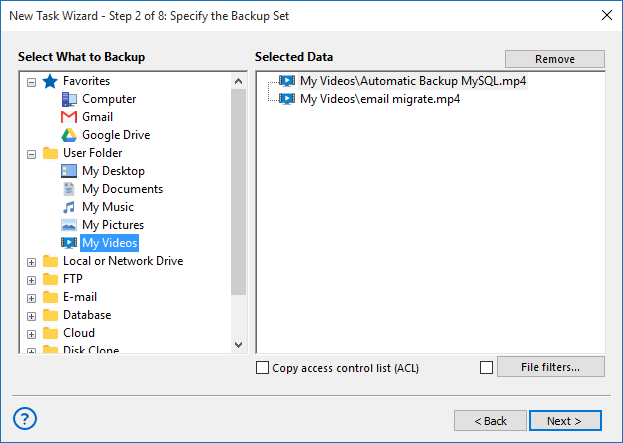 You can use the previous instruction to make "My Video" backup, saving a dedicated video folder on your user library. To do it, just select "User Folders" on Step 2, and then a "Video" option from the list of local user folders.
Version 8.5.0 , built on September 19, 2023. 116 MB
30-day full-featured trial period
Back up videos, pictures and other memorable data with Handy Backup automatic file backup software for Windows!