Photo Backup App for My Pictures | Auto Saving Photo to Drive or Cloud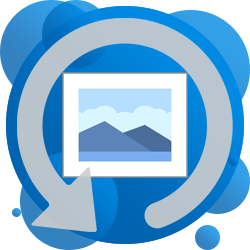 Photo backup software allows copying digital pictures to some storage. Some photo software can do it (such as Google Photos auto backup), although you can need to backup pictures in more controllable mode. Handy Backup is a perfect photo backup solution for quick and easy backup My Pictures folder!
Key Advantages of Photo Backup with Handy Backup

All Tricks in Six Clicks
Very fast, very convenient, very easy to use; this is all about Handy Backup! The convenient graphical user interface allows you making a typical task to auto backup photos in just six clicks. The "My Pictures" plug-in helps you to backup pictures from your default user folder with graphic information.

Copy, Keep and Use Your Photo Backup Freely
Unless you use data encryption, Handy Backup will always take photo backups in native data formats, i.e., it preserves original JPEG or GIF files on a copy that it stores to photo backup drive. Therefore, you can browse, use or even modify your photos from backup directly without recovery!

Auto Backup Photos with Advanced Options
You can also schedule your task to backup pictures repeatedly from a single minute to a couple of months. If your task must not plainly backup all photos time by time, use partial backup (incremental, differential or mixed). You can do many other things, such as time-stamping your photo backup folders!
Where to Backup Pictures?
Besides the traditional way of storing photo backup to a local disk or to an external USB drive, you can also backup pictures to cloud (S3- or WebDAV-driven cloud, OneDrive, Dropbox, Google Drive or other), or backup all photos to some network resource such as NAS, shared folder or FTP server.
Tip: Nowadays, the best photo backup cloud solutions are big services such as Google Drive, where you have a full set of tools to modify and share your pictures!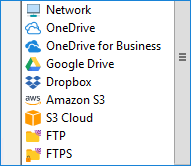 Customers About Photo Backup by Handy Backup
Recommended Solution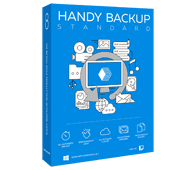 Version 8.3.1, built on August 11, 2021. 111 MB
Backup Software from Novosoft LLC. 39 USD per license.
The Standard edition for home users contains all functions and plug-ins to backup pictures to cloud, local drive or a home data server with shared folders in fully automatic mode!
Non-Photo Pictures Backup
Besides using Handy Backup as photo backup software for PC, you can also back up pictures of different formats than photos, e.g. diagrams, vector graphics, Photoshop project files, layers and textures. Handy Backup has tools to backup pictures online and locally by using file masks with picture-related extensions such as *.png or *.jpeg.
How to Backup Pictures in a Most Simple Way?
Turn a task wizard to advanced mode on Step 1, and then set up a file extension mask for file name on Step 2. Use the Computer (or other data source) plug-in to access picture storage. Handy Backup will find all files with these extensions, and then auto backup pictures to a selected destination.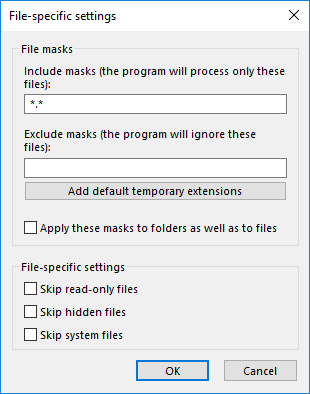 Performing regular backup tasks with your photo backup software has great importance. Avoid saying "it will never happen to me", there is a chance that your hard drive will never fail, but it is also necessary to backup photos to protect them from mishaps, and saving your time from wasting.
How to Backup My Pictures in Handy Backup?
Here we are teaching you how to create a simplest task for auto backup photos from My Pictures folder to some other place. For detailed instructions, please refer to the User Manual.
Open Handy Backup and click on the "Create" button on the main control panel to create a task.
On Step 1, select "Backup", then select "Use Advanced Wizard" and click "Next".
On Step 2, click the My Pictures plug-in name on the left panel.
In the "Select data..." dialog, mark checkboxes against files that you plan to back up.
Click OK, and then click Next to go to Step 3.
Tip: Alternatively, you can use Computer plug-in from the Local or Network Folder group. This plug-in allows you saving any type of local data, not only backup photos but also any other files and folders. In addition, you can use file filters to select all pictures from a computer to back up.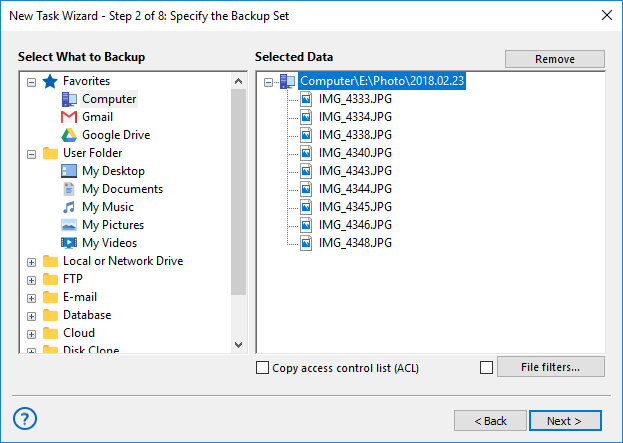 On Step 3, select storage for your photo backup. Click onto its name.
Note: At this place, the program can ask you to create a connection to some external resource (such as FTP or cloud) if you select it as storage. Just click "Create a connection…" and enter all your account data in the next window (or windows) to use this storage. This is simple! (Local drives require no configuring.)
Select a folder where you will plan to store backups, click OK and then click Next.
On Step 6, enable scheduler to set up automatic photo backup.
Proceed until the final step by clicking Next. On final, give a name to your task. Click Finish.
That is all! You just made a new photo backup task! Run it when you need, or schedule it by using the task properties window. You will have a fully completed task for auto backup photos from your "My Pictures" library! Do you want to try best free photo backup software for PC on 30 day trial just now?
Video Tutorial: How to Backup My Pictures
In this video, we will show how to make an advanced photo backup task for Handy Backup. Here, we will copy PNG digital picture files to Microsoft OneDrive, but you can use any format and storage instead. This video demonstrates an advanced task wizard mode with a full course of task creation and settings.
You will see here how to make a new task, how to set up file filters on Step 2 to find files with a desired extension automatically, how to connect to OneDrive storage, and how to operate with all other task parameters on each of eight steps of a new task wizard. Finally, you will see how a task works.
Note: You can stay in a simple task wizard mode instead, to make a common photo backup task with just six clicks and minimal efforts. Moreover, of course, you can always copy pictures by the same way from not only My Pictures folder but from everywhere, by using the Computer plug-in for task setup.
Experience our convenient photo backup software by downloading a 30-day free trial version of Handy Backup!
Who uses our backup software?