Diagrams, vector graphics, Photoshop project files, layers and textures can be copied by Handy Backup. There are features to cloud and local backup photos. File masks with different file extensions – PNG or JPEG – help to work with common image file formats.
The Best Way to Backup Photos
Turn a task wizard to advanced mode on Step 1, and then set up a file extension mask for file name on Step 2. Use the Computer (or other data source) to access picture storage. Handy Backup will find files with these extensions, and then auto backup photos to a chosen destination.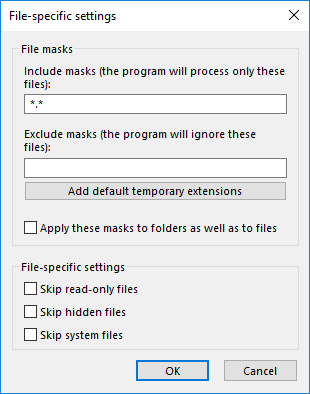 To run the backup job on a regular basis by photo backup software is an important step of backup strategy. Avoid the thought "It will never happen to me". However, hard drives wear out and HDD failure occurs over time that causes costly data loss. Backup photos are the foundation of data protection, recovery, retention, and availability. You reduce the risk to data and save time on disaster recovery due to cyber threats.
Read a User Guide to create backup tasks and back up the My Pictures folder on the other place. The User Manual includes step-by-step instructions. Follow guidelines to help you create backup tasks.
Open Handy Backup and click on the button control panel Create.
On Step 1, select Backup, then choose Use Advanced Wizard and click Next.
On Step 2, in the field on the left, click My Pictures.
In the Select data field, select files check boxes to specify files for the backup job.
Click OK, and then click Next to go to Step 3.
Tip: You can use an option Computer in the Local or Network Folder field. The option allows saving different types of files and folders. You can use filters to define photos that you include in the backup.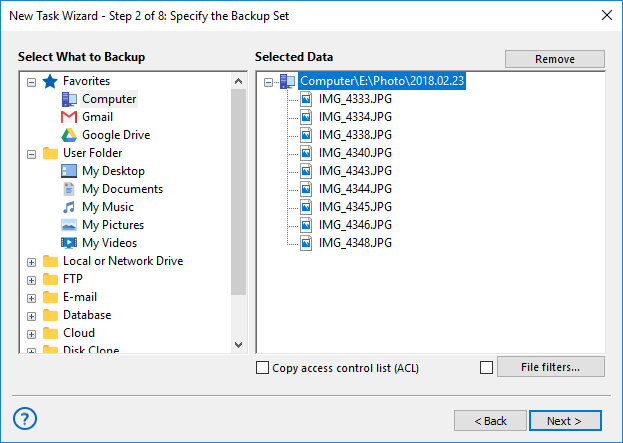 On Step 3, select a backup destination. You can store backup files in one of the locations Click the location where you want to back up your data.
Note: The program can ask about connection to some external resource (for example FTP or cloud). Click Create a connection and enter account data in the next window (or windows) to use selected storage. There is no configure local drive.
Specify a path to the folder where backup files must be saved, click OK and then click Next.
On Step 6, schedule the job to run the automatic photo backup job.
Click Next. In the end, enter a name for the backup task. Click Finish.
Photo backup task will be created. You can run the backup job manually or schedule the job by the task properties dialogue box. Automatic My Pictures library backup will complete. Download the best free photo backup software for PC on a 30 day trial now.
In the video, we show how to create a photo advanced backup task by Handy Backup. We copy PNG digital picture files to Microsoft OneDrive. You can use other formats and storages. Video shows a cycle of advanced task wizard creation.
Video explains how to set up file filters on Step 2 to automatically define file extension, how to connect to OneDrive storage, and other steps of a backup task wizard.
Note: You can stay in a simple backup task wizard mode to create a common photo backup task. You can copy photos the same way from everywhere by using the option Computer.
Experience our convenient photo backup software by downloading a 30-day free trial version of Handy Backup!