Handy Backup Free edition for using with cloud storages allows backing up and restoring files, folders and Windows libraries from local and network devices linked to a local computer. It supports backup to most popular clouds (OneDrive, Dropbox and Google Drive).
Version 7.17.0, built on September 20, 2018. 164 MB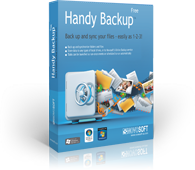 The PCWorld magazine Opinion: "Handy Backup is plain, powerful, and easy to use"
According to the review from PCWorld, one of top-level IT magazines of the world, "Handy Backup is utilitarian in the best sense; it`s a backup program with a no-nonsense interface and a boatload of features."
Supported Systems






The Handy Backup Free for Clouds solution can serve you as a free introduction to the vast world of Handy Backup, copying and restoring your local or network data to accounts on some popular clouds. It cannot replace full-functional Handy Backup editions but serve well as a simple backup utility.
Compared with the simplest commercial edition, the Standard version of Handy Backup, the Handy Backup Free for Clouds edition lacks some additional features, although it still supports all the necessary functions for backing up. Please see the table for detailed comparison:
Edition
Free for Cloud
Standard
Price


Free
Download
$39
Buy Now
Backup Source
Local and network plug-ins
Clouds as backup sources
Backup Destination
FTP
Saving data locally (on built-in or external HDD)
Backup to Google Drive
Backup to Dropbox
Backup to Microsoft OneDrive
Backup to Yandex.Disk
Buying extra plug-ins
See product page of Handy Backup Standard.
[registration_free]
Your personal ticket to the world of Handy Backup! Use Handy Backup Free for Clouds – feel the freedom, fell the safety!