The Language menu is used to select language used in the program.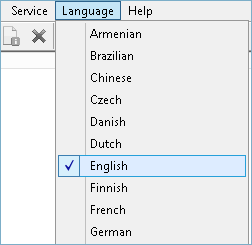 Since version 5.5 the program features multilingual interface which allows selecting language used in the program. If you are using any version below 5.5 and would like to update the program, read the instructions in the Order section on the website: www.handybackup.net/order.shtml
To change the language of the interface, click it in the menu.
Click More Languages if the language you need is not available in the list. The command will open your web browser and take you to the web page where you will be able to choose from a complete list of languages on our web site.
To set up your preferred language, follow these steps:
Download the respective language file from our web site.
Unzip the file and copy it to "Customizes" subfolder in the program's installation folder (C:\Program Files\Novosoft\Handy Backup\Customizes\, by default).
Restart the utility to make the language appear in the Language menu.
You can also create your own language interfaces. For details refer to the next section, How to Create Different Language Versions.