Migrating License to New Computer
Handy Backup license allows you to use the software on one computer only*. After you have used your registration number on one PC, any attempts to re-use it on other computers will fail.
*Note: In case of Server edition, you register only the Server component, independently of the number of Workstations you want to back up.
There are situations (e.g. hardware upgrade) when you may want to migrate your license to another computer. You can made it by one of two ways described below.
Re-register your license manually

You can reset your registration number manually, using the registration management page. It is a quick and simple action. Please follow the instruction to migrate your registration number from one computer to another.
Calling for Technical Support
Send a request to support@handybackup.net. Include your registration number, your name, and information about when you purchased the software.
Note: Make sure you give us enough information to find the correct record in the registration database. Generally, we identify customers by name and e-mail address used during the purchase.
Our support team resets information about your registration number, so you can use it to register the program on another computer.
When you receive an e-mail with confirmation, re-register the program on the new computer under the same number.
Entering the Released Registration Number
To register a migrating copy of Handy Backup, please open the Help menu section, and use the Enter your registration number... option to enter the registration code. Then click on a Register button to move your license.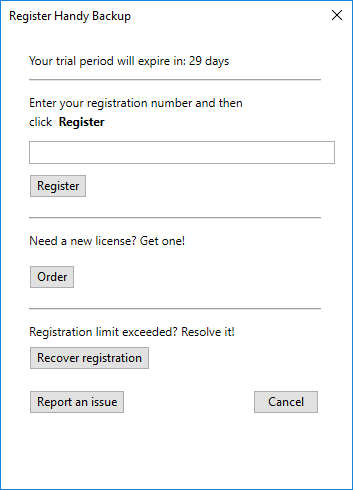 For detailed instructions on registering, please see Registration.
Who uses our backup software?