Main Menu -> View
The View menu is used to change the program's appearance.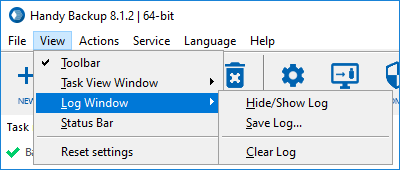 The menu is organized as follows:
Toolbar - Shows/hides toolbar.
Status Bar - Shows/hides Status Bar in the bottom of the main window.
Log Window consists of three submenus:

Hide/Show Log - Hides/shows Log View window.
Save Log Saves log to a text file.
Clear Log Clears the Log View window.

Refresh - Checks current state of selected tasks. If the task is network-based, the utility initiates connection.
Who uses our backup software?