Instructions for registering the program without Internet access
To register the program without access to the Internet, you need to generate the data for registration by e-mail. Follow a few simple steps.
You can do it from the menu of Handy Backup:
Open the Help menu item and find the Register Handy Backup via email... option.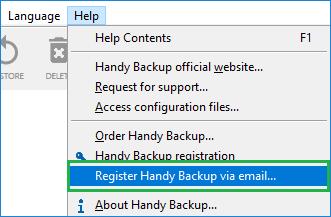 The Registration window opens.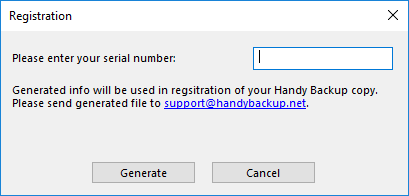 Enter your registration number and click Generate.
Please send the generated information to support@handybackup.net. Upon receipt, we will send you a registration file that you will need to import into the program. The message from the support team will have all the necessary instructions.
You can find more information in the Registration section of User Manual.
See also: FAQ | Registration, Re-registration, Registration Number Loss:
⇒ Can I use a single license on more than one computer?
⇒ How can I move my copy of the program from one computer to another?