LAN Backup Software and Storage
LAN backup storage means backing up to a place over a local network. If you own a small or medium business, or want to back up data in a home network, you'll need a LAN backup tool.
Handy Backup is a comprehensive LAN backup program, designed for Windows and Windows Server, as well as for Linux and its clones.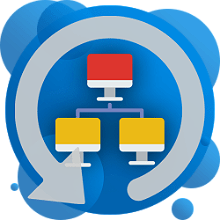 LAN Backup Software for Home and Business
The easiest way to back up files in a home network is provided by Handy Backup Standard, Professional or Small Business. The program can back up shared folders and supports all types of external, removable, local and network backup drives, which are recognized by Windows.
What Data I Can Use for LAN Backup?
Handy Backup software provides an easy way to back up files, folders, My Documents, Desktop, email services via IMAP, MS Outlook, drive images, databases, virtual machines and content of network resources including FTP, SFTP, FTPS, LAN, NAS and clouds such as OneDrive, Dropbox and Google Drive.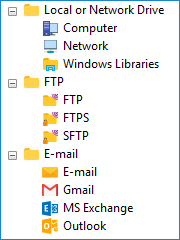 Advantages of LAN Backup Software

Flexible Scheduler. You can set up a suitable schedule to perform automatic LAN backup. Set up an exact starting time for each task, and provide a repeating interval from minutes to months, to backup LAN on a regular base.

Simple User-friendly Interface. The program is task-based and has a helpful step-by-step Task Wizard (with simple and advanced modes) that will help you to create and configure backup tasks with the properties you need.

Built-in Compression and Encryption. Your LAN backups can be compressed to save disk space and encrypted with a strong algorithm to prevent unauthorized access to your crucial data.
Recommended Solution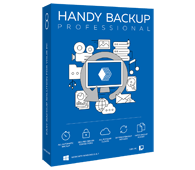 Version 8.5.0, built on September 19, 2023 . 116 MB
Backup Software from Novosoft LLC. 89 USD per license.
A mighty solution for LAN backup, the Professional edition allows making network backup and sync for many types of LAN-based storage resources. Full-featured 30-days trial!
How to Access LAN Backup Drive In Handy Backup?
If you want to backup LAN resources, please use the "Network" plug-in in the "Local or network drive" group on Step 2. To do it, please follow these actions:
Open Handy Backup and create a new task by clicking "Create" button or by pressing Ctrl+N.
On Step 1, select a backup task, and then click "Next".
Go to Step 2 and select "Network" in the "Local or Network drive" group.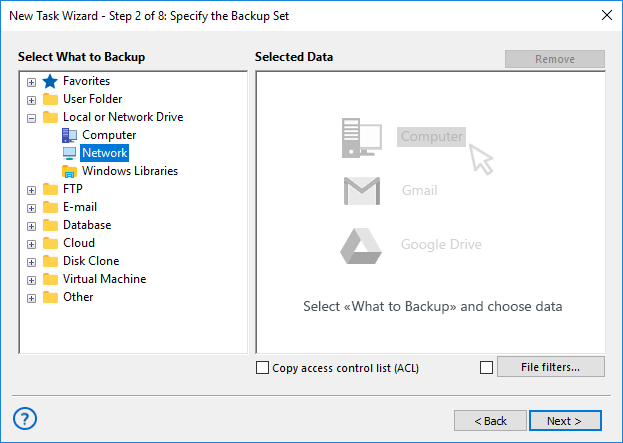 Select a shared LAN drive resource to connect with Handy Backup.
Open a network folder and select those files and folders that you plan for LAN backup.
Click OK, then "Next" to proceed. Continue creating a LAN backup task.
Attention! For using protected network resources in Handy Backup tasks, please open these folders in Windows Explorer or other network file manager firstly, and enter your user login and password to access those resources. After that, Handy Backup will work with protected LAN backup smoothly!
LAN Backup with the Centralized Network Backup Solution
The Server Backup Solution presents a complete backup toll for local area networks of any complexity. It is a full-features program, which can back up files and folders, image hard drives, and back up widely used business environment software like Exchange Server, SQL Server and other.
Video Tutorial on Management Panel and Network Agents for LAN Backup
LAN based backup operates with Management Panel, which allows user to access data, create tasks and automate backup for multiple remote machines from a single console. By this way, all devices in a local area network, no matter how many, will link for synchronized backups by only a few clicks.
Cross-Platform OS Compatibility
Handy Backup is a comprehensive LAN backup program, designed for Windows 10/8/7/Vista and Windows Server 2019/2016/2012/2008, as well as for Ubuntu Linux 16/04/14/04 and its clones.






Are you ready to try the most powerful LAN backup solution? Download Handy Backup now!
Capterra′s Rating:



"Great product, very simple and effective backup program"
Who uses our backup software?