1C:Enterprise plug-in
1C:Enterprise is the name of the accounting products of 1C company.
Number of solutions implemented under 1C is about half a million. System 1C:Enterprise does not have a localized English version, but it is widespread in CIS countries. Handy Backup has a plugin for working with 1C.
To make a backup, do the following:
1. Select Backup task in New Task Wizard.
2. Select 1C option option on step 2 of New Task Wizard.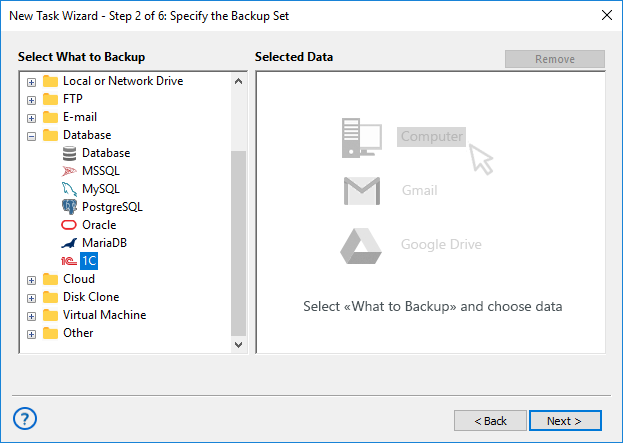 3. Select data for Backup. There are two options:
Existing 1C configuration. You can select ready 1C data configutation.
New configuration. Click onto the create a connection… string, or select it and click OK.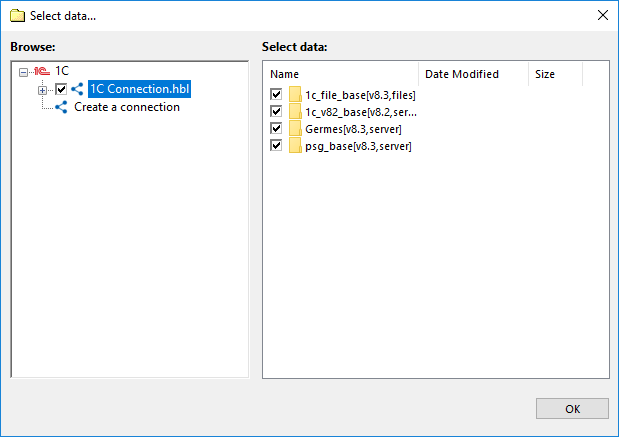 4. Set up other parameters and click OK. Your backup is ready.
Restoring
To restore 1C form backups, follow this instruction:
Open New Task Wizard.
Select Restore task, and then click Next.
Find the index file (backup.hbi) located in the destination folder. Select it, and then click Next.
Select Restore Location.
You 1C files will be restored form backup.
Who uses our backup software?