Online Plug-in Configurations
To backup, restore, or synchronize data located at HBDrive, you need to create a configuration for the Online Backup plug-in. If you want to learn about HBDrive and creating an account, please refer to Handy Backup Drive (Online Storage Service).
The configuration dialog consists of the two tabs: General and Advanced.
Online Configuration: General
In a top field, enter a unique name for your particular online backup configuration.
On the General tab you can set up basic connection parameters to HBDrive.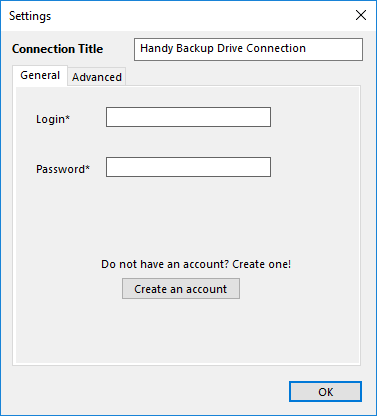 These are the two self-explained fields:
*These are required fields!
The "Create an account" button opens a browser window with a HBDrive registering page. You can register on a HBDrive manually by using the following URL: www.hbdrive.com
Online Configuration: Advanced settings
With the Advanced tab you can set up advanced parameters of HBDrive connection, such as proxy data. Please note that plug-in proxy settings override the common proxy parameters of a program (please refer to the Proxy Settings article of this manual).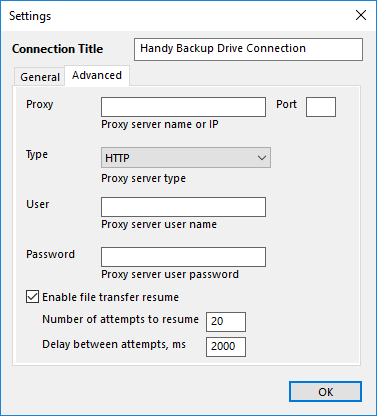 These are the seven fields on this tab:
Proxy - the proxy server name
Port - the port number utilized
Type - HTTP, SOCKS4 or SOCKS5
User - username for a proxy
Password - user password for a proxy
If your proxy server doesn't require authorization, leave User and Password fields empty.
The two other fields handle the plug-in reaction over the unexpected problems encountered.
Enable file transfer resume – if there is a connection problem, the program will automatically reconnect to the HBDrive servers and resume the work.

Number of attempts to resume
Delay between attempts, ms
To learn more about HBDrive, please refer to HBDrive (Online Storage Service).
Who uses our backup software?