NAS Backup Strategy for Business: Methods and Options
NAS backup strategy is a crucial part of overall backup activity for business-level tasks. Handy Backup allows you using many NAS backup options, including cloud backup, duping NAS drive images, replicating a content, organizing NAS backup rotation and many other configuration possibilities.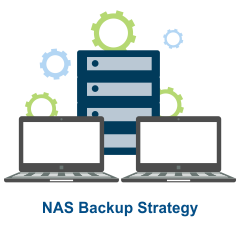 With Handy Backup software, you can develop just any type of data-keeping architecture for your business purposes. You may purchase the version for small business tasks, this allow you to provide the data workflow for one main server, some NASes and workstations; or you can take the heavy-duty, all-proof package for ultimate purposes of any corporate network in exist, to secure the digital life in your company in all aspects.
However, before you finish your choose, let you consider some important matters about the NAS backup methods for planning your data-keeping activity.
Organizing Your Data: Some Important Questions About
Before you go purchase some backup software for NAS to reach a goal of safekeeping and recovery, you may take some research and a bit of strategic thought and answer to questions like:

NAS or DAS? Backup to NAS have some significant advantages in comparison with direct-attached storage (DAS) file keeping; but NASes are network units by default and therefore may be vulnerable to some net perils like viruses, trojans or accidental plug-off or connection cord. So a lot of companies use NAS and DAS units simultaneously to enforce security.
Stake on sturdy stallions! NAS backup server is a heavy-duty device. You need as much practical and steady network-attaching storage unit as you can afford for your business. Look on at least 4-disk or expandable multi-drive NASes, somewhat like QNAP TS-1079 Pro. A lot of reviews can help you choose.
Do you like to look on clouds? Cloud services provide a bunch of serious bonuses for the user over traditional file-keeping methods. If you consider using NAS cloud backup for your data, you must decide these clouds are to be external (offsite) services, local (private) clouds, or you plan to use both techniques at one time?

How many elements you plan to include in your system? If you have a small business network with one server, a few workstations and some NASes, you may, for example, purchase the Network or Small Server edition of Handy Backup. For a full-scale corporation-level infrastructure like modern MIT, Manhattan Project or one of Great Old One companies ruling our world, you must look on Server Edition to accomplish all the goals!
NAS Backup Configuration for Business Server: Options Beyond Comparison
With network-attached storage devices (NASes) you can reach to any amount of data-storing capability without much effort. So when you need some file storage, NASes are always a good solution, regardless of scale of your company.
The next step is to implement the NAS backup procedure to an expandable cloud infrastructure. This cloud service can be external, just like HBDrive.com, or the cloud may persist on your own NASes (the private cloud). You can easily organize your NASes to the private cloud with an assist of Handy Backup versions for business. NAS backup servers augmented by the power of cloud organization can be much more serious tool than just a package of hard drives plugged somewhere for data storage.
The next level of strategy is to organize so-called hybrid-level backup process, more often described as disk-to-disk-to-cloud backup (replacing an almost obsolete disk-to-disk-to-tape method). You may store your preserved data on some local disk, network disk or NAS, ant then copy these data to another destination organized as a cloud.
All these processes can be automatized, scheduled by time and organized by scale according to the needs and plans of your company. Some optional features provided by Handy Backup include:
E-mail notifications for users describing the activity of saving and restoration processes;
Strong encryption of all data transferred and kept;
Easy-to-use tools for remote setup and control data-keeping activity.
The list of these features varied by versions of the software; you may compare all the versions and choose one most appealing to you through this link.
Choosing A NAS For Business Purposes
The case study for business means is a very complicated matter. First and foremost, as mentioned before, you must supply your data the more-than-satisfying level of invulnerability (for example, both QNAP and Iomega will be glad to provide you such devices in a healthy assortment). We do not be so brave to advice you any particular devices because so many considerations you will take into account.
NAS backup servers are nowhere a single solution without the dedicated software, though. After you place all the parts of your network to the right place, you may want to buy some software to automatize your data security processes. Look at the link above to see how the different versions of Handy Backup may help you to secure your data and to save the money of your company.
Any version of the software includes the full-time technical support through the entire life-cycle of the product purchased.
And then you can plan the most accomplished strategy for your network data workflow, schedule and control it through Handy Backup and to run your business data activity for a long time, safe and untouched by any disaster.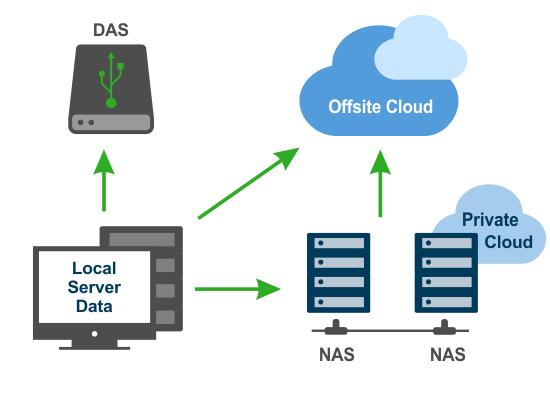 NAS Data Workflow
Preparing to NAS Server Backup
If you have a NAS connection that requires a password to utilize, then please open this NAS in any network browser (such as Windows Explorer). A new dialog window will appear, to enter user login and password.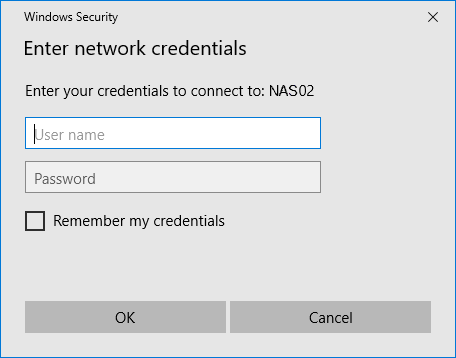 Provide your connection data and open a NAS before using Handy Backup for backing up this particular NAS unit or storing backup data to it. Then open Handy Backup and proceed.
See Also:
Who uses our backup software?