VMware Backup Software: How to Save a Copy of Data from VMware Virtual Machine
VMware backup solutions are quite useful for automating the process of backup VMware virtual machine. Handy Backup provides the powerful and flexible instrument of VMware workstation backup, which can be performed by two different ways, along with other data type backup if needed.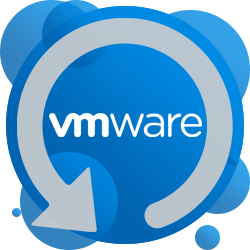 Methods of VMware Backup
As one of modern VMware Workstation backup solutions, Handy Backup can perform internal and external backups.
You can install Handy Backup under OS Windows (or under some Linux distro, for Network Agents in network-oriented editions) on the particular VMware virtual machine. Using it is by no means different from the typical using of Handy Backup on "real", non-virtual computers.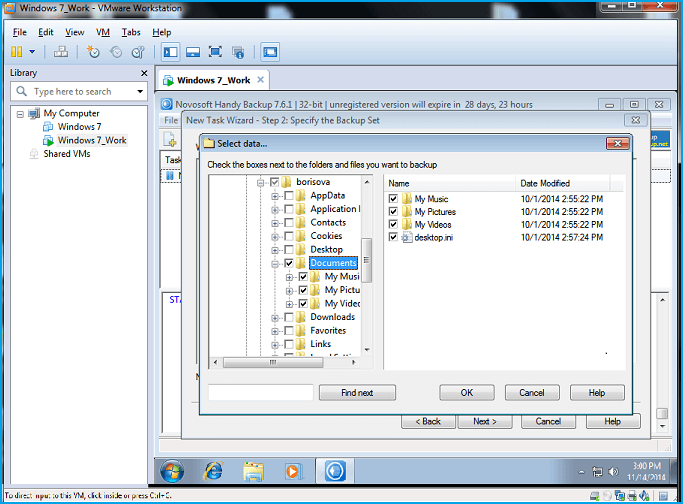 Running Handy Backup on VMware server, you can take a VMware snapshot backup as a logical file. Handy Backup contains a dedicated plug-in to snapshot VMware machines and entire arrays. It can work in a "hot" mode, requiring no stopping a machine backed up.
Features of VMware Workstation Backup Solutions in Handy Backup

Regular Backup
You can backup VMware workstation by schedule, starting and repeating it at an exactly defined time and interval. In advanced mode, you can also program the VMware Workstation backup task to start at some system trigger, such as plugging a task-related USB storage disk to a server, or by user logon.

Vast Choice of Storage
Backup virtual machine VMware workstation to any type of data storage including local and external USB disks, network and NAS drives, FTP, SFTP or FTPS servers, S3 or WebDAV clouds (both private and commercial), or to cloud services such as Amazon S3, Dropbox or OneDrive/OneDrive for Business.

Complete Control over VMware Workstation Backup Tasks
Use a comprehensible GUI and a task wizard with simple and advanced modes to get quick and full control over all VMware backup tasks! Options for email notification, starting and stopping external programs during a task, reporting activities and other are comfortable and useful for managing backup!
Recommended VMware Backup Solutions
A backup solution for VMware machines provides either internal (from inside of a virtual machine) or external (from outside of a VM or an entire VMware array) VMware backup methods.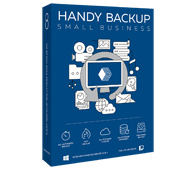 Version 8.5.0, built on September 19, 2023. 116 MB
Backup Software from Novosoft LLC. 249 USD per license.
Small Business software is a perfect backup software for VMware servers and single virtual machines, with all the functions for backing up VMware data!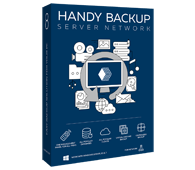 Version 8.5.0, built on September 19, 2023. 116 MB
Backup Software from Novosoft LLC. 299 USD per license.
Handy Backup Server Network allows you to backup VMware machine from inside or externally, as well as to save entire VMware nodes remotely!
How to Backup VMware Virtual Machines Workstation
Utilizing a VMware snapshot backup strategy is not much different from backing up any other data. The principal difference is in using pre- and post-action for the backup task, to stop and then start the corresponding VMware virtual machine.
To backup VMware workstation, you can use the following list of steps.
Open Handy Backup and select a new task by pressing Ctrl+N or by clicking the "Create" button.
On Step 1, choose a backup task and an advanced mode if you need.
On the Step 2, select the "VMware Workstation" plug-in in the "Virtual Machine" group.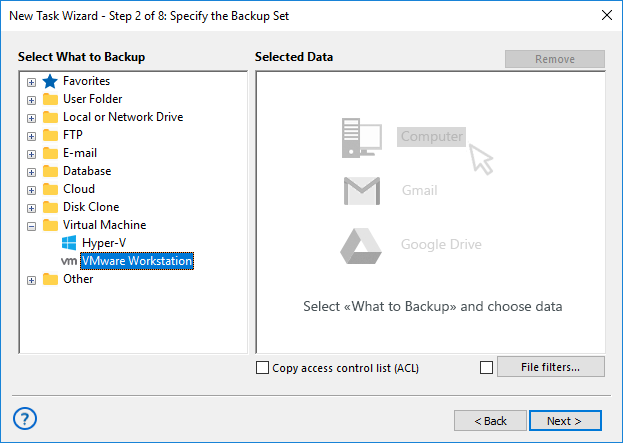 Click on the "Create a connection…" option to set up a particular VMware snapshot.
In a dialog window appearing, select either a "Hot" mode (without stopping a virtual machine) or an "Enable suspend" mode (with stopping a VM to take a perfect backup).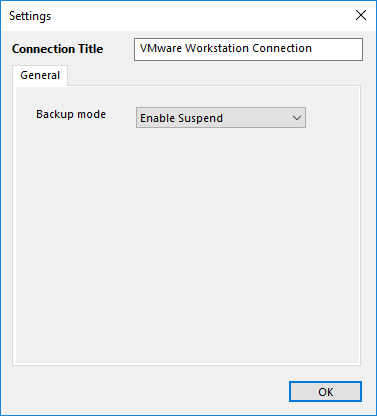 Then select a particular machine to back up with this configuration.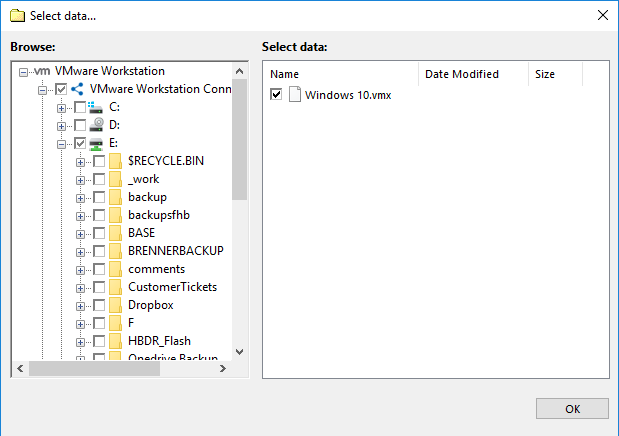 Proceed to next steps of the task creation as usual.
Backup Virtual Machine (VMware Workstation): Considerations
Before making a task to backup VMware workstation, please take into account several important issues about the technique and methods of VMware backup.

The dedicated plug-in supports only VMware Workstation, not all types of VMware virtual machines. (However, you can always save "cold" or "hot" snapshots of any VMware instance by using the standard "Computer" plug-in and treating an instance as simple file.)

You can use only full backup and recovery of virtual machines: no incremental or differential recovery allowed. It is logical, as a virtual machine is a complete object for external VMware backup software, not just a bunch of bits.

VMware workstation backup solutions often require a lot of time to complete job, as well as healthy storage capacity for saving backups. Technically, when you backup virtual-machine VMware workstation, you backup a complete computer with its OS and all data, and it is bulky!
Handy Backup provides the effective and simple-to-use instrument for VMware workstation backup when you need it.
Download our VMware backup software now to try all the capabilities for a 30-days free trial!
Who uses our backup software?