Hyper-V Backup and Recovery Software
Hyper-V backup software is a crucial part of server backup activity. Therefore, Hyper-V backup solutions such highly demanded on the market. Handy Backup contains the plug-in for for automated backup of Hyper-V virtual machines.
Using a network-oriented edition of Handy Backup provides the unified solution for creating data copies from any instance of this VM in an entire network: physical servers containing arrays of these machines, virtual servers and workstations.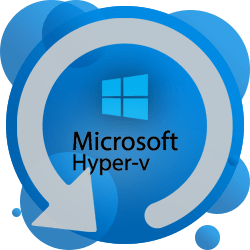 Advantages of Handy Backup as Hyper-V Backup Tool

Shadow Copying and Hot Hyper-V Backup
Regardless of basic Hyper-V backup method (see below), Handy Backup allows saving a Hyper-V image without stopping either a VM instance or an entire host OS. In addition, you can run Handy Backup in a "silent" mode as Windows service or Linux process, to minimize distractions for users.

Many Storage Types for Saving Hyper-V Images
As best Hyper-V backup software solution, Handy Backup provides a plenty of storage options, including local and external drives, NAS/SAN units, FTP/SFTP/FTPS servers, WebDAV/S3 clouds (both commercial and private) and all popular cloud services such as Google Drive, OneDrive or Dropbox.

Perfect Automation
You can not only tune up your Hyper-V backup software task in every aspect such as partial backup or encryption but also completely automate a scheduling sequence for a particular task, including starting at an exact time, repeating with a period from months to minutes, and triggering by system events.
The Two Ways to Backup Hyper-V Machine
Here are the two methods to utilize Handy Backup as Hyper-V VM backup software. The first method works "inside" the VM, and the second method uses the dedicated plug-in provided by Handy Backup for these purposes. We are recommending using the dedicated Hyper-V backup tool in all cases!
Method One: External (Image Copy)
1
You can make Hyper-V backup by using the specialized "Hyper-V" plug-in. Handy Backup uses the Volume Shadow Copying service (VSS) for making "hot" Hyper-V backup. Therefore, this is no need to stop the virtual machine before performing external copying.
Using Hyper V backup by snapshot is like creating a disk image, saving all information from the target virtual machine, with all system files, libraries, registry entries, data, temporary files and unused elements, keeping these data in a perfect order.

Method Two: Internal
2
Any edition of Handy Backup can work under MS Windows or Linux on a virtual machine. Thus, you can run a copy of Handy Backup to save any data from this particular virtual machine to any storage media available for it. Server Backup Software is a perfect edition for this case.
There is another possibility existed, when you install a Network Agent from the network-based edition of Handy Backup to your virtual machine running under Windows or some Linux editions. Then you can perform the centralized backup of this machine along with other network data.
How to Create an External Hyper-V Backup Task
To use Handy Backup as Hyper-V server backup software, please utilize the dedicated "Hyper-V" data source option. For using it, please follow the next instruction:
Open Handy Backup. Select a backup task and choose an advanced wizard mode.
On Step 2, choose the Hyper-V option in the Virtual Machines data section as data source.
A new window will appear. Select any virtual machines you will plan to back up with the task.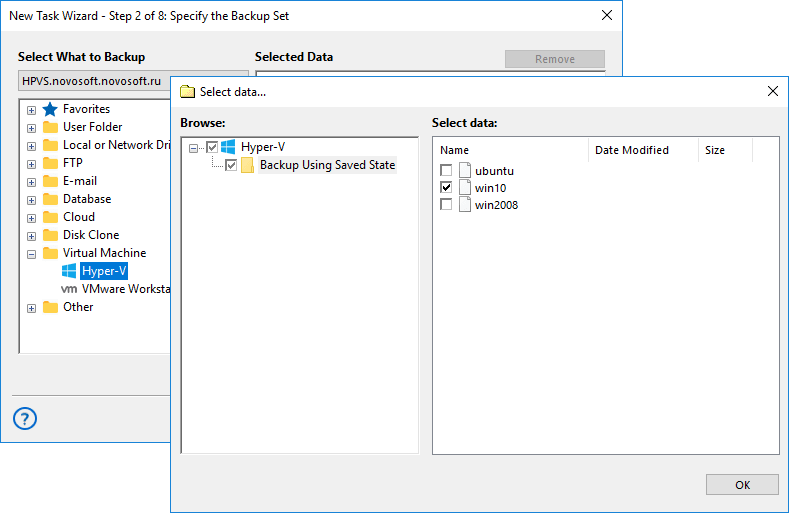 Click "OK" when you finish selecting data, returning to the task creation window.
Now you may select where your backups will be placed, set up the encrypting and packing options, choose the backup type, control pre- and post-actions within the task, etc. These steps are not specific for backing up virtual machines.
Starting from the version 7.7.7, you can use Handy Backup as Hyper-V server backup software, fo freely save a host of Microsoft Hyper-V Server 2012 VMs by using any standalone edition of Handy Backup (e.g. Small Business) with the Hyper-V plug-in installed.
Note: If, for some reasons, you are still using an earlier version, or just prefer a centralized backup, then use the Server Network edition instead.
Recommended Solution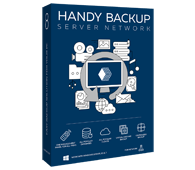 Version 8.5.0, built on September 19, 2023. 116 MB
Backup Software from Novosoft LLC. 299 USD per license.
The Server edition is a perfect server-level backup solution, capable to back up your Hyper-V virtual machines as well as any other server-type data. Fully-functional, 30-day trial!
Video Tutorial: Hyper-V Backup and Restore
In the next video, you will see how Handy Backup works as Hyper-V backup software. You will learn how to create "external" tasks for Hyper-V backup and restore, as well as how to utilize different additional functions, for example, to copy or clone a Hyper-V instance.
Note: Another way is to use Handy Backup as "internal" Hyper-V backup tool. Just install a copy of Handy Backup on a Hyper-V instance, and then use it for common backup tasks, as it will work on any physical machine.
Using the Computer Tool
An alternative way to Hyper-V backup is to use the "Computer" plug-in to find and save any .VHD file you need. This operation also allows "hot" Hyper-V backup.
The default location for disk images is
C:\Users\Public\Documents\Hyper-V\Virtual Hard Disks
You may want to backup also the Hyper-V configuration, located at
C:\ProgramData\Microsoft\Windows\Hyper-V folder
Select the .VHD files you need using the "File filters…" option or manually.
Try it now, downloading the 30-day free trial solution from the official product page.

If you still have some questions about backing up Hyper-V with Handy Backup, please ask us at support@handybackup.net.
Who uses our backup software?