Handy Backup for Small Business - Effective Small Business Backup Solution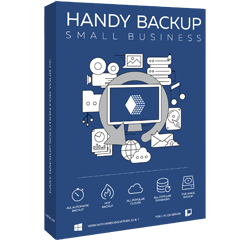 Handy Backup Small Business is all-in-one, easy-to-use small business backup software designed for Windows. It provides the unified backup solution for small to medium business, allowing copying files, folders, databases and other business data. It contains all plug-ins and technologies for a single server.

Why You Need the Best Small Business Backup Solution from Handy Backup?

The answer is simple: it protects. Small Business backup software will save your data from hardware malfunction, virus attacks, ransomware or occasional losses, as well as help you copying, cloning, mirroring and sending your actual data to other users and places, synchronizing the information etc.
By using Handy Backup, you will save your time, efforts and money from such problems as losing crucial information, downtime caused by data crashes, ransomware and hacking attacks, or just a need for regular manual copying of different files and folders to other place.

Backup of All Popular Databases
Software can automatically backup data of MS SQL, MySQL, PostgreSQL, Oracle and any other database, as well as the message base of the MS Exchange or personal emails from IMAP servers.

"Hot" Backup to Speed up Jobs
As required for data backup solutions for small business, program copy any type of data without stopping other processes using these data, saving both the time and efforts from unnecessary pauses.

Web Applications and Website Backup
You can back up your web apps and web content freely with Handy Backup (e.g., make a copy or a mirror for a company website), using FTP/SFTP/FTPS protocols, or backup server data locally.

Full Automation
Backup and restore all type of user and server data directly "out of the box, without a need for any further upgrades! The Small Business solution contains all available plug-ins, features and options.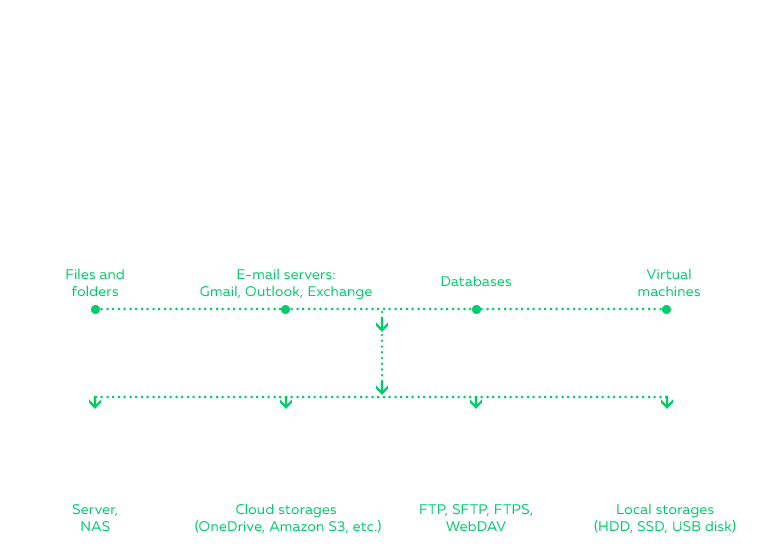 Setting up your business data backup tasks is quite simple. Please see the User Manual to learn how to create your first backup task in a simple wizard mode. An advanced mode contains a few more steps and a lot of additional useful options for planning your active backup for business purposes.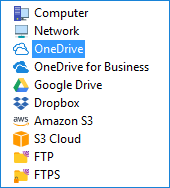 Supporting Cloud Backup for Small Business Data
Small business backup software can exchange data with any popular cloud service such as Amazon S3, WebDAV-driven clouds, Google Drive, OwnCloud, Dropbox, OneDrive/OneDrive for Business and Box.
Fine-Tuning for Your Backups
You can setup small business backup tasks flexibly by scheduling, make full, incremental and differential backup, rotating backup versions and utilize many other options for efficient business backup.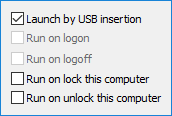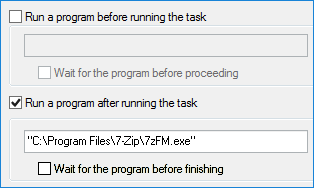 Starting Pre- and Post-Actions
This solution also can execute other programs, such as compression utilities or antiviruses, before or after any task, to control other aspects of security, data transfer, integrity etc.
Utilizing External and Online Storage
Any modern external storage, be it HDD, SSD or NAS, is fully compatible with Handy Backup. You can even start a task automatically when you are plugging a USB unit related to a task into your machine!

LifeTime License, Free Tech Support
License for the major version of Handy Backup is last for the product lifetime, as well as all minor upgrades and free tech support for customers; we will answer quickly to your requests and needs!

All in One, Cost-Effective Solution
You can perform small business data backup for files, folders, databases and disk images backup using a single program for all of it. You have all plug-ins to test freely during a 30-day free trial period!

Easy to Use
Automated features for all data types include popular databases are greatly reduce the time for setting your backups, as well as the classical, self-explaining interface.

Native Backup Format for Unencrypted Data
The program preserves native format of any data during backup (unless compression or encryption specified by a user). This allows using these data directly with related tools, such as Windows Explorer.

Auto Restore To or From another Place
You can restore data automatically by creating a recovery task, including restoring backups manually moved to other place, speed up restoration, Time stamps backup and an option for restoring to another place add greatly to comfortable restore.
Handy Backup Small Business works with MS Windows 11,10, 8, 7, or Windows Server 2019, 2016, 2012(R2), 2008(R2), as best small business backup solution. No special hardware requirements!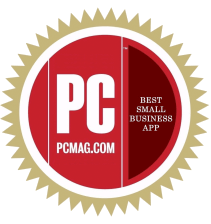 Marked As Best by PCMAG
Handy Backup™ Small Business was awarded by PCMag in its small business backup software review.
Answers and Questions about Small Business Backup Software
1. Why backup is important for business?
Backup allows saving copies of your crucial business data intact from both perils and inconveniences, from ransomware attacks to security leaks, from sudden authority inspections to hardware upgrades. In addition, you can use business backup software to copy or move data automatically to another place.
2. What a backup system for small business must do?
Best backup for small business must be simple and as automated as possible, because small enterprises can have limits of dedicated UT employees for controlling backup. For example, Handy Backup contains an easy graphical interface, a two-mode task wizard and a big collection of backup advices and manuals.
3. What is the best backup strategy for small business?
From all existing strategies, from a simplest 3-2-1 backup strategy to such advanced techniques as Hanoi Tower, the classic and most efficient approach is the Grandfather-Father-Son, or GFS, business backup strategy. Handy Backup allows realizing it easily, combining business cloud backup with local data copies.
4. How regular must be a business backup plan?
It depends completely on a frequency of business data backup changes. For those data changing automatically, such as website forum content or a database of goods, repeat a backup task in hours or minutes. For projects, reports, results and so, you can make backups once or twice per day, etc.
5. How to backup company data securely?
Use secured storage and protocols, such as S3 business cloud backup storage services, SFTP servers in a local network, or physically secured USB drives. In addition, you can use the built-in Handy Backup encryption feature for business backup, or even call to external encryption software in advanced mode!
Who uses our backup software?