Native Format of Data Backup: Simple Access to Stored Data
Backing up in native format is one of key features of Handy Backup.
When most of backup utilities keep data copies in specialized formats that require recovery of a particular copy for using data again, Handy Backup just copies all files and folders to backup storage "as is".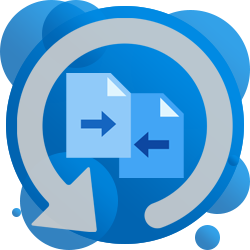 Advantages of Backing up in Native Data Formats

Accessibility
You can use data saved in native formats as any other files of these formats. You can open these files, edit and modify.

Clearance
The particular backup content is always obvious. You see what files and folders you keep in your backups.

Workflow Organizing
You can use backups as input data for other apps or back up data created by other software without stopping the workflow.

Comfortable Data Managing
Finding and sorting backup files with all comfort provided by standard file managing tools.

Quick Restoration
No dedicated action or software required to restore just one or two files from backup. Copy files wherever you want.

Data Cloning
You can use backups for mirroring or replicating data without any extra effort. Just copy backup to any place and use it.
Making and Using Native Copies
Back up in native format is a default option for Handy Backup. To choose another form of data keeping you must specify compression and/or encryption of data.
When the backup task is complete, a copy of your data set appears in your chosen destination. You may process this data copy as any other directory or data set using file managing tools or dedicated software for manipulating with these data types.

Recommended Solution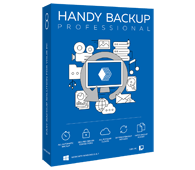 Version 8.4.6, built on April 25, 2023 . 116 MB
Backup Software from Novosoft LLC. 89 USD per license.
Experience the power of Handy Backup with the Professional edition, to protect your personal data in native formats! Free 30-days trial version!
Where I Can Store Backups In Native Format?
Handy Backup allows keeping native format backups in any storage. You can choose between most common data storage options, such as:
Popular cloud services, including Google Drive, OneDrive , Dropbox, Box and Amazon S3;
Any S3- or WebDAV-driven cloud, either commercial or private (OwnCloud, WD MyCloud);
Local or Internet-connected FTP, SFTP or FTPS file servers, with internal FTP plug-ins;
Shared network folders on local data servers or NAS/SAN units, or other local machines;
External USB drives, mapped network disks or just local folders on this computer.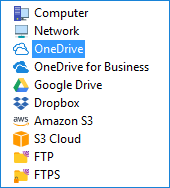 When I Do Not Need Backing up Data in Native Format?
You can choose options for compressing and encrypting data to save space on data-storage media selected for backups, or to send data backed up far away by using open networks. Compression and encryption can minimize both size and time of backing up, as well as add a bit for overall security.
Review About Native Format Backup by Handy Backup
Who uses our backup software?