New Task Wizard - Step 5: Compression and Encryption
This page describes the fifth step of creating a backup task with the New Task Wizard.
On the fifth step of the New Task Wizard, you can enable compression and encryption. Both options are applied to data stream "on-the-fly" and use no temporary files. This is especially useful if you back up very large files, e.g. HDD images
To enable compression, check Compress the backup data to save space. There are two types of compression:

"Many-to-one". If you want to create a SingleZIP archive for the entire backup set, select the first option.

By default, this option creates a temporary directory, providing more convenient compression. You can also force the program to make no temp folder by clearing a checkbox. Then, files are packed to the single ZIP directly, saving both the job time and resources of the operating hard drive.
"One-to-one". Select the second option (MultiZIP archive) if you want to create a separate ZIP archive for each file backed up.

To enable encryption, check Encrypt backup data with a modified BlowFish algorithm for security reasons and specify password in the respective fields.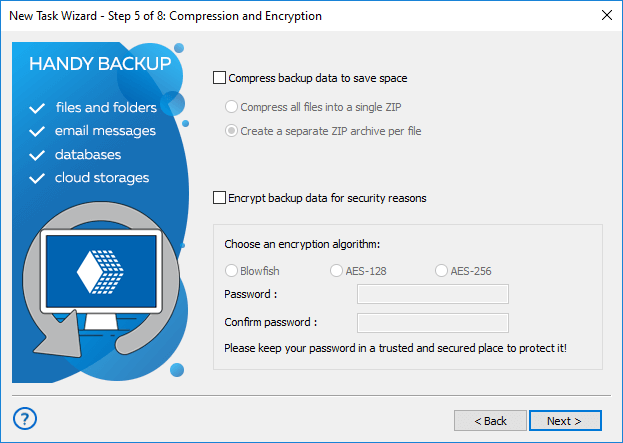 Note: Encryption of your backup do not depend on compression options selected earlier.
When finished, click Next.
Next steps are common for all tasks. See the following chapters:
Who uses our backup software?