Mirror Backup Software for Folders and Hard Drives
Mirror backup software provides identity of contents of two locations by synchronizing them. Unlike one-way approaches, where you need to distinguish source and destination, mirroring works for both sides equally.
To perform mirror backup, you need to use specialized software, such as Handy Backup.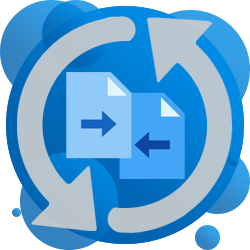 Advantages of Using Handy Backup for Mirror Backup

Mirror Backup Software for Files and Folders
The synchronization function of our software can work in many ways: choosing direction lets you copy files from the first location to the second, from the second to the first, or mirror-back-up HDDs mirror-back-up HDDs or folders.

Mirroring Databases and Virtual Machines
Despite you cannot mirror database or a virtual machine as a simple bunch of folders and files, you can mirror or clone a database or a VM by making a sequence of automatic backup and recovery.

Mirroring Hard Drives
You can mirror contents of two HDDs, simply by selecting root drive letter as a folder for synchronization, or perform complete hard drive cloning through using the disk image feature.
Recommended Solution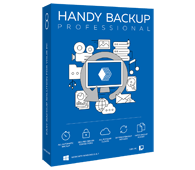 Version 8.5.0, built on September 19, 2023 . 116 MB
Backup Software from Novosoft LLC. 89 USD per license.
For an efficient mirror backup (two-way synchronization), you need the Professional edition. It also allows logical-level disk image backup. Free 30-days trial version!
Using Mirror Backup Software
Mirror backup works through the Synchronization function, which exploits a files-based data transferring method. Files-based transferring means that the program can copy only the data that is represented in the file system as usual files and folders.
This limitation means that you cannot use this feature for hard drive cloning. However, creation of disk image can be done through using the image backup which is a different function.
Which Storage I Can Use for Mirror Backup?
Handy Backup supports many storage types eligible for mirror backup software processing, such as:
Local and external drives, network disks and folders, NAS units;
FTP data servers (for all editions), remote machines (for Server Network only);
Commercial and private clouds driven by S3 and WebDAV interfaces;
Popular cloud solutions, including Google Drive, OneDrive, Amazon S3, Dropbox and Box.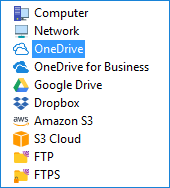 Other Mirror Backup Software Features
We did our best to create professional software for both folder and complete hard disk mirroring:
Filtered Backup

. You can specify file masks and back up files of selected types only, e.g. pictures or MS Word documents.

Scheduling

. There is an easy-to-use scheduler, which allows you to perform backup daily, weekly, monthly, or in your own interval.
Easy Restoration. If data from either location is lost or corrupted, you can simply repeat the syncing, and the information will be restored from the other folder.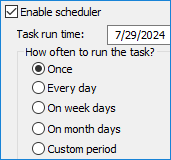 Regularly using mirror backup software is a good way to protect important data from hardware failure. Creating a mirror backup task with our software is very quick and easy.
All you need to do is specify two locations, select synchronization direction, and choose how to treat files with identical names. This works on an intuitive New Task Wizard, which will guide you through all steps of task creation.
Review About Mirror Backup Software by Handy Backup
Handy Backup is an ideal mirror backup software for computer users of all levels! Try now!
Capterra′s Rating:



"Great product, very simple and effective backup program"
Related to Mirror Backup:
Who uses our backup software?