December 08, 2019
Dear customers! We are glad to tell you that we are updating Handy Backup to the version 8.1!
The new version of Handy Backup allows connecting to NAS units secured by passwords directly. Starting from this version, the Server Network solution also allows installation of Network Agents to remote computers directly from the program.
Version 8.5.0 , built on September 19, 2023. 116 MB

To update Handy Backup one can for free at the link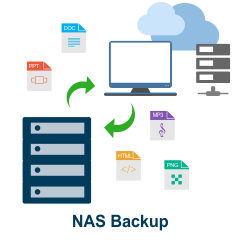 The Handy Backup 8.1 allows mounting a NAS unit protected by password directly from the program. After finishing the program, the drive will be unmounted automatically. This option increases speed and convenience of online backup, as well as allows avoiding security problems from manual access to password-protected NAS units.
Learn more about NAS Backup Software
The new version allows not only configuring but also installing Network Agents directly from Handy Backup. This option is available for the Server Network solution, and it can simplify and speed up any job of a system administrator by expanding network backup infrastructure, especially for complex and heterogeneous networks.
Read more about Centralized Backup Solution