As mentioned above, the VSS service is a crucial technology used for open files backup. Therefore, a user who runs Handy Backup Client must have enough rights to start this service on a computer. Handy Backup requires no additional privileges, actions or settings to backup open files.
Caveat! Open file backup is a default option for most Handy Backup data sources, including files, databases*, virtual machines and entire drive images. To avoid backup open files (if you need it for some reasons), you must stop any software instances operating with source files!
Sometimes, you can feel undesirable to make open file backup over some data. To override default Handy Backup capabilities of taking "hot" snapshots automatically, please set up stopping your file-locking software before a task and then restart it after a task on the Step 7.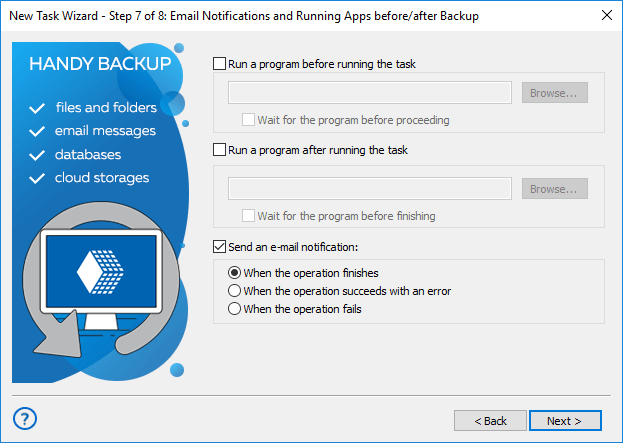 * For the generic "Database" plug-in, a possibility of open file backup depends on capabilities of a corresponding ODBC driver for a particular database.
Solutions and Versions
Any edition of Handy Backup helps Windows backup open files via VSS. In network editions, the Network Agents allow open file backup on remote machines. Any version of Windows containing VSS, e.g. Windows 10,8,7, Vista and Windows Server, allows backup open files.
Version 8.5.0 , built on September 19, 2023. 116 MB
30-day full-featured trial period
Open file backup can save you many time and efforts. Try Handy Backup as most effective open file backup software solution,
by downloading and installing a newest edition with all features and plug-ins for a 30-day free trial period!