VSS Copy Backup Software
Volume Shadow Copy backup software is a technology utilizing the VSS Windows service that allows you to make backup copies or snapshots of data on a specific volume, even if the data is locked. This technique saves time and efforts, and can eliminate a significant quantity of human errors as well.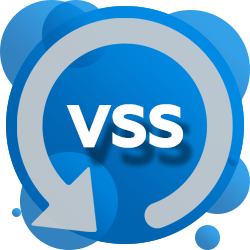 What is Windows VSS Backup?

VSS (Volume Shadow Copy) is a standard Windows technology allowing reading files already opened. In Handy Backup, the implementation of VSS shadow copy allows hot backup, e.g. copying data actively used by other software without stopping it. Handy Backup supports VSS backup for all plug-ins and file systems that can implement it.
VSS Software Technologies
The VSS technology is available in all modern Windows versions including Windows 10, 7, 8, Windows Server 2019, 2016, 2012 and 2008, operating primarily with backup tasks, especially with those that copy entire volumes without stopping other data jobs.
Attention: This technology allows Windows data accessing files and even disk blocks locked by other applications. It operates over the NTFS file system.
Handy Backup as VSS Backup Software
All new technologies of Handy Backup use volume shadow copy solutions always when it is possible. These technologies are especially efficient for server-type data, such as drive images, databases and virtual machines.
Handy Backup utilizes VSS for backing up some databases, such as MS SQL and MS Exchange Server, as well as for operating with Oracle RMAN.

In other hand, "hot" backup of typical user data, such as folders and files (including data opened by applications), can be very comfortable for users, too.

No extra efforts or actions required for using Handy Backup as shadow copy backup software. The program automatically implements these technologies every time when it is possible.
Note: To stay with more traditional "cold" backup, just close all apps working with data you are planning to save, and then Handy Backup will process this data as common files or folders.
Recommended Solution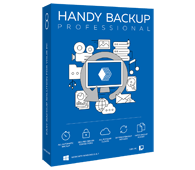 Version 8.4.6, built on April 25, 2023 . 116 MB
Backup Software from Novosoft LLC. 89 USD per license.
Volume Shadow Copy backup adds the power of hot image backup to Professional and higher editions. No more stopping system to back up even an entire hard drive! Free 30-days trial version!
Advantage of VSS Backup with Handy Backup
The key advantage, as described before, is a possibility to use any data for backup without stopping processes that use these data simultaneously. It can be especially true and useful when saving big amounts of server-level, network-oriented data, or huge information blocks such as drive images.
Implementing VSS Backup Service for Hot Backup

The reason described before allows making "hot" backup by using a VSS. Shortly, the term "hot backup" means copying data already opened and processed by other software.
As an example, let us describe the "hot" MS SQL Server backup. Because getting the database off-line, stopping the service, and hence losing time is something we don't like and our company is not really happy about (since making things quick is out business attitude).
Another example is taking a VSS full backup for an entire system drive. Stopping the system for backup can be too distracting, too boring or even too unsafe for many users, so they can just reject backing up their systems. "Hot" backup removes these troubles!
How to Back up Locked and Blocked Files
If you ever tried to copy files locked or blocked by an application files, you would have a chance to see an error message like "The process cannot access the file because another process has locked a portion of the file". In a situation like that, the VSS service for backup is exactly what you need.
Checking Operational Status of VSS Backup
To ensure copying of locked files by Volume Shadow Copy Service backup, you only need to verify that these services are enabled:
Volume Shadow Copy
Microsoft Software Shadow Copy Provider

Using Handy Backup as your Volume Shadow copy backup solution, you can effectively make snapshots of your information without stopping processing it when backing it up.
VSS Service for Backup
The featured software has a history of being an effective tool for VSS Copy backup of specific data types (several previous versions allowed making VSS backup of MS Exchange 2010 actual databases instead of the entire volume they are stored to).
Volume shadow copy backup software is the right choice if you want to protect data on the fly.
Try the hot feature of hot backup with the 30-day free trial version!
Who uses our backup software?