Handy Backup supports native operations for both Windows and Linux. Here is the short list of fully compatible operation systems allowing Contao backup and restore, including remote network operations on a single or multiple machines:
Windows 10, 8.1/8,7, Vista.
Windows Server 2016, 2012(R2)/2012, 2008(R2)/2008.
Ubuntu Linux LTS 18.04, 16.04, 14.04
Note: For OS Linux, you can install and run Handy Backup on almost any Debian-based solution (e.g. Linux Mint 17) just by including or slightly modifying a program repository into the list of available package sources for .DEB packages.
Handy Backup contains no dedicated plug-in for Contao. To crwate a Contao auto backup task, you must use FTP-based plug-ins for static content, and then a related plug-in to backup Contao database. Please follow the next instruction to create such task step by step.
Start Handy Backup and create a new task with a menu item, the "Create" button located on the top control panel, or a Ctrl+N key combo. Select a backup task on Step 1.
Note: You can choose either simple or advanced task wizard mode on Step 1. Both modes allow you making all basic Contao backup operations. However, advanced mode adds a lot to control options.
Go to Step 2, choose an FTP, SFTP or FTPS plug-in in the FTP group, guiding by to the type of connection you are using to link with a folder containing your Contao static files.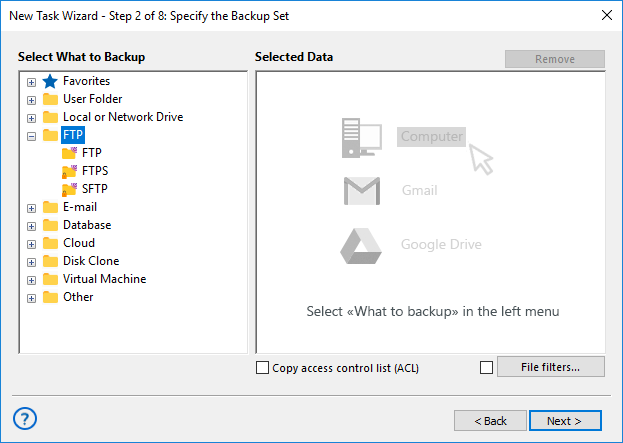 Click on the "Create a connection…" option. In the new dialog window, you must provide all your FTP connection parameters related to Contao. Test the connection.
Select data that you want to save in your Contao folder(s). To select a file or a folder, just mark a checkbox against its name.
Click on "OK" button and return to Step 2.
Now open the "Database" group and select an appropriate plug-in for a database containing your Contao dynamic data. Click on a name of the database plug-in to open it.
Again, click "Create a connection…" string and enter all connection parameters for Contao DB backup in the opened dialog. Again, test the connection to the database.
Select Contao content tables you will plan to backup. To make your selection, mark the checkboxes against the names of the chosen tables.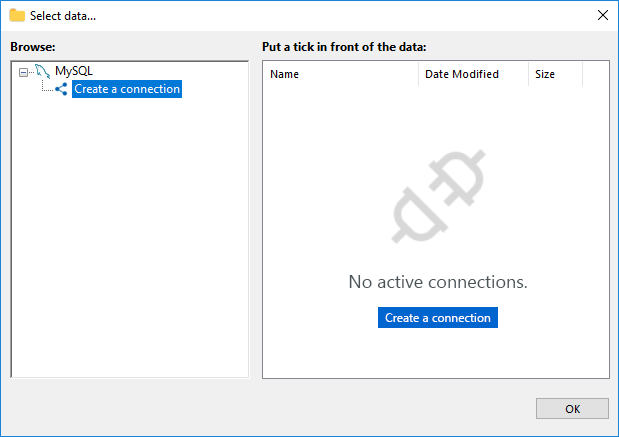 Now click OK and then "Next" to proceed to Step 3, where you can select appropriate data storage for keeping your Contao backup data.
On next steps, you can select all other Contao backup task parameters, according to procedures described in the User Manual.
As the last step, give your task an appropriate name and finish the task creation wizard.
An advice: To create several Contao backup tasks with only slightly different parameters, just copy a task via the main or context menu, and then change the backup parameters of a new task as you wish!
Data Protection
These are the regular backup tasks dedicated to store Contao data backup somewhere and to restore the information when a need will emerge. These tasks are often frequent and much automated in every aspect, and use partial backup methods like incremental and differential Contao website backup.
The key feature of data protection of Contao CMS full backup data is a built-in encryption tool that allows processing all backup files with a modified 128-bit BlowFish encryption algorithm.
An advice: Handy Backup saves data files in original (native) formats, unless you specify the encryption as guided above. As a result, you may browse, move or even modify your data from a backup dataset with any file management tool, like Windows Explorer or Midnight Commander.
Website Mirroring
Handy Backup allows automating mirroring. To do it, make a backup task as described earlier, and then create a restoration task for the Contao backup dataset. When creating a recovery task, click "Change Location" and select a new place to restore. Handy Backup will mirror your website to this place!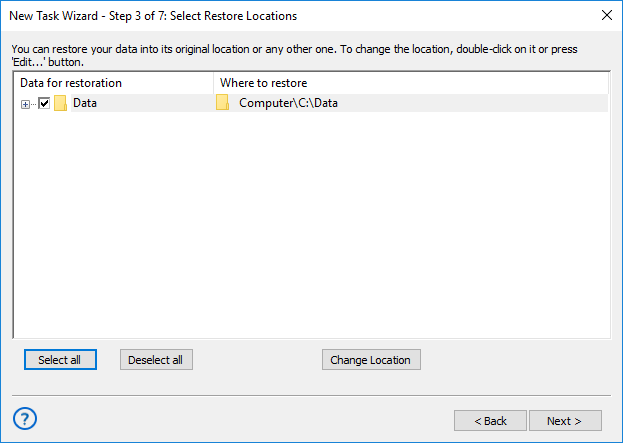 Cloning and Migrating
Like mirroring, these tasks are restoring your Contao data to some other place. Like data protection tasks, these operations require full recovery to a single bit. The main technique for these tasks is a full backup with extended manual control over running and replacing the information on a new location.
Version 8.5.0 , built on September 19, 2023. 116 MB
30-day full-featured trial period
Try Contao auto backup and restore with Handy Backup just now! Download a 30-day free trial version with all functions and plug-ins available – just now!